Johnny Depp's swashbuckling London school surprise
The star went dressed as Jack Sparrow, after receiving a letter from a fan aged nine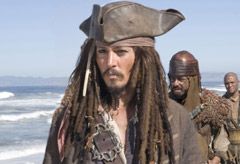 (Image credit: Rex Features)
The star went dressed as Jack Sparrow, after receiving a letter from a fan aged nine
Swashbuckling star Johnny Depp paid a surprise visit to children at a London school yesterday, after nine-year-old student Beatrice Delap asked for his help to stage a mutiny against her teachers.
SEE MORE DRAMATIC MOVIE MAKEOVERS HERE!
At Meriden on Old Woolwich Road we are all a bunch of budding young pirates,' Bea wrote in her letter to the star.
'Normally we're a right handful but we're having trouble mutiny-ing against the teachers! We'd love if you could come and help.'
The pint-pized pirate then signed off her letter, before thoughtfully added: Ps. We have a plentiful supply of Rum!
And after receiving Bea's note, it seems Captain Jack decided to oblige.
Fresh from his stint on the latest London Pirates of the Caribbean set, and dressed as Captain Jack Sparrow, the star strode into the classroom in Greenwich to the excitement of students and teachers alike.
The surprised school was given just 10 minutes notice of his visit, before two blacked out cars swept onto the drive and the A-lister, along with some fellow pirates, stepped out.
The star then spent time with children in the classroom, before heading back to Greenwich's Old Naval College, the location of the London Pirates' set.
And unsurprisingly, Beatrice was thrilled with her special visit. 'He gave me a hug and he said, "Maybe we shouldn't mutiny today 'cos there are police outside monitoring me,' she said.
DRAMATIC MOVIE MAKEOVERS
Celebrity news, beauty, fashion advice, and fascinating features, delivered straight to your inbox!