FIRST WATCH: Dramatic new Twilight Breaking Dawn trailer
The heart-stopping new peek reveals more than ever of Robert Pattinson and Kristen Stewart's long-awaited new movie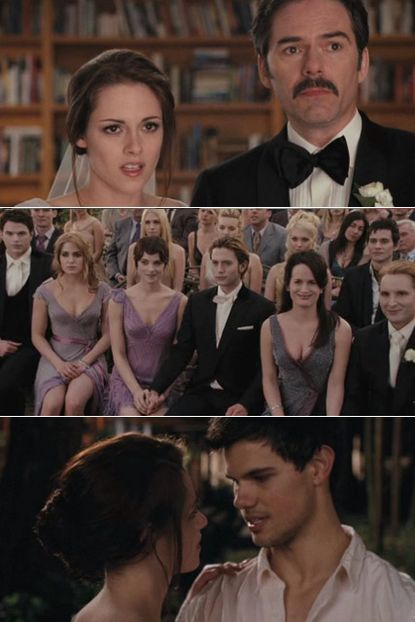 The heart-stopping new peek reveals more than ever of Robert Pattinson and Kristen Stewart's long-awaited new movie
wi-hards, do we have a treat in store for you! With the release of penultimate Twilight movie Breaking Dawn less than three months away, film bosses have released an extra-special, brand new trailer, which debuted online this morning.
And we must admit, it has team MC just a little bit excited.
SEE ALL THE LATEST BREAKING DAWN STILLS HERE!
The epic, two-and-a-half minute preview shows more than ever before of Robert Pattinson, Kristen Stewart and Taylor Lautner, in the long-awaited new vampire movie.
The trailer shows a whole host of new wedding scenes (still no peek at the dress, though, unfortunately!) on which film fans can feast their eyes, as well as some new sneaky snippets at Bella and Edward's steamy honeymoon happenings.
And that's not all. Oh no. The new snippet also shows the first shots of pregnant Bella, looking frail and tired as her baby bump grows – and the battle between the divided pack of wolves.
It's packed with action and certainly dramatic. And as far as we're concerned, November 18 just can't come quick enough.
WATCH the new Breaking Dawn trailer here…
Are YOU looking forward to seeing the brand new Breaking Dawn movie? Let us know in the comments box below.
SEE ALL THE LATEST BREAKING DAWN STILLS HERE! ROBERT PATTINSON & KRISTEN STEWART: RELATIONSHIP IN PICS
Celebrity news, beauty, fashion advice, and fascinating features, delivered straight to your inbox!