EXCLUSIVE! Dannii Minogue on babies, boyfriends and surviving the X Factor
Which starlet did we choose for our first cover of the new decade? Introducing the delectable Dannii Minogue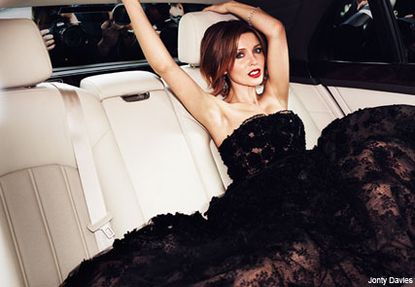 (Image credit: Jonty Davies)
Which starlet did we choose for our first cover of the new decade? Introducing the delectable Dannii Minogue
Marie Claire's January cover star Dannii Minogue is definitely having a moment - the boyfriend, the baby, the glittering TV career. And with X Factor fever mania reaching fever pitch, the fabulous new mum broke Simon Cowell's strict no-press policy, and snuck Marie Claire backstage.
We caught up with the gorgeous popstral - and little Ethan - to talk about finding love, living life in the fast lane, and a certain TV talent show...
SEE DANNII'S GORGEOUS SHOOT PICS HERE!
'I do find it nerve-racking,' Dannii Minogue admits of the X Factor live performances, as she prepares for the performances backstage.
'Every Saturday night at the beginning of the show when I step out onto the stage, I'm terrified. Not about me, but how everyone's going to get on - whether they'll stuff it up.
'You just can't help getting really involved with your people. It's their life.'
And how does gorgeous boyfriend - and baby Ethan's dad - Kris Smith handle her huge life? 'When we first started dating and he was working in Manchester and he'd finished his ruby career and was teaching kids up there, he'd come down to London at weekends and I'd say, "Er, could you hang on a minute? I've got some mentoring to do,"' she giggles.
'But I think he realised that that's who I am and I'm always busy and doing a million things at once.'
After a very public spat with Sharon Osbourne ('That was horrible. I don't like to be around people when the vibes aren't right') we're desperate to know if Dannii really gets along with Cheryl Cole?
'Cheryl's always been there for me when I've had hard times,' she says, adding they've become closer since she gave birth to baby Ethan.
'Cheryl said to me the other day, "I don't know how you're doing all this. I know how crazy it is when all the contestants are running up in and out and I have no make-up on. And then I think of you trying to fit in feeding the baby as well."'
Right now, she's happier than ever. 'Yeah, it's come together,' she smiles. 'I suppose I've endured things when they haven't gone right. I guess it's my turn now to enjoy what is going right.'
The December issue of Marie Claire hits newsstands on Thursday.
SEE THE GORGEOUS DANNII SHOOT PICS HERE!
DANNII'S STUNNING STYLE TRANSFORMATION
Celebrity news, beauty, fashion advice, and fascinating features, delivered straight to your inbox!