Adele moves into £6 million mansion
The singer has moved out of the small flat she shared with her mum in London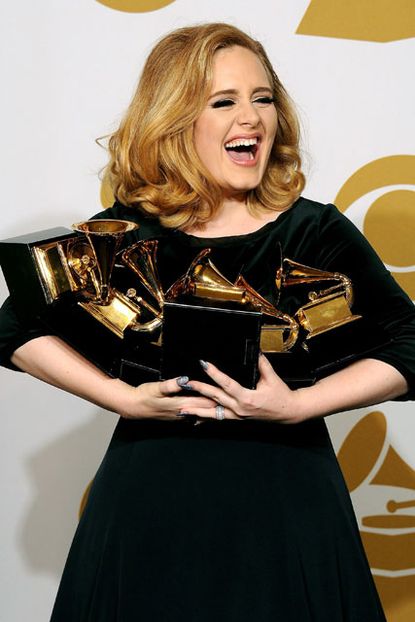 (Image credit: Rex Features)
The singer has moved out of the small flat she shared with her mum in London
There's no mistaking how successful Adele has become now that the Grammy award-winner has moved into a £6million mansion.
Long gone are the days of living with her mum in a small flat in London, that's for sure!
On American TV show 60 Minutes, Adele is seen showing the show's host around her new £6million grade II-listed West Sussex mansion, complete with ten bedrooms, two swimming pools and tennis courts.
The 23-year-old is paying around £15,000 per month to rent the property, which was once used as a convent in the 1970s and is only 30 minutes away from her boyfriend Simon Konecki's pad in Brighton.
During her 60 Minutes interview, Adele recalled how she struggled when she first moved out of home - and decided to move back in with her mother.
She said: 'After my first record I moved out of my mum's to Notting Hill on my own.
'My life fell apart. My phone got cut off, my credit card got cut off, the house was a mess. It was awful.
'I couldn't function without my mum so I moved back in with her. I'd rather be defeated than one day come in and the rats would be eating me.
'It was basically a bedsit with walls.'
Since winning six Grammys at the ceremony on Sunday night, the Someone Like You singer has been writing on her blog.
Firstly, she laughed off the reports that she's taking five years off from the music industry to spend time with her boyfriend. She wrote: 'I've a few days off now, and then it's the Brit Awards here at home and then I'm straight into the studio. BOYYAHH! 5 years? More like 5 days!' (sic)
Phew!
She then went on to say how shocked she is at her incredible success at the Grammy Awards and that she keeps having flashbacks to the night.
'Oh goodness!! I'm absolutely flabbergasted! In between laughing my head off, welling up, needing to sit down and trying to maintain an open fire (which is pretty much impossible huh?!) I keep having flashbacks to Sunday night. The most incredible night of my life. Thank you to you all, I am so overwhelmed, it's the strangest feeling.
'I have constant butterflies and goosebumps, it's wearing me out but I LOVE it!!' (sic)
PICS: GRAMMY AWARDS PERFORMANCES
Celebrity news, beauty, fashion advice, and fascinating features, delivered straight to your inbox!