Britain 'worst place to live in Europe'
According to a new survey, the UK is the worst place to live in Europe - despite higher than average pay packets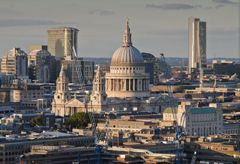 (Image credit: REX)
According to a new survey, the UK is the worst place to live in Europe - despite higher than average pay packets
According to a new survey, the UK is the worst place to live in Europe despite our higher than average pay packets.
The study, involving 2,000 adults, looked and factors such as working hours, holiday, VAT, health, education costs and hours of sunshine and - for us Brits, the results aren't good. We faired the worst in the poll, even beaten by our neighbours in Ireland who came bottom of the list a year ago.
Things are so bad that one in 10 of us is considering emigrating. And it seems you don't need to go far to experience a better quality of life, as France and Spain managed to top the index of the 10 countries. Although their net household income falls below that of the UK, a better holiday allowance, price of petrol and hours of sunshine certainly make up for it.
'We earn substantially more than our European neighbours, but this level of income is needed just to keep a roof over our heads, food on the table and our homes warm,' said Ann Robinson director of consumer policy for uSwitch.
We're also lumped with higherfood, alcohol, cigarettes and petrol prices than our cousins on the continent.
'We are now officially bottom of the pile,' said Robinson.
Do you think the UK deserves to be at the bottom of the list?
Do you love living in Britain? Or does the thought of emigrating appeal (Ed: yes!)?
Let us know in the comments box below.
Celebrity news, beauty, fashion advice, and fascinating features, delivered straight to your inbox!
Natalia is a health journalist with 14 years experience in the publishing industry. She has worked for a number of well known magazines and websites including Marie Claire, Woman&Home, Top Sante, Boots and The Telegraph. She likes to think she practices what she preaches when it comes to health and fitness. Her athletic prowess began early. A keen fencer for 13 years, she wielded an epée for Olympic Team GB during her teenage years. She likes to think she made sword-fighting cool before Game of Thrones came along! While working on her sporting performance with the team, she also participated in a lot of nutrition and psychology training, When it comes to time off, you'll most likely find her up a mountain somewhere. It seems holidays have become a time for climbing several thousand feet, rather than chilling out. She's now hiked eight of the major mountain ranges across four continents – including the Appalachians, the Smokies, the Sierra Nevadas (she spent her honeymoon hiking to the top of Half Dome), as well as hitting the summits of Snowdon, Pen-Y-Fan (Brecon Beacons), Table Mountain in South Africa, the Blue Mountains in Australia and the Atlas Mountains in Morocco. She's also passionate about all things health, particularly vaccinations, and will happily jump on her soap box at any given opportunity to talk about their benefits to anyone who will listen!