Hen party ideas: How to plan a super stylish celebration
It's that time of year when we are all struck by wedding fever. But before all that, there's a hen do to host...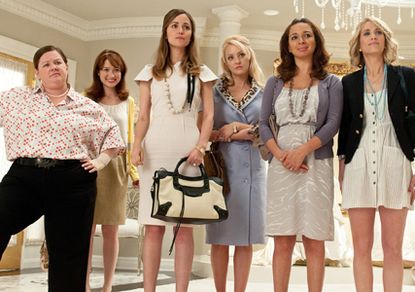 It's that time of year when we are all struck by wedding fever. But before all that, there's a hen do to host...
If you've been given the task of organising the hen party to beat all hen parties, stick with us. Whether you're inspired by Michelle Keegan's hen party in Dubai or are after a more chilled affair in the country, now is the time to knuckle down and start planning. Rather than sitting there wailing to yourself about just how do you organise a hen party, just read on for the most stylish and easy ways to do it. You can thank us later.
When you're done here, be sure to take a look at these 5 amazing (and non-trashy) hen do destinations...
The yoga hen party...
Because hen parties don't have to be all boozy bars and willy straws. We love the idea of working out with friends, so why not incorporate this into your hen do? The team behind House of Voga has answered our prayers with the launch of their new style of yoga called Voga, a fusion of 80s dance and voguing, don't cha know. You can book a private session for 2-35 people with the resident Voga DJ spinning the all-important 80s tunes. Plus the class finishes with Voga style posing and pictures. Hen hashtags at the ready gals.
If you're more of a traditional yogi, why not try Hot Pod Yoga? New to the UK, you can hire out a cocoon-like pod for up to 20 people. They can be popped up anywhere, offering a hot vinyasa flow of yoga. Let the yoga come to you, perfect for those that already have a space that they want to use.
If you want the wow factor for your bride to be, why not blow the budget with a private-hire yoga session at the Hotel Café Royal in London or The Shard from the team behind Yogasphere. It's the charity that's making a difference every time you downward dog. Not only do you get a sense of well-being after your session, but you're also safe in the knowledge that for each client that attends a yoga class they plant 10 trees. All together now, ommmmmmmm.
The hip hen party hangout...
Cheeky Parlour in Shoreditch and Holborn, London, is where all the cool kids are hanging out. Get in there quick if you are celebrating a hen party in the capital. It was launched by the Soho House Group. Yes, that's right, the people behind Soho House, Shoreditch House and Babington House, so you know it's going to be good. The key thing about Cheeky Parlour is its affordability. It has hair, nail and make-up choices aplenty - all bespoke depending on your group.
When your hen wants to celebrate abroad...
Maybe she's been inspired by Michelle Keegan's Dubai hen or maybe she just wants a last-minute tan before the big day, either way we say go ahead. Recent research shows that Barcelona, Ibiza and Dubai are all firm favourites. It's all in the planning when you decide to take the party abroad, get ahead of the pack and think outside the box for the most fun.
Move over wine tasting, for 2015 it's all about Cava. To prove it we recently celebrated a hen with some added fizz in Barcelona. Where we found Art Cava, a small but perfectly formed winery in the the Penedés region. We went for the €70 cava tasting option but there are others that start from €42. The long and leisurely yummy lunch cooked by in-house chef Ramon is a must, throw in the cava tasting with several glasses knocked back, and finish the day with having a go at corking your own bottle to take home with you. Whether it lasts the train journey back is another thing. Let's just say we more than enjoyed our Cava and safe to say are now #CavaLovers.
The cultured hen party...
You heard it here first. Hen parties in 2015 are less dressing up with a shiny sash and L plates and more taking it to the next level, with hens immersing themselves with culture. It's also a great way of keeping the hen party close to home – perfect for those brides that are more comfortable in a house-party situation rather than a noisy club. Takayo Malone is our go-to for all things dress up when it comes to Japanese. Go for a totally unique experience, dressing up in kimonos and learning all about Japanese rituals. We are sold, learn more at takayo.co.uk.
Because when it comes to a hen party, macarons are the new cupcakes...
Cupcakes are so 2014. Host your hen party at Ohlala for a macaron and Martini-filled afternoon. If you've ever wondered what the secret to these delicious treats is, and you love baking, this masterclass is the hen party for you. The good news is there's no fancy equipment involved and everything can be recreated in your own home. The fun times don't stop there. After you've cooked up a storm in the kitchen, the cocktail-making begins - all with your own personal barman. They even promise if you don't have a brilliant time you get your money back. Sold.
If you want to blow the budget...
For a special affair, why not up the ante when it comes to cocktail making and go to the best. If you can't get a perfect Martini at the Savoy, then where can you? It's not just an excuse to get boozy, though – this is a next level cocktail masterclass. And there's chocolate as well as cocktails, now you're listening aren't you! It's a must for those who enjoy classic drinks, but also want to learn about the history and the influence the Savoy had on the cocktail world in the most sophisticated surroundings. £500 for up to eight guests, from 10-3pm.
The hen party in a potting shed...
Sometimes when you're with your girls you want a luxurious spa experience, but not in a clinical white space where no laughing is allowed. Introducing The Potting Shed in Yorkshire. The cosy, welcoming space makes the perfect day out for a hen party, where laughing is most certainly allowed. Why not go for its 'Hen Pecked' package for up to 10 people, which offers full exclusivity of the salon, award-winning treatments, canapés and champagne cocktails. Boom.
Private dining: The hen party edition...
When you just want to get raucous and be as loud as you like, then private dining is the way forward. When in London we are all for the hottest venue in town, Blixen. Newly opened in Spitalfields Market, it is restaurateur Clive Watson's first independent venture from 'Village London', the company behind The Riding House Café, The Garrison and Village East and all favourites of Team Marie Claire, we knew we were in for a treat. Think the kinda place that you start off at for a weekend brunch, but then maybe end up doing some work emails, which turns into a boozy cocktail hour in the bar and then a yummy dinner to finish the day off. Er, yes please! We lapped up the delicious food and the 'one-on-one' service which can cater for up to 18 people in the private dining room, which would be perfect for a hen party.
If you're more of a country girl at heart, head to The Wild Rabbit, our favourite restaurant with rooms in the Cotswolds. The perfect weekend retreat, we are very taken with the new dining room – The Chicken Shed. Perfect for a large group, it comes with its own woodburning oven and kitchen for a private chef. We like.
A hen party partnership made in heaven...
The lazy girl's answer to planning a hen party is Hen Heaven. Based in Brighton and with over 10 years' experience, they have great relationships with suppliers, which in turn means they can secure great discounts for you, all while you sit back and relax. Winning. The latest one they have snapped up is with Benefit cosmetics. Who doesn't like the idea of pampering and partying for your best friend's hen do. Yes please! Take a 2 nights' stay at a 5-star hotel, afternoon pampering session at Benefit's Carnaby Street store plus a glass of fizz on arrival to toast the bride. But it doesn't stop there, after all that pampering, the fun starts – hello hen-party games galore. Throw in the mix a 3-course meal and bubbly with VIP nightclub entrance and you have one mega hen party sorted for you and all you had to do was sign up. All from £249 at HenHeaven.co.uk Remember don't leave the party without your Benefit goody bag and voucher, it would be rude not to.
The crafty hen party idea...
Move over, the only way to do a DIY hen party in style in 2015 is with flowers. The lovely people at The Flower Appreciation Society are our go-to when it comes to the fash-pack and flowers. Go for hand-tied bouquet making or flower head dresses. We love the idea of learning some new life skills, perfect bunch of flowers anyone? Either way, there is something so fun about making something personal to you plus you get to take your hard work away with you rather than a shocking hangover.
If cacti and succulents are more up your street, then look no further than Grace & Thorn, the Hackney florists we are huge fans of. They love a workshop as much as we do, with their newly launched Terrarium Tuesdays classes. We dig it.
The one we can't wait to try...
When you need a little extra help with organising the dream hen party (if you have ever tried to organise 18 women you'll know what we're talking about), ChilliSauce.co.uk should be your new best friend. This brilliant events company has organised over 120,000 parties over the last 10 years so you're in safe hands. If a hen planning service makes you think of go-kart racing and paintballing then fear not, they have the classic cocktail making, BBQ Masterclasses and even total wipeout watersports for the more daring hen in you. But the one we want to do is 'I'm a Celebrity, Murder Me', the murder mystery evening, where nothing is as it seems. An ideal way for you and your chums to bond.
Our new favourite London hot spot to celebrate a hen party...
If your dream hen is an afternoon of pampering, who doesn't love a mani/pedi after all?, then the new hotel on London's Southbank, the Mondrian from Morgans Hotel Group, should be on your radar. Its Glamour Room is the place to be, think of it as a more stylish members club than a nail bar. With Tom Dixon retro vibe designs, guilt-free raw menu, and Dr Jackson's natural skin care, it's our new favourite hot spot for a hen do. Perfect to take a group of hens, you can hire out the space for up to 6 guests. From glam glow mud masks to brow consultations and blow-drys, all in all it's got an A-List kinda vibe.
The perfume hen do...
If you're less about dancing until the early hours on a hen do with your gals and more about learning a new skill then a perfumery class will appeal. We love The Perfume Studio for bespoke fragance making. Create your own personal custom blend, with a little help from the experts. It's harder than you think, so you'll need it believe us. Get your thinking cap on as you even get to come up with your perfume name and take a bottle away with you. Smelling sweet forever more, oh go on then. From £35 per guest. Sign us up.
When you need some hen party inspiration...
Your on your third hen party of the summer and all out of ideas, sound familiar? Where do you go when you are all out of hen games, hen ideas and have no clue where to buy your hen survival kit? Say hello to The Hen Planner. Founder Claire McCarthy tells us it's the place to go for all things hen. 'I started The Hen Planner a few years ago, when I was looking for some sophisticated inspiration for a friend's hen party. After hours of trawling through Google, I was stunned that there was no website taking me to a world of stylish hens.' We hear ya Claire. It's now a resource website for hen party planners, full of inspiration, a directory and even DIY party templates. Look out for a new and improved directory launching this summer with more ideas you can shake a stick at.
The tip from the top on throwing the ultimate hen party...
Just follow these tips from our go-to wedding gurus Knot and Pop for how to organise a hen party. Founder Susie Young tells us: 'Remember it's all about the bride-to-be having the ultimate fun with her closest buddies, so if you're in charge of organising, first and foremost think about what SHE would love, and always throw in a few surprises that will make everything the more memorable'. We couldn't agree more.
Afternoon tea on a hen do, anyone?
You can't go wrong with a classic afternoon tea, the one we can't wait to try is at The Royal Albert Hall. It's not just all about cakes and champers though, look out for the music-themed cakes at the world famous concert venue for a fun touch. From £23.40 – totally perfect for brides on a budget.
Spa all day long...
Award-winning Lucknam Park Hotel & Spa is our go-to place when we want to escape the hustle and bustle of London and rest our tired eyes. Set in a 500 acre private estate, just six miles from Bath, you'll have to drag the hens away from their beauty of a spa. Spa days are from £150 per person, but you do get gorgeous calm surroundings, welcome coffee, pastries, a damn good lunch, use of all the spa facilities and, of course, your treatment. Sign us up.
Who wants to leave the house anyway? Gazelli, the luxury niche skincare brand has launched a new mobile service, Gazelli At Home. They visit you in your own space, bringing with them all the equipment and luxe touches, creating the ultimate spa experience without you even having to leave your lounge. No stressful journey home here after having the most amazing facial. And relax.
It doesn't end there, Perfect 10 is great for hens that don't want a set package. They roll up in their white minis to wherever you are, you each choose the treatment you would like and then before you know it you're having a glorious massage! This is great for different budgets between the group. After all, nothing ruins a hen do quicker than a squabble about cash.
Or when you want to celebrate like a celeb on a hen do...
Urban Retreat the team behind the top-floor beauty emporium at Harrods also have the at-home service covered with Urban Retreat @ Home. They turn up with all the beauty goodies, we're talking fluffy robes, candles and music. Plus you get to pay by the hour rather than per treatment which means more choice. Winning! But if you really want to go all out and impress the bride then what better treat than to hire out the new hammam suite at the Urban Retreat space on the 5th floor. Our beauty gals tell us it's incredible and by the pictures we've seen, we couldn't agree more. We would totally go for the 'Half Day Moroccan Hammam experience' which includes 6 treatments each, including an 80-minute indulgent Hammam, pedicure, blow-dry and manicure amongst others, plus lunch or afternoon tea for £475. Sounds expensive but it's incredible value when you think of all the treatments you get. If it's a one-off special experience you're after, we think you can't go far wrong.
And finally, learn from the experts...
Hester Lear from online boutique Wedding in a Teacup, which is for all things wedding and hen parties, shares her top tips on personalising a hen. After all it's the little details that make it special. We've known one group of hens that produced a 32 page magazine dedicated to the bride, full of memories and photosl. If this is out of your comfort zone though and time, then listen in.
''If you're staying away for the night, make sure a few of you get there before the bride, to set the scene and decorate! A lovely idea is to get everyone to bring their favorite (or funniest) photos of her and peg them up around the room. Then wait for the funny stories to come out over the course of the night.''
Wedding in a Teacup aims to save you hours of trawling the internet, er yes please, by bringing together a handpicked selection of stylish items. When it comes to decorating a hen party, we like the wedding words paper tape, the photo booth prop kit and, finally, to remember the fun times had by all, the memory book. Many of the products are designed in house by Hester and her team, ensuring complete exclusivity for brides keen to source unique products for their big day. We are officially obsessed.
Celebrity news, beauty, fashion advice, and fascinating features, delivered straight to your inbox!