As an editor, I give most of my beauty samples away—but these candles are too good to gift
Your guide to the best luxury candles money can buy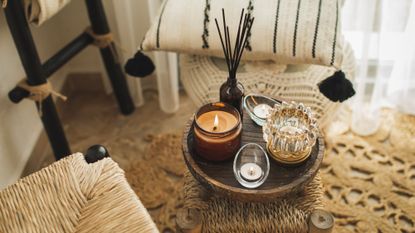 (Image credit: Getty Images)
Fewer things fill me with more joy than lighting a luxury candle when it's cold and blusterous outside. I like to make sure my flat is clean, that all clutter is put away and that my to do list is ticked off for the day. Then, and only then, will I light my most precious candle and relax.
While this month marks the start of cosy season (and thus gives the green light to start burning all of the warming, autumn candles), I'm willing to admit I'm a total snob. While I have a candle burning for most of the day, I like to save my most precious for especially relaxing moments. For example, my Diptyque favourites and Jo Malone must haves only get lit for special occasions (mainly for when I'm by myself and can truly enjoy them).
Because, let's be frank here, when it comes to luxury candles, I don't like to share. While there's no doubt they make for the best gifts, whenever one of my favourite candles lands on my desk, I refuse to share. In fact, I scurry away with it in my bag before any of fellow Marie Claire UK colleagues notice. It's petty, and I don't care. My luxury candles are the only beauty product I'm selfish about.
What gives a candle luxury status, I hear you ask? Well, it's everything from how they look and burn to how intense and expensive they smell. The thing that makes a candle luxurious, to me, is all about how it makes you feel. Whether you're looking to treat yourself or a loved one (no matter how begrudgingly), these are without question the best, most special luxury candles in existence—trust me, I've tried them all.
1. Byredo Tree House
Byredo Tree House Candle
Best woody luxury candle
Specifications
Size: 240g
Key notes: Bamboo, pimento, hay, labdanum, myrrh, leather
This candle takes me back to crisp autumn afternoons as a child, watching the embers of a November bonfire slowly burn out, while the smells of rain-soaked trees mingles with ribbons of firewood smoke. It's woody and a little smoky without being overbearing or eye-watering (like so many woody candles can be).
2. Diptyque Tubereuse
Diptyque Tubereuse Candle
Best floral luxury candle
Specifications
Size: 300g
Key notes: Tuberose
Let's keep it real, every candle that Diptyque has ever created deserves to be on this list, but if I could only choose one to make the cut it would be this. Tubereuse isn't one of Diptyque's most iconic scents, but in my opinion it is the brand's best. It's powdered, soft and lightly floral, all while filling a room effortlessly. I'm not sure I have ever burned Tubereuse and not had compliments on it.
3. Cire Trudon Ernesto
Cire Trudon Ernesto Candle
Best smoky luxury candle
Specifications
Size: 270g
Key notes: Tobacco, leather
In the candle world, things don't get much more luxe than Trudon. Originally loved by Louis XIV and Napoleon, the popularity of Trudon home fragrance has transcended generations. My personal favourite? Ernesto is a heady, smoky concoction that oozes expense and luxury.
4. Loewe Honeysuckle
Loewe Honeysuckle Candle
Best aesthetically-pleasing luxury candle
Specifications
Size: 170g
Key notes: Lonicera periclymenum
I challenge you to find me a candle as chic as this one. Not only does it smell deliciously light, subtle and fresh, as soon as it's all burned you can keep the vessel as a seriously luxe homeware accessory. In fact, I wish I had the whole collection to line my shelves.
5. Jo Malone London Wild Berry & Bramble
Jo Malone London Wild Berry & Bramble Townhouse Candle
Best fruity luxury candle
Specifications
Size: 300g
Key notes: Red berries
I know that the standard Jo Malone London candles are special and luxe enough on their own, but to me, it's these Townhouse Collection candles that really stand out as the most luxurious. It's rare to come across them being burned anywhere, making them feel that extra bit exclusive. This particular scent is a fresh, green but fruity delight—like taking a walk in a berry-bush-lined, woodland trail with branches snapping underfoot.
6. Carrière Frères Tomato
Carrière Frères Tomato Candle
Best fresh luxury candle
Specifications
Size: 185g
Key notes: Tomato
If I was asked to create a candle that smells like the British countryside, I would want it to smell like this. This candle smells exactly like juicy, freshly-picked tomatoes. It's the sort of candle I'd very much like to have burning in my kitchen all year long.
7. Dior Ambre Nuit
Dior Ambre Nuit Candle
Best rich-smelling luxury candle
Specifications
Size: 250g
Key notes: Ambergis, rose
If you want a candle that oozes expense and wealth, look no further. Beyond just being a Dior candle, it also smells every bit as rich as it sounds like it should. With powerful rose and punchy ambergis, it's one of the most luxurious scents out there.
8. Le Labo Santal 26 Concrete
Le Labo Santal 26 Concrete Candle
Best unique luxury candle
Specifications
Size: 127g
Key notes: Australian sandalwood, cedarwood, vanilla, amber, coco, musk
You might be familiar with the scent of Santal 26. The famous Le Labo Santal 33 fragrance actually started off as a candle—this candle to be exact. It is probably the most iconic sandalwood candle out there, and for good reason. It's woody, sure, but the addition of vanilla and musks makes it light, warm and inviting in a way that entices. And in this concrete vessel, it's an absolute no-brainer for me.
9. Verden D'Orangerie
Verden D'Orangerie Scented Candle
Best citrus luxury candle
Specifications
Size: 220g
Key notes: Orange blossom
While this candle doesn't have the largest price tag on this list (although it's still by no means cheap), it still stands up. I first came across it while visiting a countryside retreat, where each communal room had a jar burning away. If you're not familiar with the scent of orange blossom, think a creamy, warming citrus that remains light on the nose.
10. Earl of East Shinrin-Yoku
Earl of East Shinrin-Yoku Soy Wax Candle
Best earthy luxury candle
Specifications
Size: 500ml
Key notes: Cedar wood, oakmoss, black pepper
If the concept of Japanese forest bathing had to be portrayed as a candle, this would be the result. It's grounding, fresh, mossy, woody and earthy in the most wonderful of ways—like bringing the aroma of a sun-dappled forest into your home.
11. Bella Freud Loving