Why Madeira is Europe's new ultimate wellness destination
In need of a wellness reboot? Junior beauty writer Sarah Barnes heads to the remote Portuguese island in search of Madeira's natural highs Words by Sarah Barnes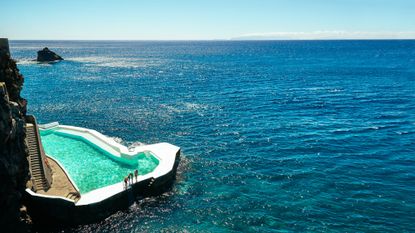 In need of a wellness reboot? Junior beauty writer Sarah Barnes heads to the remote Portuguese island in search of Madeira's natural highs Words by Sarah Barnes
It may be more commonly associated with luxury cruise stop offs, but thanks to its incredible scenery, local seafood and warm blue waters, Madeira is the new summer choice for a wellness weekend.
Why go:
Recently named Europe's leading island destination 2019 (by the World Travel Awards), Madeira is just a three and a half hour direct flight from London via British Airways. With a subtropical climate and rich volcanic soil you will feel as though you have landed in a far-flung corner of the equator. While the capital of Funchal is buzzy and cosmopolitan, the surrounding mountains offer a peaceful respite for travellers who want to be secluded and re-connect with nature – and themselves. Coveting the ultimate escape from hectic London? Think of Madeira as your sun-drenched stress-relief ball.
The vibe:
We landed early and hopped off the plane to be met by the salty sea breeze and warm afternoon rays. Driving along the roads that hugged the hillside, we weaved in-between the terracotta-tiled houses and headed into the heart of Funchal, ready for a weekend of health and relaxation. My plan? To be barefoot as much as possible: Madeira offers an abundance of activities for the micro adventurer with trail running, canyoning, rock climbing, scuba diving and surfing all on your doorstep. However once you have released those endorphins, brushed away brain fog and breathed in lungfuls of fresh air, you can also relax on the sprawling sandy beaches. The whole island is wrapped up with a local culture that boasts warmth, merriment and the need to feed you with as many pastéis de nata (Portuguese custard tarts) as possible.
Stay at:
The Vine Hotel
Our first night was spent at the chic and modern 'Vine Hotel ' in central Funchal. The design is inspired by a full-bodied red wine and conveyed through the furniture, which is all twisted vines and deep purple palettes. With 57 rooms and 22 suites, the hotel is a peaceful hidden escape from the buzz of the city; rooms are spacious and sleek with long white beds and ambient-lit bathrooms. Just a floor away is the spa and fitness centre with an added heated whirlpool for you to relax in after a long day exploring by foot. The Terra Lounge restaurant sits on an open terrace where you can eat under sprawling vine leaves as fresh platters of fruits and eggs, made any way you like, are served leisurely to sleepy morning guests. Come dusk, Uva Restaurant and Wine Bar offers up late lunch and dinner on the rooftop. The lift draws open on the top floor and you are suddenly amongst the city skyline. Sit beside the infinity pool and watch the sun set, throwing an orange glow over the bay, while sampling local Portuguese dishes.
Quintinha de São João
Quintinha de São João Hotel is another central, yet more traditional Madeiran hotel full of charm. The clean white exterior is interrupted by green painted shutters. Meanwhile, inside, light pinewood and golden lampshades give the ambience of an old Madeira residence. The 42 rooms are set in lush green gardens with secret outdoor nooks where you can sit idyllically on the patios to read a book. Suites are spacious with balconies overlooking the city and expansive beds set aside billowing white curtains. Make sure to wake up in time for the buffet breakfast where fresh pastries and breads are piled high amongst cold meats, cheeses and pots of steamy coffee. After a long day of exploring the city (the hotel can pack a picnic for you) I indulged in a full body massage at the Spa Do Quintinha. My tight calves from uphill walking melted underneath the warm Darphin oil that was swept over my whole body for one glorious hour, before I cooled off in the outdoor saltwater pool. To finish off your night perfectly, I recommend a nightcap in the Vasco Da Game Bar, dimly lit and accompanied by the playing of a soft piano, preparing you gently for the land of nod.
You Really Must…
Try yoga in the Laurissilva Forest
After waking up early, we drove for an hour up the steep mountains passing through village after village before plateauing above the clouds. The dramatic cliffs dropped down past little Lego-sized houses to meet the sea and I felt as if I could reach up and touch the sky above me as we weaved through fields of wild yellow flowers to the Laurissilva Forest. The air was cooler up here as we huddled together in the woods, soon to be met by Emilie Mangoni (international yoga teacher). We followed Emilie to a clearing where yoga mats were set up in a scenic spot amongst the trees. All we could hear was bird song and, as my feet sank into the warm grass and we worked through the sun salutations, an overwhelming sense of peace washed over me. Emilie completed our session with a sound bath, softly singing in Portuguese as she created melodies using small drums and rain sticks, sending us all into a gentle doze. If you want to reconnect and float away from all your worries, do the hour-long drive and explore the Laurissilva Forest, it is worth every calming second. Namaste.
Take the cable car to Monte Palace Tropical Gardens
This 15-minute cable car ride from the old town up to the Monte Palace Tropical Gardens is the best way to enjoy panoramic views of Funchal and beyond. The gardens, which have been open to the public since 1991, are the masterpiece of entrepreneur José Berardo. Once a luxury hotel in the 18th century, the grounds have been inspired by gardens from all over the world including Japan, with oriental temples, a Koi carp lake and Buddha statues all making an appearance alongside the largest terracotta tile display in Portugal, which showcases the island's most historic events in orange and aqua-blue squares. Exotic flowers and botanicals decorate the garden, and black swans bathe in the moss-covered fountains. We whiled away the hours here, walking calmly and admiring natural beauty at its best.
Fun spoiler: to get back down the mountain you have to take a traditional toboggan. Since the 19th century drivers have pushed wicker sledges down the streets of Funchal, wearing rubber boots to use as breaks on the ground and greased rope for steering. Cue speeding downhill in a giant fruit basket and some serious exhilaration!
Visit Porto Santo Island
The hidden gem of Madeira, Porto Santo Island is a golden nugget just off the cost of Funchal. We loaded onto the Porto Santo Line Ferry and sailed for two and a half hours, sitting on the sunny desks, nibbling on morning pastéis de nata with cups of hot tea. Arriving into the port we headed to Hotel Porto Santo & Spa, with its 70s-motel-inspired aesthetic, where creamy orange buildings nestle in-between leafy palms. A must-try is the hotels 'Hot Sand Therapy Treatment'. The sand on Porto Santo is biogenic carbonated, rich in minerals such as calcium, magnesium and strontium (a natural anti-inflammatory). I found myself getting into a wooden style bathtub and being covered to my neck in soft, hot sand, which weighed me down and relaxed each and every muscle. The PH of your sweat releases the minerals from this sand, which your skin soaks in as your bones relax and you sweat out toxins, all while you doze away warmly. After 30 minutes of pure bliss, I washed off in the jet pools to reveal silky-smooth skin. You can book in for a course of treatments at the hotel, reaping more benefits each time you are, well, buried. Sandy and sleepy, we spent the rest of our afternoon on the 9km golden beach, stopping at Calhetas for lunch, scooping fresh limpets with lemon and garlic out of their shells and sipping chilled wine. Nursing our full stomachs, the beaches offered a sandy playground to run, swim and bathe away our afternoon. Binter Airline's now fly direct to and from Porto Santo to Madeira, so we had a speedy 15 minute all-in plane ride back to the mainland, making hopping over to Porto Santo for the day a wellness break on its own.
Dine at
Santa Maria
Nestled among the cobbled streets and artisan boutiques of Old Town, Santa Maria is a warm and welcoming restaurant with a family-run feel and fabulously friendly waiters. Try 'Espada Preta', a local black scabbard fish, served with fried bananas, and wash it down with one (or more) lethal Ponchas – local rum mixed with sweet honey and tarty lemon.
Nini Design Centre
Delivering spectacular views, hot bread baskets with caviar butter and cool, calming interiors, the Nini Design Centre's rooftop restaurant is an inspiring place to eat. Head there during the day to take in an exhibition by Nini Andrade Silva – a world-renowned interior designer and architect – then follow with a duck and sticky orange sauce dish, salted caramel cheesecake, and lashings of hazy Madeiran sunshine.
Forte Sao Tiago
Fancy dinner in a Fort? This historic yellow fortress was constructed in 1614 to defend the capital from pirates. In 2001, the Restaurant Do Forte opened, gifting tourists and locals alike with alfresco dining under the stars. We booked a table in the main courtyard, which was alight with candles as we soaked up plates of fresh sea bass and squid ink pasta, all devoured while listening to the soundtrack of waves washing gently against the shoreline nearby. Later we joined families that poured upstairs to the rooftop to watch fireworks over the city – the noise of popping Champagne bottles barely noticeable as the sky exploded in red and green sparkles.
Book now
https://www.madeiraallyear.com/en/
British Airways flies from London Gatwick to Funchal, Madeira from £47 each-way including taxes/fees/carrier charges. To book, visit ba.com/madeira or call 0344 493 0122.
Celebrity news, beauty, fashion advice, and fascinating features, delivered straight to your inbox!
Sarah Barnes is Junior Beauty Writer and Production Assistant at Marie Claire UK.
After attending a military school growing up (we are talking camo print, crawling through the mud) Sarah craved a creative outlook with fashion and beauty always being a huge draw. With a degree in Fashion Journalism from The University For The Creative Arts, Sarah was introduced into the world of beauty, health and print after publishing her own university magazine, which was an investigative project into the world of Paleo and Primal Wellbeing. Her love for production came after moving to Vancouver Canada, working on the sets for Toyota commercials as a production assistant.
Four years later, she is now Marie Claire UK's Junior Beauty Writer and Production Assistant. Combining both her love for writing and production, having worked her way up from intern. With each day being different Sarah can be found writing beauty features, reporting backstage at Fashion Week on the latest beauty trends and working on Marie Claire's various beauty awards and video content. Always on her face beauty wise; Urban Decays 24/7 Eyeliner in Roach, Elemis Daily Defence Shield SPF 30 and Estee Lauders Radiant Double Wear Concealer.
Sarah's job also allows her to travel the world for Marie Claire's beauty shoots, working on the shoot production and assisting with booking the best models and photographers. Highlights include shooting at sunset in the Lanzarote desert, from a speedboat in Mauritius and along the wild beaches of Sri Lanka- maybe that army training was useful after all?