An evening at Dalloway Terrace
Winter wonderland-based brunches don't get better than this. Nicola Moyne hits Dalloway Terrace in Bloomsbury, London to start the weekend in style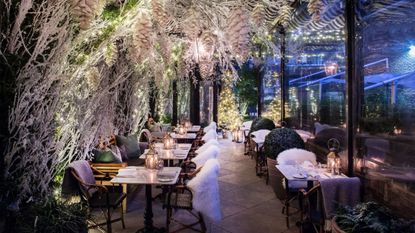 (Image credit: Dalloway Terrace)
Winter wonderland-based brunches don't get better than this. Nicola Moyne hits Dalloway Terrace in Bloomsbury, London to start the weekend in style
With its hanging gold lanterns, cosy fur throws and a blanket of frosted fir branches glistening in the morning sun, you'd be forgiven for thinking you'd stumbled across Narnia when arriving at Dalloway Terrace - The Bloomsbury hotel's super-chic bar and restaurant. But that's where the comparison ends: there's no icy waiting staff, nor cumbersome wardrobe to navigate - Dalloway Terrace is that rare London find that delivers on food, ambience and service all at once, making it just as magical as any C.S Lewis fantasy in my book.
Eager to locate a new brunch-time hotspot, I headed to this slick central-London eatery - named after the eponymous character created by Virginia Woolf - at the weekend with a friend. I'd heard it was ideal for al fresco dining in summer, with its retractable roof and resplendent buxus hedging, but was ill-prepared for its winter wonderland wow-factor. This is the stylish foodie's equivalent to Santa's grotto.
After a few minutes of Insta-ing the decadent decor (it's obligatory, I promise), we decided to hit the drinks menu and polished off a French cocktail (£12.50) - a refreshing little gin, champagne number - while ordering a Burrata di Puglia (£15) to share and a dish of Florentine eggs (£10) and Dorset Crab on Toast (£9) each. Well, it's not often you get to dine out in Narnia, is it?
The Burrata di Puglia is the first plate to arrive and it's predictably divine: succulent roasted cherry vine tomatoes, baked sour dough toast and a dollop of delicate burrata mozzarella-style cheese literally melt in the mouth, and I wonder why I don't have this for breakfast/lunch/dinner every day.
Next up are my seasoned Florentine eggs, which arrive on a toasted, fluffy English muffin, slathered in a rich hollandaise sauce. The poached eggs are cooked to perfection and the bed of baby spinach is sweet and crisp. It's pure class on a plate, especially when washed down with an extra glass of French bubbles.
My friend tucks into the Dorset Crab on Toast, accompanied by an egg, watercress and apple salad, and enthuses enough 'mmmm'-like nods and noises to comfortably confirm she's enjoying her dish as much as I am.
Other brunch menu options include Buttermilk Pancakes with blueberries and lemon curd (£7), Kentish Spinach Salad with poaches eggs, piquillo peppers and toasted pine nuts (£12), or the Clarence Court Egg White Omelette with chia seeds and spinach (£10). Yum.
In fact, we inspect the menu for our next Dalloway dining experience for so long it's another hour before we leave this heated hideaway, which embodies a quintessentially, almost poetic, English charm. I'll be back for the Afternoon Tea and 28-day aged Sirloin Steak, no doubt, but not before another round of Florentine and French.
Dalloway Terrace, 16-22 Great Russell Street, is open from 11am daily and offers all-day dining. For more information or to book, call 0207 347 1221 or visit dallowayterrace.com.
Celebrity news, beauty, fashion advice, and fascinating features, delivered straight to your inbox!