Your extensive guide to how to use a bullet vibrator for better orgasms
Your need to knows.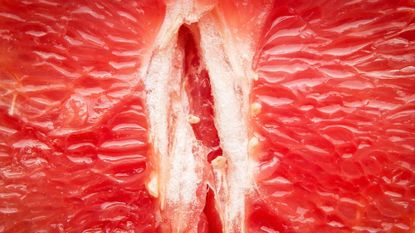 (Image credit: Getty Images)
Ever wondered how to use a bullet vibrator? No wonder - they're one of the best vibrators and most popular sex toys on the market, with sex toy brand Je Joue reporting that 30% of their annual sales were bullet vibrators last year (55% of their 2022 bullet sales alone were the G Spot bullet).
While we've bought you an expert-led guide to the types of vibrator, there's no use in knowing about the different variations if you don't know how to use one of the simplest and most beginner-friendly designs.
Enter stage right the bullet, otherwise known as a lipstick vibrator, which sex therapist Ness Cooper explains as a small thin chamber-style vibrator often with a pin-point or rounded tip for clitoral stimulation.
So, why are they so popular? "Well, the tip of these small sex toys is perfect for targeting vibrations to small areas - think your labia, nipples or clitoris," she continues.
Wondering when they were first invented? While the patent for a lipstick vibrator was originally filed in 2001, it's likely that this style of vibrator surfaced just towards the end of the 1990s, shares Cooper. "Slightly later in 2003 came the Rocks Off RO-80mm, which was a viral hit and made the compact clitoral vibrator more bullet-like in design."
While the sessions were originally battery-powered, many brands now offer rechargeable versions, too, as our explainer of the best bullet vibrators highlights.
Ready to learn all about how to use one? Below, Cooper shares her wisdom and top tips for both first-timers and novices. Don't miss our guides to the best rabbit vibrators, best wand vibrators and best vibrators on Amazon, while you're here.
How to use a bullet vibrator: your complete guide
The great thing about bullet vibrators, Cooper shares, is that while many places advertise them for cis-women and clitoral use, they can be great at exciting various body parts and for use during couples' sex.
Shop Cooper's go-to bullet vibrator now:
The Maya is a lightweight eco-friendly rechargeable bullet vibrator from sex toy brand Love Not War.
"What I love about Love Not War sex toys is that you can purchase different attachments, meaning that I can switch from the Maya bullet attachment and try a different-shaped bullet vibrator next time, depending on what mood I am in erotically," shares Cooper.
"The Love Not War Vibes are amazing - every time I use one of their bullet-style sex toys it always leads to an amazing orgasm which leave me feeling like I'm literally glowing afterwards."
"The Maya's vibrations travel strongly and smoothly, leading to a quick and pleasurable orgasm."
For
4 intensities
7 vibration patterns
Rechargeable
Eco-friendly and sustainable
Waterproof
Quiet
Can be sent for repairs.
Against
Some may find it a bit heavy
Single press button for all modes.
1. Start by understanding how your toy works
When using a bullet vibrator the first time, it's key to read the instruction leaflet and understand the intensity of the toy, too. The leaflet will explain exactly how to charge your toy, turn it on, and use it, too.
"You may want to drag the tip of it along your arm or inner thigh to gain an understanding of how it'll feel when it glides over your body," explains Cooper.
Know this: if it's a hard plastic bullet vibe, like the Tango X, it's likely to glide effortlessly, whereas ones coated with silicone or have a slight texture may move slower across your skin.
2. Apply some lube
Now you know exactly how to use your toy, Cooper recommends applying one of the best lubes, first.
Why? "Vibrations travel better when you add lube," she shares.
Roam 'For The Front' Lube
This is a great lube to have on hand as it can safely be used on toys and all over the body, too. It feels light, refreshing and hydrating, according to our pros.
This water-based lubricant from sexual wellness brand HANX is organic, chemical free, naturally scented and non-staining - in other words, friendly to your down there.
3. Start slowly
Now you're all set up and ready to go - make sure to start slowly and work your way up to pleasure, shares the pro.
Her advice? "Tease the vibrator over the erogenous zones you enjoy being stimulated," she shares. "Explore the nipples, clitoris, and labia, being sure to gently tease yourself as you go."
4. Explore with different pressures
Next, Cooper advises exploring the different vibrations and pressures your toy offers. "As you explore your body, you may find you have a particular spot that feels too sensitive or an area that's amazing," she shares.
Try this: Some find that treating the top of the clitoris like a 12-clock marker and working around it, memorising the hour-points they like, is a great starting point, she explains. "Personally, I enjoy placing my bullet vibrators at 2 o'clock for the quickest climax."
Mantric Rechargeable Bullet Vibrator
According to Annabelle Knight, a sex and relationship expert, this vibrating bullet is a great option if you've never bought a sex toy before. Enjoy..
This was chosen as one of the best bullet vibrators out there by experts for our best bullet vibrators round up. It offers intense and powerful vibrations that can lead to huge orgasms while being small enough to be used by beginners or during partnered sex.
Fosnight is a big fan of this discreet clitoral stimulator, calling it "bite-sized" but packing a punch, too. Made from skin-safe silicone, its ergonomic design makes it ideal for use all over, plus it's waterproof, so can seriously enhance your shower play. Not to mention it's small and travel-friendly. Your next trip abroad with your partner just got exciting...
5. Be mindful of sensitivity
Reach orgasm and want to aim for another? "Remember to remove the vibrator tip away from your clitoris occasionally," she recommends. "They can sometimes have a numbing effect if held on for so long - but don't worry, this is totally normal and only temporary."
Also, top tip: remember to reapply lube as you go.
6. Give it a go during couple sex
If using the bullet vibrator with a partner, Cooper advises holding it or getting your partner to position it over your clitoris during certain sex positions. "This can increase the chance of orgasm during penetration," she says.
Not to mention bullet vibrators are great at focusing vibrations directly on a penis. "From gilding the vibrator along the shaft to focusing it on the frenulum and head of the penis, many can find this adds to their sexual pleasure experience," Cooper continues.