Ever wondered what the Royals wear to workout? These 5 brands are on Royal rotation
The Royal seal of approval means these brands are worth the investment.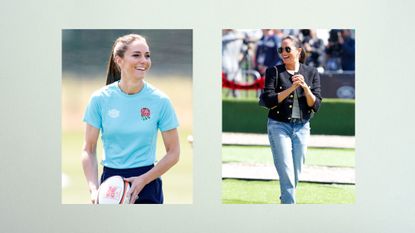 (Image credit: Getty Images)
Imagine getting a peek into a Royal wardrobe. What would you be most curious about? For me, it'd have to be their workout clothes.
While the Royal family ooze luxury and glamour - we know Kate Middleton's favourite clothing brands from memory now - we rarely see them in activewear.
That's right - they're rather private about their workout routines and go-to kit so as not to show favouritism. That said, I've been doing some digging for you and chatting to various industry sources to get the scoop on the workout clothing brands that they genuinely wear on rotation.
Because yep, they work out a fair bit. Think about it - the vast majority of their Royal engagements require them to be on their feet for long periods of time, meaning it's vital that they build a strong enough foundation to support them through such work. While which workouts the Royal family love differs from person to person, they're widely known for their love of tennis, rugby and even rowing.
Yet despite being one of the most photographed families in the world, we rarely see them in their activewear. So, do their workout leggings cost £250+? Are their sports bras exclusive designs that we mere mortals could only dream of affording? Or, actually, are the items quality high street buys? Spoiler alert for you: it's the latter. Unlike the Princess' red carpet looks, their activewear choice is within our budget (phew). And if it's fit enough for a Princess...
Don't miss our guides to celebrity workouts and Royal workouts.
Workout kit brands that the Royal family love
Catherine, Princess of Wales
1. lululemon
Kate has long been a fan of the activewear brand lululemon. We first noticed the Princess' love for the brand back in 2016 when she was photographed outside a lululemon store with one of their shopping bags in hand.
She confirmed her love of the brand in the summer of 2021 when she visited the City of Derry Rugby Club and opted for a lululemon 'fit. After the Duchess was seen at the event in a black lululemon define jacket, it cemented it as one of the brand's most sought-after pieces of activewear. Case in point - the #lululemondefinejacket TikTok hashtag currently has over 80 million views. Now that's what we call the Kate Middleton effect.
She's also been wearing the Lululemon Chargefeel 2 low workout shoe times over the past few months. And Kate's not the only lululemon fan - Meghan Markle has been papped in lululemon leggings from the brands Align range, one of the best workout leggings, according to our Health Editor.
The exact jacket Kate Middleton loves, this outer layer is known on TikTok as the BBL jacket thanks to its slim-fit design. It also has handy thumbholes, zip pockets, and the elastic zipper pull doubles as a hair tie, if you forget your hair band. No wonder Kate is a fan.
2. New Balance
New Balance is another of Catherine's long-term favourite brands.
When it comes to daytime trainers, both Kate and Meghan are fond fans of Veja's, but for working out, it's a trusty pair of New Balance. Case in point: The Princess was spotted in a pair of blue New Balance Arishi trainers at the King's Cup Regatta in 2019.
That said, her love for the brand goes way beyond that (she was photographed in a pair of NB Vazee transform years prior). Wondering why it seems as though everyone has a pair of New Balance right now? It might just be the Kate Middleton influence....
The New Balance Arishi are the ones we saw on Kate Middleton, and these are almost an identical same shade. Princess approved and comfortable? We're sold. With a cushioned foam midsole, they're super comfy and will work with leggings or shorts, for the gym or a mid-morning coffee break.
New Balance 1080 V12 Trainers
The Princess ran in a navy and red pair but of course they sold out as soon as she wore them. Fear not, though - this colour way will work even better in your gym wardrobe and will pair with almost everything. Don't be afraid to sport them during the day too, because you can't walk through London without seeing five pairs of New Balance at the moment.
Princess Diana
3. Reebok
The late Princess Diana's cycling shorts and oversized jumper combination was nothing short of iconic - so much so, we're still recreating the look to this day, and probably will be for years to come.
The Princess reportedly wore the same oversized jumper in an attempt to be papped less and, fun fact: the Virgin Atlantic jumper she wore on repeat is said to be a gift from Richard Branson.
That said, it's her chunky white trainers we're the biggest fan of. Totally different in style to Kate's Veja's or the Superga 2750 Cotu Classic trainers Princess Di has sported many a time, they're a classic wardrobe staple.
Premier Road Plus VI Shoes
Although Princess Diana's Aerostep Pro were from the 90's these look so similar we had to do a double take when we found them. With 90's style taking over the fashion set right now and Di's seal of approval, these Reeboks are going straight to basket.
Meghan Markle, The Duchess of Sussex
4. Under Armour
As an avid yoga and Pilates fan, we're not surprised to see the Duchess opt for a pair of super comfortable leggings. When she's not in lululemon, she's normally spotted wearing Under Armour - and you know you're wearing the best leggings when they're comfortable enough to wear pregnant.
The Duchess has been seen in the brand's ColdGear ski and snowboard leggings, HeatGear armour ankle crop and HeatGear capri's.
Under Armour HeatGear Armour High Waisted Cropped Leggings
This is the exact pair Meghan was spotted wearing a few years ago, yoga mat in hand. The Duchess always looks chic attending any workout class, pairing her cropped leggings with a Barbour jacket and Stella McCartney x Adidas UltraBoost trainers.
5. Nike
In Meghan & Harry's Netflix documentary, we got a peek into the Duke and Duchess's personal life. Let's be honest, though - more than anything, we were lookout for some Meghan Markle style tips.
Spoiler alert: it delivered on the workout gear front. So, what did we spot? In one scene Meghan in Nike Air Pegasus 37 trainers with Champion Sport shorts and in another scene wears a now sold-out pair of Nike yoga leggings.
There's now a new and improved version of the Pegasus 37, in the Pegasus 40 but sleeker. Made to put a spring in your step when you run, with added support and comfort. Whether you're running to workout or running to your local supermarket, these perfectly compliment leggings, shorts or even jeans.
Nike Yoga Women's High-Waisted 7/8 Leggings
While Meghan's exact pair of yoga leggings seen on Harry & Meghan may be sold out, these look pretty much identical with all the same benefits Nike's yoga pants bring. High-waisted and made from a comfortable, stretchy fabric for yoga classes and straight into brunch.
Celebrity news, beauty, fashion advice, and fascinating features, delivered straight to your inbox!
Dionne Brighton is a writer at Marie Claire UK, specialising in all things shopping, beauty and fashion. Born and raised in North London, she studied Literature at the University of East Anglia before taking the leap into journalism. These days, you can find her testing out the latest TikTok beauty trends or finding out what the next full Moon means.