From Kate Middleton to Meghan Markle - 13 surprisingly relatable ways the Royal family keep fit
Will you be giving these a try?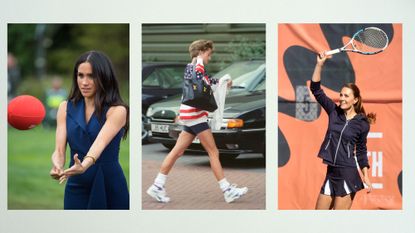 (Image credit: Getty Images)
Let's be honest: the Royals have a pretty packed schedule. Between their many engagements, charity work, and looking after the heirs to the throne, it sure seems like they'd never have a second to fit in time for movement. That said, our sources confirm that Royal workouts are a firm staple in all of their lifestyles - and for good reason.
Think about how often they're travelling for work and how many of their Royal engagements involve them standing on their feet for hours, for starters. Being fit is kind of part of the Royal job description and something the Royal women in particular seem to both enjoy and embrace.
While you might not be wrong in expecting them to have access to the best fitness experts in the business - one Royal reportedly had a gym membership at over £300 a month (!) - we've been doing some digging into how they actually keep themselves healthy while constantly busy and on tour. Spoiler alert: the workouts really aren't as exclusive as you might think.
A reminder: what works for a celebrity or, in this case, Royal family member, won't necessarily work for you. Building a healthy body for life is about embracing exercise that you genuinely enjoy, not copying and pasting someone else's.
That said, it's heartwarming to see that so many of the exercises the Royal family embrace are ones you can do yourself, for free, and at home, anytime you like. Keen to read more? Keep scrolling.
Ever wondered? This is exactly how the Royal family workout
Catherine, Princess of Wales
Tennis
The future Queen has long been vocal about her love of working out and keeping fit. Not only does she love spending time in the great outdoors, she's also patron of the Tennis Lawn Association, the Princess is a big fan of tennis and attends Wimbledon every year on behalf of the Royal family.
She's pretty much a pro at this point, having had a match with Rodger Federer in 2022 and played doubles with Emma Radacu the same year. Yep - it seems she knows a thing or two about the sport.
Tennis is an excellent workout that boasts both cardio and muscle-boosting benefits (say hello to strong arms in no time).
Trampolining
One of the Princess's many tricks for staying fit? Joining in with her children's activities. "Kate takes her kids to the trampoline park quite regularly and really blends in as any other mum," reports Hello.
She's also constantly on her feet chasing her three children - George, 10, Charlotte, eight, and Louis, five - around, even joining in with their games. "It's running around after the children... Whenever I can squeeze in exercise, I do. Even jumping on the trampoline with my children before school," she shared in January.
Trampolining is an excellent way to get the heart pumping.
Walking
Although the Royals get private cars to most engagements, they certainly get their steps in while there. Kate often speaks of her love for nature and getting outside. Kensington Palace once said: "The Princess has long been an advocate of the huge impact the outdoors can have on our wellbeing and the life skills it nurtures, such as confidence and resilience."
Walking workouts are an excellent option for squeezing in some exercise, if you're feeling inspired.
Rowing
You'll likely remember the images of the Wales family at the Kings Cup Regatta in 2019. The Princess loves rowing and has her own indoor rowing machine at home, according to Harpers Baazar.
Rugby
At this point, we're wondering which sport the Princess doesn't excel at. Because yep - the Princess recently became the patron of the Rugby football league and revealed her secret rugby talent in an Instagram post.
CrossFit
According to some reports, CrossFit is another of the Princess' favourite workouts.
Again, sources share that she trains at the uber-exclusive Harbour Club in Chelsea where - yep, you guessed it - her late mother-in-law Diana also worked out.
Running
Last but by no means least, Catherine has reportedly been a fan of running since her school days when she and her sister Pippa competed in cross country.
You'll likely know all about the many benefits of running, but it's been proven to boost heart health, cardiovascular endurance, metabolism and more.
Shop Kate's workout go-to's now:
The exact jacket as seen on the Princess, on TikTok it's known as the BBL jacket for it's slim-fit design. But how it fits isn't even the best part about it, it has handy thumbholes, zip pockets and if you've forgot your hair band, the elastic zipper pull doubles as a hair tie. No wonder Kate is a fan.
New Balance 1080 V12 Trainers
The Princess ran in a navy and red pair but of course they sold out as soon as she wore them. But no worries, as this colour way will work even better in your gym wardrobe and will pair with almost everything. Don't be afraid to sport them during the day too, because you can't walk through London without seeing five pairs of New Balance at the moment.
Meghan, Duchess of Sussex
Yoga
The Duchess is big into her wellness, with sound therapy a part of her routine and yoga one of her go-to workouts.
Wondering where it all started? According to sources, her love for yoga goes way back. Her own Mum is a yoga teacher and before Meghan started dating Harry, she shared some impressive yoga poses on her Instagram channel (warrior pose, we're looking at you).
The benefits of yoga for the mind are well-known, but it's also a fantastic way to stay fit, boosting muscle tone, flexibility, and mobility. If Meghan is a fan, then we're booking a yoga class, stat.
Pilates
Pilates has been the standout workout of the year, with wall Pilates dominating the fitness sphere.
Just when we thought it couldn't get any more popular, we discovered that Meghan once shared: "[It's] hands down the best thing you could do for your body," as per Hello magazine. So yep - safe to say she's a fan.
Ready to work out like a Royal? Make sure to check out this handy Pilates for beginners guide.
Shop Meghan's go-to workout kit:
lululemon Align High-Rise Pant 28"
The Align range is pretty famous in the MC UK office, and one of Meghan Markle's go-to pairs. The Duchess went for a chic black monochromatic look, but the leggings are available in 14 different colours and patterns and our Health Editor swears by them.
Diana, Princess of Wales
Swimming
When it came to keeping fit, it's reported that Diana would swim laps every morning in the Buckingham Palace pool.
According to Marie Claire Australia: "She integrated at least three 30-minute sessions of vigorous exercise each week. When possible, she began her day with a morning swim or attended to her children's needs. If she had no time to swim, she'd fit in a bit of stretching before breakfast."
Strength training
The Princess was also a strength and resistance training fan, putting resistance bands to good use. Plus, a lot of squats and lunges, according to Bustle.
Not sure where to start? Check out a PT's pick of the best resistance band workouts, here.
Step Aerobics
Everything 90's is making a comeback right now, and if you want to copy Diana's workout routine, you'll get even more '90s nostalgia. Apparently, she loved step aerobics and learning to rollerblade, according to Bustle.
Both workouts are great for your cardiovascular fitness and heart health, but also promise to make sure your workout is fun and enjoyable, to boot.
Shop Diana's go-to workout kit now:
Premier Road Plus VI Shoes
Although Princess Diana's Aerostep Pro were from the 90's these look so similar we had to do a double take when we found them. With 90's style taking over the fashion set right now, and Di's seal of approval, these Reeboks are going straight to basket.
Queen Elizabeth II
Horse Riding
The late Queen opted for mindful movement in the form of a gentle horse ride.
The Queen had her first horse riding lesson at age three and her own pony by age four, according to Town & Country. Horse riding was a long-time passion of hers and also offers a great way of staying fit.
Swimming
In 1938, King George commissioned a swimming pool in Buckingham Palace, and it's widely reported that every Royal has learnt to swim in the Palace pool ever since. Prince George, Princess Charlotte and Price Louis learned to swim there, as did William and Harry.
According to reports, the late Prince Phillip used to have a quick swim every morning, and we're sure the Queen must've joined at least once.
Celebrity news, beauty, fashion advice, and fascinating features, delivered straight to your inbox!
Dionne Brighton is a writer at Marie Claire UK, specialising in all things shopping, beauty and fashion. Born and raised in North London, she studied Literature at the University of East Anglia before taking the leap into journalism. These days, you can find her testing out the latest TikTok beauty trends or finding out what the next full Moon means.