8 of the best running jackets you can buy, as tested by 3 fitness experts
Stylish and practical? Yes, please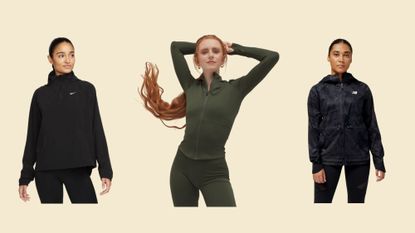 (Image credit: Future)
When it comes to the best gym wear, a running jacket is an absolute essential for the colder months - simply layer over your sports bra to keep you warm and dry (yay, British weather).
While we're all about practical kit that's actually functional here at Marie Claire UK, we also like kit that looks stylish, too (think fit to wear to brunch with friends over your matching gym set ).
With that in mind, we've taken it upon ourselves to round up the best running jackets to buy now, keeping in mind price point, breathability, fit, style, design, sweat-wicking ability, and water resistance, too.
When it comes to testing, we always make sure to put our fit kit through its paces (read how we test products, here).
For this article, we enrolled the help of our Health Editor and 8x marathon runner Ally Head, our Ecommerce Writer, Grace Lindsay and Lillie Bleasdale, a running coach, personal trainer and the founder of Passa, a female-focused run coaching community. If you hadn't already guessed, Ally is an avid runner, so she's tested her fair share of running jackets over the years. Although Grace isn't much of a runner herself, she loves going to a sweaty spin class or Pilates session, and she also tests products for a living, so knows exactly what to look out for when it comes to good quality clothing. Lillie is a 3 hour 7 minute marathoner who documents her training and journey through stage two endometriosis and adenomyosis online.
Keep on scrolling for their top picks. For more fit kit inspiration, don't forget to check out our guides to the best activewear brands, best oversized gym t-shirts, best running shorts, best cycling shorts and even the best tennis skirts, while you're here.
What did we look for when testing the best running jackets?
Breathability - does it keep you cool yet warm when you're out banking miles?
Water repellency - does it keep you dry if it's raining?
Wind blocking ability - does it keep you warm from the wind?
Sweat wicking ability - does it dry fast?
Reflective detail for added visibility - will it keep you safe and easy to spot in the dark?
Cut, design and fit - does it look good and flatter you for both banking miles and brunch?
Best running jackets: 8 to buy now
1. Best affordable running jacket
Puma UV Favourite Woven Women's Running Jacket
"This is a great affordable option for all year round - it's light enough and UV protected for use during colder summer months, but also water repellant for winter running, too. I was impressed by how well it sweat wicked, and liked that it has reflective elements for evening runs and spacious pockets with zips to keep your valuables. Do note - while it keeps the rain out adequately, it is on the lighter side, so will often need a warmer layer underneath, if you feel the cold." - Ally Head, Health Editor
2. Best running jacket with hood
Nike Essential Dri-FIT Running Jacket Womens
"After a running jacket with a hood to keep your head warm? This Nike option has a detachable one, so you can wear it in colder weather or take it off in hotter runs. I liked that it's lightweight but keeps you warm, plus has two handy side pockets, too. Cons: it does have quite visible Nike branding, so if you're not keen on branded kit, I'd suggest going for another option." - Ally Head, Health Editor
3. Best waterproof running jacket
New Balance Impact Run AT Waterproof Jacket
"I've recently been using the Impact Run AT Waterproof Jacket whilst it's been miserable and cold outside. Not only is the jacket a great waterproof option, but it also really helps when it comes to layering up in the colder winter months. As someone with a petite figure, I also find that a lot of the time jackets can drown me, however I love the addition of the adjustable waistband on this one which really improves my confidence when wearing it for runs." - Lillie Bleasdale, running coach and personal trainer
"I love the drawstring waist of this New Balance jacket - plus, it's made from a watertight yet breathable material which is a real joy to run in. The shape is way more flattering than other alternatives on the market, plus makes for a good hiking top layer, too." - Ally Head, Health Editor
4. Best zip running jacket
"This is by far the most flattering piece of gym kit I own. I love the deep green colour, and the lightweight, ribbed material fits like a second skin. Although I'm not much of a runner, I wore this whilst hiking round the Lake District and it kept me warm when things got a little windy. The zip was super handy when the sun did start to come out, as I could let a little air in whenever I needed. Do note that it's not water or windproof, so not ideal for wet or windy runs, but great for the gym or Pilates." - Grace Lindsay, Ecommerce Writer
5. Best reflective running jacket
"This is a great windbreaker for blustery, chilly conditions, promising to keep you warm, cool and dry in even the most torrential of runs. I've worn mine loads now - similarly to the Tracksmith jacket below, it's really high quality, if a little lighter. It doesn't bunch or crinkle and sits well just above the waist. A personal highlight is the drawcord on the lower back, meaning you can tailor the fit to your torso and opt for whatever shape suits you best." - Ally Head, Health Editor
6. Best running jacket for the gym
My Protein Women's Power Ultra Regular Fit Jacket
"While this isn't as windproof as the New Balance and Puma options, it's a great snug and affordable option for winter runs when the wind isn't too vicious. I liked that the cut is flattering, that it has thumb holes to keep your hands warm, and that it's versatile - you can wear it for either running or gym sessions, or even brunch, if you fancy. Plus, I found that it's both breathable and sweat wicks well. The invisible zip pockets for your tech are a great addition, too." - Ally Head, Health Editor
7. Best luxury running jacket
"New to Tracksmith's NDO range is this jacket, and when I say it's a dream to run in, I mean it's a dream to run in. It's a higher price point because it's made from Merino wool, but is the perfect hybrid of warm yet lightweight, keeping you both cosy yet cool. The design - as always with Tracksmith kit - is super flattering, and you could definitely wear it for everything, from running, to hiking, to tennis to brunch. After an investment piece that'll stand the test of time? This is your best bet." - Ally Head, Health Editor
8. Best running vest
Lululemon Down For It All Vest
"Last but by no means least, sure, not a running jacket, but a running gilet that I wear at least once a week. This lightweight yet insulated design from lululemon is a dream - I've had mine for years and it still feels good as new after 100's of washes. It's slim fitting, holds you in and supports you, as well as keeping your torso warm even in frost and snow. As you can tell, I'm a fan - this piece is definitely worth the investment, IMO." - Ally Head, Health Editor
What type of jacket is best for running?
Good question. When looking for a running jacket, you want to think about when you tend to go on a run. For example, if you are someone who runs in the evening, you might want a jacket with reflective details for added visibility. The second thing to think about is where you like to run. If you run outside, you'll probably want to opt for a jacket that is windproof and waterproof. These features are definitely an essential for any winter runners. However, if you run at the gym, a zip up jacket would be best so that you can take if off easily. Lastly, think about how much you want to spend. If you're an avid runner, you might want to invest in a high quality jacket that you know will last the long run (no pun intended).
Celebrity news, beauty, fashion advice, and fascinating features, delivered straight to your inbox!
Grace Lindsay is currently Junior Beauty Editor at Who What Wear UK and previously was Marie Claire UK's E-Commerce Writer. With over three years of experience in the fashion and beauty industry, she covers everything from the best make-up and skincare deals to how to shop the stand out trends of the season. When she's not typing away at her laptop, Grace can be found shopping her favourite vintage markets IRL, or catching up on her never-ending list of books to read.
With contributions from
Ally HeadHealth, Sustainability and Relationships Editor