Short on time? These are the best 15-minute workouts you can do from home to get your heart rate up
Ready to get a quick sweat on?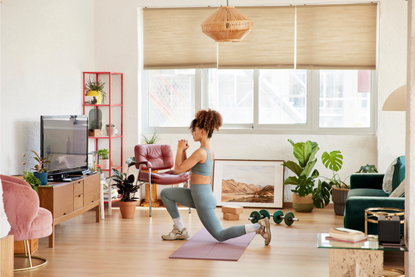 (Image credit: Getty)
The most common excuse when it comes to committing to home workouts or a regular exercise routine? "I just don't have the time." Enter stage right, a PT's pick of the best 15-minute HIIT workouts to try anytime, anywhere.
Finding an extra hour (or more if you include travelling to a gym) to exercise can sometimes feel like an impossible challenge – especially if you have a busy work schedule, unsociable shift patterns, child care responsibilities or a long commute.
But the good news is you can get the same – or perhaps better – results from doing intense 15-minute HIIT workouts at home as you can from a one-hour session at the gym.
In fact, several studies have documented the benefits of short durations of exercise. A 2014 study published in the Medicine and Science in Sports & Exercise journal found that men who did just thirteen minutes of HIIT (that's high-intensity interval training, FYI) burned more calories per minute and increased their VO2 max by 12.5 per cent more than men who did steady-state cardio for 40 minutes. Similarly, a 2016 study published in European Society of Cardiology found that older adults who exercised for fifteen minutes a day had a lower risk of death, while another 2022 study in the European Heart journal found that just fifteen minutes of vigorous activity per week was linked to a lower risk of premature death.
Short on time and ready to give 15-minute HIIT workouts - which you can do for free, from the comfort of your own home - a go? Keep scrolling for 5 of the best.
15-minute HIIT workouts you can do from home
What is a HIIT workout?
"HIIT – otherwise known as high intensity interval training – involves short sharp bursts of high-intensity exercise interspersed by periods of rest or low-intensity exercise," explains Alex Petitt-Ward, Surrey-based personal trainer and head coach at Sweat Society. "HIIT sessions can be made up of bodyweight exercises or equipment based such as kettlebells, dumbbells, ropes, slam balls and more."
Is 15 minutes enough for a good HIIT workout?
While Petitt-Ward says that in an ideal world, you'd leave yourself more time to workout, cool down and warm up, he acknowledges that most people may not have the luxury of time. If that's you, short, sharp bursts of exercise can be effective.
The key to HIIT is carefully programming so that your heart rate reaches specific training zones for a certain time of the workout, he adds. "For example, in a 30-minute HIIT session, your heart rate is likely to reach 90% max for a period of 15 minutes. The short sharp appeal of HIIT achieves higher elevation in heart rate and then short rest periods. If the intensity of the 15 minutes is challenging enough, then there are health benefits to a short session."
Tempted to start carving out 15 minutes of your day to exercise? We've rounded up some of 15-minute HIIT workouts from some of the best qualified personal trainers in the business for you to try at home, below.
Don't miss our guide to the best home workouts that require no equipment, while you're here.
1. 15-minute full-body HIIT workout with Kayla Itsines
What? Sweat Trainer Kayla Itsines's full-body workouts do exactly what they say on the tin – they work your full body, targeting all muscle groups.
Why? Full-body workouts tend to use compound exercises (ie exercises that work multiple muscle groups at the same time to perform a movement – like squats, push-ups and lunges). Itsines confirms that they're also great for raising your heart rate.
How long? Aim for 15 minutes.
2. 15-minute bodyweight HIIT workout with Joe Wicks
What? Joe Wicks, also known as The Body Coach, uploads a whole host of short, full-body, no-equipment and time-efficient workouts that are simple and can be scaled to any fitness level or ability.
Why? If you can't do a full press-up on the floor, you can modify it by putting your knees on the floor. Bodyweight-only workouts mean you can ramp up the intensity according to your own fitness level.
How long? Aim for 15 minutes.
3. 15-minute HIIT workout upper and abs with Courtney Black
What? Core exercises are often skipped in favour of upper or lower body training, but Cortney Black reckons core workouts are essential for maintaining overall health (and is great at making the sessions fun and enjoyable, too).
Why? Having a strong core has been linked to overall strength - but it isn't just vital for sports. Core strength has been found to be key for everyday activities like carrying the supermarket shopping or picking up the kids.
How long for? 15 minutes.
4. 15-minute HIIT workout full-body burn with Stef Williams
What? This 15-minute full-body workout from personal trainer Stef Williams shows how to maximise a short workout by either minimising or totally removing rest time in between each exercise.
Why? Keen to challenge yourself? By removing the rest period, this workout promises to boost your strength and improve your cardiovascular fitness - and fast.
How long? 15 minutes.
5. 15-minute pregnancy workout with Hollie Grant
What? Pregnant and still want to get your daily dose of fitness? Hollie Grant – also known as The Pilates PT – shows how to exercise safely during your second trimester.
Why? Pilates exercises are great – especially during pregnancy – since they help to strengthen the body, and improve balance, flexibility and posture.
How long? 15 minutes.
Are 15 minute HIIT workouts effective?
The short answer? Yes – but if you can fit more in, you'd only reap the benefits.
"15-minute HIIT workouts are effective for those willing to focus and push themselves through, but do make sure the intensity of your workout is high as you're not moving for that long," says Alex Petitt-Ward, head coach at Sweat Society.
Daily movement is key to overall health and it all adds up to a wider whole - that is, improved heart health, metabolism, and more. "HIIT is an ideal style of training for those short on time," he adds.
Celebrity news, beauty, fashion advice, and fascinating features, delivered straight to your inbox!
Alice is a contributing lifestyle journalist with over seven years of industry experience and has worked for the likes of The Telegraph, The Independent, Women's Health, Stylist, Glamour, Grazia, Glorious Sport and more. Specialising in health and fitness, Alice covers everything from the latest product launches to interviewing some of the most inspiring female sports stars of our time.