Paris Fashion Week AW23: from gorgeous gowns to sharp tailoring, these are the clothes to add to your wishlist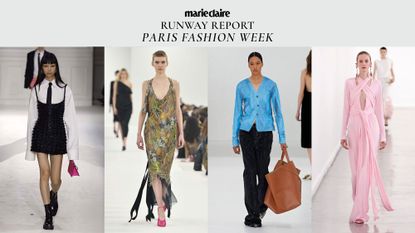 (Image credit: Getty images)
It seems like just yesterday we were waxing lyrical about all the best looks from London Fashion Week AW23, now it's the turn of our other favourite city to take the spotlight.
Hot on the heels of Milan Fashion Week, Fashion turned its collective attention to Paris. Arguably, this is the week where we see more luxurious gowns, expertly crafted tailoring and full-on fantasy fashion, than its counterparts.
Off the catwalk, we saw some truly fabulous Paris street-style moments and when it came to the stars, from Marie Claire cover star Salma Hayek Pinalut to Emily Ratajkowski in the Loewe Peace Lily top, the Paris front rows were certainly full of them.
But, back to the clothes: Maria Grazia Chiuri's Dior AW23 show kicked things off in truly spectacular fashion with an ode to the 50s, elsewhere, Givenchy presented a collection full of wearable—and seriously cool—clothes. Naomi Campbell closed the Alexander McQueen AW23 show in a truly showstopping black jumpsuit and Coperni attempted to up the ante on their dalliance with technology by enlisting the help of robodogs as performers.
Read on to see all the Marie Claire team's favourite shows and looks from Paris AW23 fashion week.
Our favourite shows at Paris Fashion Week AW23
1. Dior
One of our favourite Dior shows ever: for AW23 Maria Grazia Chiuri delivered a collection full of wardrobe hits and future classics. Fashion's favourite hue coloured everything from cocktail dresses to A-line skirts and, of course, the obligatory red carpet-worthy gowns peppered the collection. The set was pretty impressive too, with models snaking around a larger-than-life installation by Portuguese artist Joana Vasconcelos. - Sunil Makan, Editor
2. Givenchy
We've said it before, and we'll say it again...we all want to be the Givenchy woman.
Taking inspiration from the brand's heritage and archive, Matthew Williams' vision for AW23 is all about sharp tailoring with exaggerated proportions, sleek silhouettes and vintage-inspired prints. The result? A certain refinement and elegance with truly covetable clothes.
The must-have pieces for our AW23 wishlist include a grey tailored coat expertly worn by the inimitable Saskia de Brauw, a pair of fuschia heels with delicate crystal embellishment and the green triangular handbag with chunky—but refined—hardware. - Andrea Thompson, Editor-In-Chief
3. Zimmermann
Zimmermann debuted its Fall 2023 collection within the halls of the beautiful Petit Palais in central Paris. The historic building features incredibly intricate interiors, including a high, vaulted ceiling that has been painted with impressionist designs. This space made the perfect setting for a collection inspired by art.
For this collection, designer Nicky Zimmermann looked to the work of Australian artist Rupert Bunny, and was drawn to the romanticism and optimism of his designs. Working with the National Victorian Gallery, Zimmermann turned some of Bunny's most idyllic lifestyle paintings into prints that were used across voluminous dresses and skirts. Of Bunny's influence on the collection, founder Nicky Zimmermann explained to Marie Claire, "I just loved his interpretation of women. How he saw them, how he painted with the light and the mix of colour and movement. It really appealed to Zimmermann's sensibility. I wanted the show to have a beautiful, soft, optimistic glow, so it just worked hand in hand and his art informed what we did for the rest of the show."
Aside from the prints, this collection also featured the hallmarks of Zimmermann's designs, including lacework, ruffles and other feminine touches. The brand also displayed a strong denim offering, giving the Zimmermann customer something she can wear every day, not just on special occasions. - Zoe Anastasiou, Acting Fashion Editor
4. Stella McCartney
Stella McCartney's Autumn/Winter 2023 collection celebrated the designer's lifelong love of horses. Staged inside the Manège de l'École Militaire, which is France's oldest horse riding school, models walked adjacent to six white ponies in a show that was decidedly unique.
The collection was horse-inspired, too. From equestrian details to large-scale photographic prints and jacquard patterns, so many intricacies within the range acted as an ode to the animal. Of course, the collection was also complete with Stella's signature tailoring and chain-adorned accessories. - Zoe Anastasiou, Acting Fashion Editor
The best looks from Paris Fashion Week AW23
Acne Studios
Image 1 of 6
Akris
Image 1 of 4
Balmain
Image 1 of 3
Cecilie Bahnsen
Image 1 of 7
Coperni
Image 1 of 6
Dior
Image 1 of 5
Giambattista Valli
Image 1 of 11
Givenchy
Image 1 of 9