The best street style from Paris Fashion Week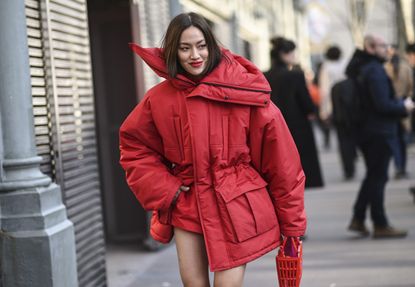 (Image credit: Getty Images)
Well, fashion month is almost over, but that doesn't mean you can't style get plenty of style inspiration. After London Fashion Week and Milan Fashion Week, it's now over to Paris from some seriously covetable looks.
Where Milan and London featured more daring and colourful looks, the French capital is all about chic and understatement (bien sûr), and the looks put together by editors, influencers and celebrities so far have not disappointed.
With a hint of spring in the air, we're starting to see some pretty spring/summer outfits shine through, including colourful dress, pops of neon and even the odd sandal. The trench coat is still very much de rigueur, but this season it gets a makeover, in the form of subtle hues and luxe fabrics. Oversized is the silhouette of the season, with masculine coats, statement blazers and jumper dresses taking over the Parisian cobbles too.
Keep scrolling for the best street style looks so far.
Street Style : Day Eight - Paris Fashion Week - Womenswear F/W 2022-2023
Street Style : Day Eight - Paris Fashion Week - Womenswear F/W 2022-2023
Street Style : Day Eight - Paris Fashion Week - Womenswear F/W 2022-2023
Street Style : Day Eight - Paris Fashion Week - Womenswear F/W 2022-2023
Street Style : Day Eight - Paris Fashion Week - Womenswear F/W 2022-2023
Street Style : Day Eight - Paris Fashion Week - Womenswear F/W 2022-2023
Street Style : Day Seven - Paris Fashion Week - Womenswear F/W 2022-2023
Street Style : Day Seven - Paris Fashion Week - Womenswear F/W 2022-2023
Street Style : Day Seven - Paris Fashion Week - Womenswear F/W 2022-2023
Street Style : Day Seven - Paris Fashion Week - Womenswear F/W 2022-2023
Street Style : Day Seven - Paris Fashion Week - Womenswear F/W 2022-2023
Street Style : Day Six - Paris Fashion Week - Womenswear F/W 2022-2023
Street Style : Day Six - Paris Fashion Week - Womenswear F/W 2022-2023
Street Style : Day Six - Paris Fashion Week - Womenswear F/W 2022-2023
Street Style : Day Six - Paris Fashion Week - Womenswear F/W 2022-2023
Street Style : Day Six - Paris Fashion Week - Womenswear F/W 2022-2023
Street Style : Day Five - Paris Fashion Week - Womenswear F/W 2022-2023
Street Style : Day Five - Paris Fashion Week - Womenswear F/W 2022-2023
Street Style : Day Five - Paris Fashion Week - Womenswear F/W 2022-2023
Street Style : Day Five - Paris Fashion Week - Womenswear F/W 2022-2023
Street Style : Day Five - Paris Fashion Week - Womenswear F/W 2022-2023
Street Style : Day Five - Paris Fashion Week - Womenswear F/W 2022-2023
Street Style : Day Five - Paris Fashion Week - Womenswear F/W 2022-2023
Street Style : Day Five - Paris Fashion Week - Womenswear F/W 2022-2023
Street Style : Day Four - Paris Fashion Week - Womenswear F/W 2022-2023
Street Style : Day Four - Paris Fashion Week - Womenswear F/W 2022-2023
Street Style : Day Four - Paris Fashion Week - Womenswear F/W 2022-2023
Street Style : Day Four - Paris Fashion Week - Womenswear F/W 2022-2023
Street Style : Day Four - Paris Fashion Week - Womenswear F/W 2022-2023
Street Style : Day Four - Paris Fashion Week - Womenswear F/W 2022-2023
Street Style : Day Four - Paris Fashion Week - Womenswear F/W 2022-2023
Street Style : Day Three - Paris Fashion Week - Womenswear F/W 2022-2023
Street Style : Day Three - Paris Fashion Week - Womenswear F/W 2022-2023
Street Style : Day Three - Paris Fashion Week - Womenswear F/W 2022-2023
Street Style : Day Three - Paris Fashion Week - Womenswear F/W 2022-2023
Street Style : Day Three - Paris Fashion Week - Womenswear F/W 2022-2023
Street Style : Day Three - Paris Fashion Week - Womenswear F/W 2022-2023
Street Style : Day Three - Paris Fashion Week - Womenswear F/W 2022-2023