Hayley Hasselhoff: It's time to be more size inclusive this party season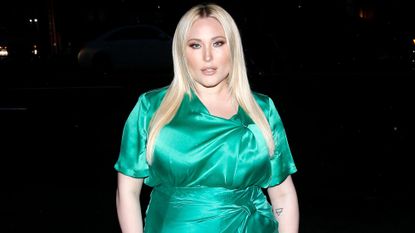 (Image credit: Getty Images)
Words by Hayley Hasselhoff
With party season around the corner and the constant struggle to find the right look to wear, Simply Be has done it once again with its disco ball dresses, velvet dreamed blazers, and goddess laced lingerie.
The brand's 'New Icons' campaign means so much more than just beautiful garments. It represents that you can be your own fashion icon. We so often look for a fashion icon to inspire us but what if you became your own icon from this party season to the next?
For the past twenty years, Simply Be has championed for size inclusive fashion. It raises noise for women to feel powerful, sexy and most importantly heard. Which is why Simply Be went above and beyond to showcase the female silhouette, so all women can feel and be iconic.
A study conducted by the brand found that 81% of women still feel that campaigns are just 'ticking a box' when it comes to representing a more diverse campaign. Although, 84% of women agree they've seen a change in advertising within the fashion industry.
With only a shocking 8% that believe curvier women are represented as a desirable icon to look up to. For all women to feel represented we need to be seen and heard in every campaign. We want to walk into a store knowing that we have been designed for and are welcomed.
It's time to raise more conversations and support brands who are becoming part of the movement. No matter what shape or size, you can lead with the intention to be iconic in your family, friend group or industry. The collection is filled with Hollywood glamour, left with an irresistible showstopper feel.
Not to mention their precision to fit with their snake skin effect knee high boots available in multiple calf fittings. Whether it be from their denim, occasionwear, footwear or lingerie they want the iconic you to shine and take centre stage. Here are three pieces I'm into right now.
SEQUIN SLEEVE VELOUR DRESS, £55
With its Marilyn Monroe feel and Oscar night attire, this velour dress screams showstopper. The cut of the velour fabric is figure flattering for all shapes.
A true Rockstar at heart, it's perfect for a night out on the town, paired with the silver pinstripe trousers.
Looking for the ideal Almost Famous moment? Then this multicoloured faux fur coat is the one.
Sexy yet sophisticated. In love with the embellished sleeves and silver hardware.
Celebrity news, beauty, fashion advice, and fascinating features, delivered straight to your inbox!