The Marie Claire Autumn/Winter 2023 Trend Report
A comprehensive guide to the season.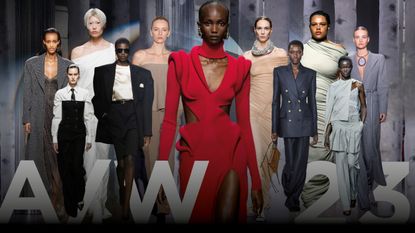 Devoid of viral spray-on clothing or divisive faux-taxidermy dresses, for the Autumn/Winter 2023 runway season designers offered us a renewed focus on the clothes. While fashion months passed may have delivered a sense of whimsical escapism and equally singular looks, the trends of Autumn/Winter 2023 are set to be more wearable, featuring impeccable tailoring, timeless silhouettes and the kind of closet staples that would actually feel at home in your everyday wardrobe.
Though that is not to say there was a lack of grandeur this past season. During the Autumn/Winter 2023 collections, Dior built a sprawling multicoloured installation within its show space that some likened to the inside of a genie's bottle, and Off-White created an apocalyptic feeling for its catwalk featuring sandy flooring and a giant silver orb. At Coperni, robotic animals interacted with models on stage, while Stella McCartney hosted her show alongside real-life horses at France's oldest horse riding school.
When it comes to trends, red will undoubtedly be the colour of the season with everything from clothing to show spaces cast in the hue. Tailoring will also take on a particular prominence for Autumn/Winter 2023, with black suits becoming a key look alongside the return of the tie. Bags are offered the supersize treatment, while ruching and waist-centric details will dominate dresses. Elsewhere, layers have taken on a life of their own, becoming an on-display focal point of outfit styling, and grey coats in every shape and silhouette are set to be the standout outerwear of choice.
From New York to London, Milan and Paris, keep scrolling for our analysis of the runway trends you need to know from the Autumn/Winter 2023 season.
THE AUTUMN/WINTER 2023 FASHION TRENDS
1. Seeing Red
Everyone in the industry was seeing red this fashion month, but not for the reasons you might think. It had nothing to do with anyone's temper and everything to do with the colour designers couldn't get enough of.
From David Koma having models walk on a vibrant red carpet to Nensi Dojaka casting her show space in crimson light, red was undoubtedly the colour of the season. Head-to-toe red looks were seen at Prada, Bottega Veneta, Stella McCartney, and more. Plus, according to Tagwalk, Autumn/Winter 2023 saw a 33% increase in looks featuring the colour compared to Autumn/Winter 2022. Shop the look with every retailer from Mytheresa to Selfridges.
Shop the look:
---
2. Gather Together
Ruching, draping, gathering, whichever way you choose to phrase it, Grecian-inspired draped looks were one of the most prominent trends amongst dresses this season. From Altuzarra to Jason Wu, Ferragamo, Tove and more, models took to the runway swathed in gathered fabrics. According to Tagwalk, draped looked were 20% more popular this season compared to last year.
Shop the look:
---
3. Big Bag Energy
Carry-alls were offered the supersize treatment this season with totes, handbags and clutches being displayed in epic proportions. As the antidote to the tiny handbag trend we've seen in years passed, for Autumn/Winter 2023 it looks like you'll be able to fit everything (including the kitchen sink). Champions of this trend included Ferragamo, who displayed supersize shoulder bags, as well as Loewe, Jil Sander and Balmain.
Shop the look:
---
4. The New Power Suit
For Autumn/Winter 2023, we saw a return to wearable trends. Rather than runways filled with avant-garde clothing that few could ever wear, designers honed in on classic styles that offer versatility and will stand the test of time. One such example was the prominence of the power suit.
Plain black suits in classic silhouettes were spotted everywhere from New York (at Proenza Schouler and Michael Kors) to London (at Tove and Christopher Kane), Milan and Paris (at Dior in the form of a fitted blazer and pleated skirt). In fact, the timeless look was so popular, Ann Demeulemeester and Proenza Schouler sent almost identical outfits down the runway, complete with open shirt styling that featured exposed cuffs beneath the blazer sleeves.
Shop the look:
---
5. Black Tie
While generally relegated to menswear, womenswear designers opted for a new aesthetic this season, sending many models down the runway wearing ties. At Dior, Maria Grazia Chiuri opted for a slim black tie paired with a crisp white shirt and full skirt. Mary-Jane shoes finished off the prim but rebellious look.
Valentino's runway show, was dedicated entirely to the trend. Entitled "Valentino Black Tie," the Italian house's runway was angled as "a literal description" of the trend, rather than an indication of the dress code.
Aside from Valentino, black ties were also spotted on the runway at Alexander McQueen, Carolina Hererra, David Koma and Dior.
Shop the look: