Shock and chic: Why we may never see the end of the fashion show gimmick
As Schiaparelli's lion head continues to dominate social media feeds, we ruminate on the rise of the shock-factor runway.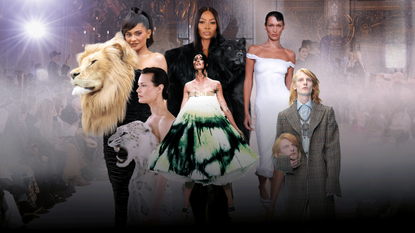 (Image credit: Getty/Ana Ospina)
Lions and tigers and bears, oh my! Over the last 48 hours, social media has been rife with animal anecdotes thanks to Schiaparelli's Spring 2023 couture show at Paris fashion week. Between Kylie Jenner arriving at the event wearing a gown adorned with a very realistic replica of a lion's head and Naomi Campbell, Irina Shayk and Shalom Harlow subsequently donning similarly realistic animal looks on the catwalk, the polarising show has been all anyone can talk about.
Opinions have been strong on either side. Many have condemned the runway as glorifying trophy hunting and cruelty against animals, while others—including the president of animal advocacy organisation PETA—have described the looks as "innovative."
(It is important to note that the inspiration behind the collection was Inferno by Dante Alighieri, a poem which describes Dante's journey through hell, upon which the character is met by a leopard, a lion and a she-wolf. Evidently, Schiaparelli's creative director Daniel Roseberry took the inspiration quite literally.)
Regardless of where you fall on the spectrum of outrage, one thing is for sure, the show has certainly garnered the attention of the public. According to Brandwatch, who analyse data from across Twitter, Reddit, news sources, Tumblr, Youtube and more, mentions of the brand increased by a staggering 3572% following Monday's show.
While Schiaparelli is a respected fashion house that has been around since 1927, it has always sat on the more niche end of the scale compared to its luxury, designer counterparts like Chanel and Dior. Though Schiaparelli is highly respected in fashion circles, it is certainly less of a household name. (For example, Schiaparelli has 1.8 million followers on Instagram, and in comparison, Chanel and Dior have 54 million and 42.9 million followers, respectively.)
Ironically, both Dior and Chanel have also held couture runway shows over the last two days, though neither made nearly as much of an impact on the internet.
This begs the question, will brands continue to reach for shock factor on the runway in order to attract attention across the saturated social media landscape?
Of course, runway show shock factor is nothing new. In 2018, Alessandro Michele sent models down the catwalk at Gucci holding replicas of their own heads. And who could forget that famous 1999 Alexander McQueen runway show, where Shalom Harlow stood on a rotating platform while two robots spray-painted a white dress?
However, it seems that in this day and age, where virality and social media impressions are used as key metrics in a brand's success, fashion show gimmicks are becoming increasingly par for the course.
Last season, Bella Hadid had her own viral spray paint moment which helped to launch Coperni into the cultural zeitgeist. According to Karla Otto, Coperni's runway show garnered the most engagement online of any show throughout the Spring/Summer 2023 season and it is predicted that the moment had an earned media value of $27.7M USD.
The same Spring/Summer 2023 season also saw models intentionally falling over at AVAVAV's debut fashion show in Milan, as well as Paris Hilton take to the runway for Versace. Thom Browne put on an entire theatric performance, that was narrated by Gwendoline Christie and included a giant pink Cadillac making its way down the runway.
Sure, there is a distinction between controversial, shock-inducing stunts and the more general theatrical runway shows, though ultimately the end goal is the same: to create a unique moment that can be disseminated across social media.
Make no mistake, it is no coincidence that the most prominent, recognisable models on the runway—such as Naomi Campbell, Irina Shayk and Shalom Harlon for example—are often the ones selected to wear the most divisive, social-worthy looks.
Indeed, increased brand awareness is one thing (there is arguably nothing wrong with having more views on your collection), though I would argue that these moments seem to be detracting from the clothes and the incredible craftsmanship that goes into these collections.
Everyone with an Instagram account might be able to offer an opinion on Kylie's outfit from Monday or Bella Hadid's spray-on dress, but how many people could actually identify other looks from Schiaparelli or Coperni's collections? There were brilliant pieces that have been completely overlooked by the general public, in favour of viral moments created for the likes of Instagram and TikTok.
Is it, of course, irrefutable that more people would now know these brands by name, so perhaps the fashion stunts have done exactly what they were intended to do?
As virality becomes a new indicator of success, it is clear that we may never see the end of the fashion show gimmick, so we may as well enjoy the show.
Celebrity news, beauty, fashion advice, and fascinating features, delivered straight to your inbox!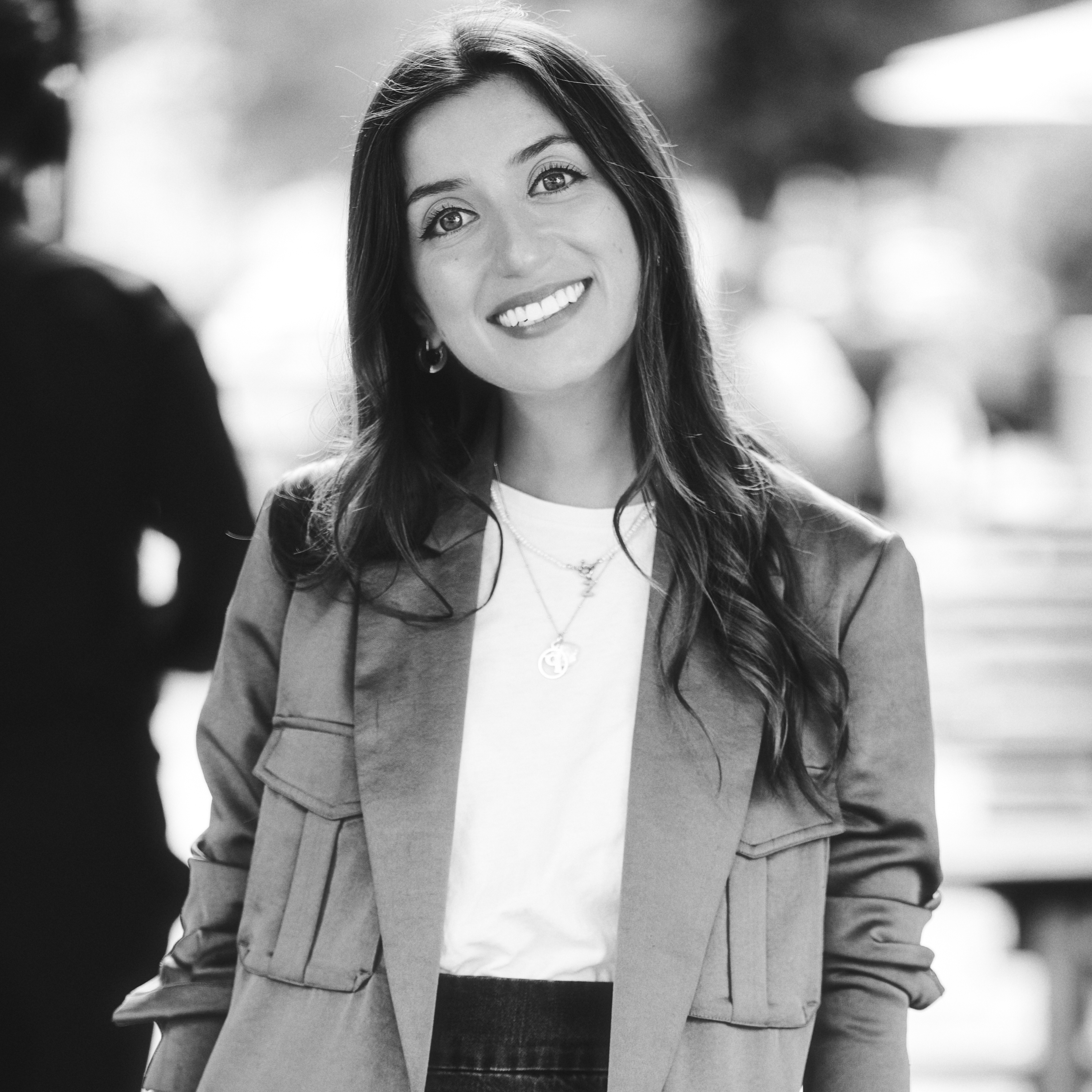 Zoe Anastasiou is a Fashion Editor with over eight years of experience working across digital publications in New York, London and Australia. She has contributed to publications including Harper's BAZAAR and ELLE Australia, and was the Fashion and Social Media Editor at Who What Wear UK before joining Marie Claire.