Netflix have released a list of everything being added in April
Well that's our social life down the drain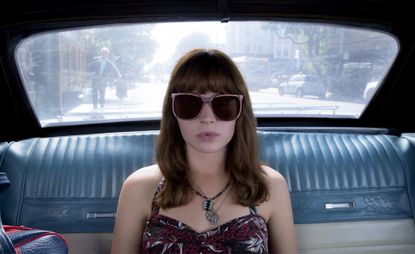 (Image credit: Karen Ballard/Netflix)
Well that's our social life down the drain
Spring may finally be here but the promise of warm weather and a jug of Pimms in our local beer garden is still a good couple of months away - but don't worry, that's why we have Netflix.
And, the streaming service have just released a list of everything they've acquired for April and the internet is pretty excited.
Think 80s horror films (and classics like Gremlins) and new female-led series' to sink our teeth into, including the second season of the hysterical Chewing Gum and the hotly anticipated Girlboss.
Here's the list in full so you know when to not make any social plans...
New to Netflix for April 2017
1st April
A Weekend with the Family (2016)
A Nightmare on Elm Street (1984)
Across the Universe (2007)
An American Tail (1986)
An American Tail: Fievel Goes West (1991)
An American Tail: The Mystery of the Night Monster (1999)
Boy Bye (2016)
Born To Be Free (2016)
Cool Runnings (1993)
Good Witch: Season 2 (2016)
Gremlins (1984)
Only for One Night (2016)
Richard Pryor: Live & Smokin' (1971)
Scooby-Doo (2002)
Schindler's List (1993)
Something's Gotta Give (2003)
Thunderstruck (2012)
Wynonna Earp: Season 1 (2016)
Trouble with the Curve (2012)
Tropic Thunder (2008)
The Tenth Man (2016)
2nd April
The D Train (2015)
4th April
Chewing Gum: Season 2
Louis C.K. 2017
Disney's The BFG
7th April
The Get Down: Part 2
El Faro De Las Orcas
Dawn of the Croods: Season 3
Win It All
8th April
Kubo and the Two Strings
10th April
Documentary Now!: Season 2
11th April
Kevin Hart: What Now (2016)
12th April
DC's Legends of Tomorrow: Season 2
14th April
Mystery Science Theater 3000: The Return
Chelsea: Season 2
El Elegido (2017)
Sandy Wexler
15th April
Disney's Homeward Bound: The Incredible Journey (1993)
Slam
18th April
Lucas Brothers: On Drugs
19th April
A Plastic Ocean
21st April
Bill Nye Saves the World: Season 1
Girlboss: Season 1
Hot Girls Wanted: Turned On: Season 1
Sand Castle
Tales by Light: Season 2
The Mr. Peabody & Sherman Show: Season 4
The Prestige
Tramps
22nd April
The Great British Baking Show: Masterclass: Season 1-3 (2016)
The Secret Life of Pets (2016)
23rd April
Liv and Maddie: Season 4
Phantom
24th April
Long Nights Short Mornings
25th April
Disney's Queen of Katwe
The 101-Year-Old Man Who Skipped Out on the Bill and Disappeared
Vir Das: Abroad Understanding
26th April
Real Rescues: Season 6-7 (2012)
Trust (2010)
27th April
Las Chicas del Cable: Season 1
28th April
A Murder in the Park (2014)
Casting JonBenet
Dear White People: Season 1
Rodney King
Small Crimes
30th April
Sofia the First: Season 3 (2015)
So many classics (hello Cool Runnings.)
We'll also be watching Rashida Jones' produced Hot Girls Wanted: Turned On docu-series, which is all about consumerism and sex in the digital age.
And if you're into underdog stories, check out Disney's Queen of Katwe, based on the Ugandan girl who went from living in a slum to becoming an international chess champion. Or, for some casual LOLs, tune into Chelsea Handler's social commentary chat show Chelsea.
So much TV. Such little time...
Celebrity news, beauty, fashion advice, and fascinating features, delivered straight to your inbox!