The best books to read before you die
Need something to read? Here are the best books to read before you die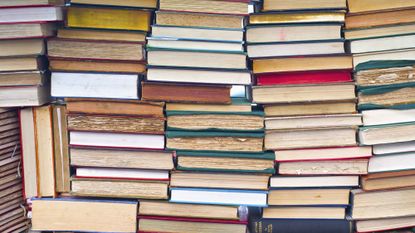 (Image credit: Rex)
Need something to read this Book Lovers Day? Here are the best books to read before you die...
Today marks National Book Lovers Day, and what better way to celebrate than with a classic page-turner?
If you're a book-lover then you will know that there is nothing quite like slipping into a different world, while life carries on around you. And while the way we read may have changed dramatically over the years, thanks to Kindles, iPads and smartphones, the fact is reading is still one of our very favourite things to do. It also turns out that reading is good for your health, too (book lovers rejoice).
But sitting down with a new book is a big commitment - after all, who really has the time these days? That's why the books we love the absolute most are often those that have been recommended to us by others. That way we know they have been road-tested, because someone has already devoured every single page and said: 'It's wonderful! It's gorgeous! It's well worth your time.' And more often than not it turns out they're right, and it really was worth a read.
Well, consider that job done. Whether you love a family saga, a will-they-won't-they romance or an against-the-odds life story, we've trawled through our bedside cabinets (and the piles of books that threaten to topple and kill us every time we get in and out of bed) and collected our very favourite reads for you. Once you've made your way through our edit of the books to read before you die, make sure to check out the brilliant books team Marie Claire are currently reading. If you're here because you're looking for birthday inspiration for a close friend, jump on over to our gifts for book lovers guide - perfect for that friend with their nose always stuck in a paperback.
So here they are: the books that we can, hand-on-heart say that we really couldn't live without. Some we've come back to again and again (hello, Heathcliff) others are relatively new but have captivated us all the same.
Jane Eyre by Charlotte Bronte
Innocent, wide-eyed governess turns up in crotchety (but kinda sexy) man's house to look after his young ward. Can they? Will they? And what on earth is in that locked attic?



The Great Gatsby by F Scott Fitzgerald
A simple yet stunning novel about self-made millionaire Jay Gatsby and his passion for the beautiful Daisy Buchanan. A tale of parties, decadence and how a great passion can thoroughly, completely destroy you. Tragic, irresistible and, possibly, the perfect novel.

Anna Karenina by Leo Tolstoy
Well it s long (over 900 pages). But so worth it. Anna is in a loveless marriage and has her head turned by Count Vronsky (cool name, cool dude). What follows is a study in jealousy, passion and loyalty. A compelling read told from various perspectives - making you side with different characters at every turn.

Wuthering Heights by Emily Bronte
Headstrong Cathy, brooding Heathcliff, violent weather, Yorkshire moors and a love affair you just know isn't going to end well. If you like your romance with a large helping of tragedy, this is for you. Tissues at the ready...


Tess of the D'Urbervilles by Thomas Hardy
You think you ve had a tough time with men? Often cited as Hardy s masterpiece, tragic Tess has to be one of the sorriest women in literature to be caught between two men. Loved by Angel, chased by Alec, her life begins a downward spiral from which she desperately tries to escape. Censored when originally published for shining a light on Victorian hypocrisy, it s a heart-wrenching read.

To Kill A Mocking Bird by Harper Lee
If you didn t study this at school (or even if you did) it s a must-read. Set in the 1930s Deep South, this Pulitzer-winning novel is a coming-of age story told through the eyes of young tomboy, Scout Finch. As her lawyer father defends a black man accused of raping a white woman, Scout learns about courage, persecution and justice. This July sees the publication of Go Set A Watchman, the novel Lee submitted before Mockingbird which features a grown-up Scout as well as many of the same characters. Expect an instant best-seller.
Pride and Prejudice by Jane Austen
Marriage, manners and misunderstandings a-plenty in Austen s finest, funniest work. Considered one of Britain s best social satirists, after 200 years it hasn t lost any of its popularity. (And, of course, Austen created one of the most infuriatingly attractive men in literature: Mr Fitzwilliam Darcy.)
Beautiful Ruins by Jess Walter
We ve raved about this before and will rave about it again because it really is The Perfect Summer Read. 1950s, Amalfi coast, a young inn-keeper chest-deep in dreams, a dying American actress, a moving love story. Gorgeous, romantic, funny and smart.

The Corrections by Jonathan Franzen
Winner of numerous awards and considered one of the best works of contemporary fiction, this tells the story of a dysfunctional midwestern American couple and their three adult children,all gathering for one last Christmas (the father is dying). Funny, sharp, sad, it's worth every one of those 672 pages.
We Have Always Lived in the Castle by Shirley Jackson
Two sisters, Merricat and Constance, live with elderly uncle Julian in an isolated old house where Something Awful Happened to the rest of the family. Chilling, beautifully written with a delicious twist.
All the Birds, Singing by Evie Wyld
Jake Whyte lives by herself in a lonely farmhouse on an unnamed British island. But what is coming for the sheep every night? And what has she run away from? Lyrical, unsettling and intense, a short novel that packs a punch.
The Shining by Stephen King
The master of horror and suspense, this is one to read when you have company. Jack and Wendy Torrance are going to caretake the Overlook Hotel during the winter months when it is closed. Their five-year-old son, Danny, is psychic and horrified at the violence and mayhem he can see coming their way. So frightening. So very frightening...

Fat is a feminist issue by Susie Orbach
If you've ever gone on a diet, fallen off one, berated yourself for eating something you 'shouldn't' have or looked in the mirror and sighed, this is for you. Originally published in 1978 and recently reissued, Naomi Wolf states 'Virtually all feminist debate on body image owes its existence to Susie Orbach'.

Perfume: The Story of a Murderer by Patrick Suskind
Eighteenth century France, and street urchin Grenouille has an uncanny talent: to pick out a scent from miles away and tease out every element. Years later he decides to create a unique perfume just for himself. And in order to do that, sacrifices have to be made. Atmospheric with vivid detail, you'll feel you're there.


The Bell Jar by Sylvia Plath
Esther Greenwood is on the brink of great things - she's won an internship on an NY fashion magazine and has a real chance to realise her dream as a writer. Why, then, is her life sliding out of control? Partially based on Plath's own experience of mental illness, this is a modern classic.
Alexander McQueen: Blood Beneath The Skin, By Andrew Wilson
What's it about?
The rise of an East End boy from humble beginnings to the heady world of high fashion, this compelling biography is the best fashion tome we've read in a long time. The people closest to him have given Wilson their blessing, and because of this the book is more than just an exercise in fashion PR. It's the tale of a passionate fashion genius who battled with demons - often in private.

Any good?
Another one to have you reaching for the tissues, especially as we know the tragic ending that saw McQueen taking his own life aged just 40. Beautifully written with a real insight, this book helps to give him the place he deserves in fashion.


Half of a Yellow Sun by Chimamanda Ngozi Adichie
Told through the eyes of three different characters, this powerful story of Nigeria's Biafra War in the 1960s is accessible and compelling. Adichie's talent seems even more impressive when you realise she's written this about a war that happened before she was born.
The Millennium Trilogy: The Girl With the Dragon Tattoo; The Girl Who Played with Fire; The Girl who kicked a Hornets' Nest by Stieg Larsson
Lisbeth Salander: emotionally damaged, vulnerable, sociopathic survivor - surely one of the most compelling crime heroines ever created. Larsson's books remain bestsellers. His untimely death has only added to their status. If you like your crime dark and uncompromising, try these.
Breakfast at Tiffany's by Truman Capote
'What I found does the most good is just to get into a taxi and go to Tiffany's. It calms me down right away...nothing very bad could happen to you there.' Immortalised by Audrey Hepburn on screen, Holly Golightly is the ultimate tragi-comic party girl. A gorgeous, sophisticated read.
Brave New World by Aldous Huxley
Genetic engineering, brainwashing, recreational sex and drugs - the World Controllers have created the perfect society. So why is Bernard Marx desperate to break free? And how far is he willing to go? Written in 1931, it's astounding how predictive this book was. Even sci-fi haters love it.


Just Kids by Patti Smith
A chance meeting between two people - Patti Smith and Robert Mapplethorpe - leads to romance and a lifelong friendship in this affectionate, tender and sometimes harrowing portrait of life before fame. Set against the backdrop of 60s/70s New York (Warhol socialites, Beat Poets, transvestites, rock stars and artists), you'll feel like you're right there. Magical.


One Day by David Nicholls
'Twenty years, two people, one day.' You know those couples that are meant to be together but never seem to manage it? That. Emma and Dexter meet on the same day every year, sometimes with funny, sometimes disastrous results. Moving, life-affirming and full of great dialogue.

1984 by George Orwell
Dystopian masterpiece that brought us the idea of Big Brother, Room 101 and Newspeak. In a totalitarian world where he's watched 24/7, Winston Smith falls for co-worker Julia. But can their secret love possibly survive? And who can he trust? Brilliant.
Gone Girl by Gillian Flynn
Nick and Amy, Amy and Nick. The perfect couple. Then Amy goes missing and Nick doesn't seem to be behaving like a distraught husband should. Love-or-hate the cynical view of male/female relationships portrayed, this is clever twisty-turny plotting and deserves to be read. Spawned hundreds of copycat books.
The Secret History by Donna Tartt
Not a whodunnit but an are-they-going-to-get-away-with-it? A group of friends kill one of their set, then the relationships unravel and all hell breaks loose. Beautifully written with memorable characters and possibly even better than her latest masterpiece The Goldfinch.
Lolita by Vladimir Nabakov
Thirty-something professor, Humbert Humbert, lusts after a 12-year-old girl he nicknames Lolita . Constantly banned, loved and loathed in equal measure, Lolita demands to be read. It s turned out to be one of the classic books of the twentieth century and has lost none of its power to shock.
The Catcher in the Rye by J D Salinger
Holden, 17, is a cynical teenage drop-out - or so you think at the start. But there's more to Holden than meets the eye; he's a confused, alienated teen dealing with his demons. Banned in US high schools in 1978 for being part of 'an overall communist plot' its portrayal of disaffected youth is second to none.

Love in the Time of Cholera by Gabriel Garcia Marquez
This will break your heart. Florentino loves Fermina, but she doesn't want to know. He isn't giving up though; he spends much of his life thinking of her, looking for her and loving her. Until the day he gets a second chance. Could he... possibly... hope?
The Diary of a Young Girl by Anne Frank
Millions have read 13-year-old Anne's diary of the time she spent in hiding from the Nazis in an Amsterdam warehouse during the war. For two and a half years she describes her thoughts, wishes and hopes for her future. An important book, The Guardian calls it 'one of the greatest books of the last century'.
Alias Grace by Margaret Atwood
In 1843, 16-year-old Canadian housemaid Grace was tried for the murder of her master and mistress. Atwood's fictionalised account of her time in prison and an asylum is chilling and memorable, all the more so for Grace's narration of her life mixed with her private thoughts.
How To Be A Woman by Caitlin Moran
Part memoir, part rant, Moran asks questions all modern women want answers to (should we getting Brazilians? Is Botox ok? Do men secretly hate us?) Moving and funny, read it, buy it for your friends and give to all teenage girls you know.
The Sea, The Sea by Iris Murdoch
Jealousy, lost love and the enduring menace of the sea. Charles Arrowby is a highly unsympathetic character, but Murdoch's incredible talent means we're with him every step of the way as he tries to wreck the marriage of the woman he once loved. Beautifully written - manages to be funny and sad at the same time.

Rebecca by Daphne du Maurier
A young bride arrives at Manderley, the estate of her new husband, to find traces of first wife, the beautiful Rebecca, at every turn. A hugely popular dark tale of love, death and jealousy first published in 1938 and reprinted several times. You'll want to read it again and again.


The Wasp Factory by Iain Banks
Sixteen-year-old Franks lives a dysfunctional life on a Scottish farm with his father. Chilling and compulsive at the same time, the true horror of Frank s life gradually unfolds as does the awful reality of his future. Stark, uncompromising and a stunning read (but not for the squeamish).

On the Road by Jack Kerouac
The hedonist Beat novel that inspired countless road trips, Kerouac's tale of sex, drugs and jazz has become one of the most influential (and copied) books of the twentieth century. William Burroughs said, 'On the Road sold a trillion Levis and a million espresso machines, and also sent countless kids on the road.