From shampoo to masks, these are the best wash and care hair products on the market right now
The crème de la crème, according to our Marie Claire UK Hair Awards 2023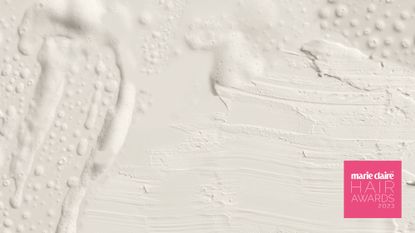 (Image credit: Future)
The foundation of a perfect hair day normally rests with a great hair wash routine. When you're using the products tailored to your hair care needs, everything just falls into place. These are the cream of the crop for the best start of your hair care routine.
For this year's Marie Claire UK Hair Awards, our panel of expert judges tested hundreds of products across our Wash & Care, Colour, Styling, Sustainability, Tools & Accessories and New to Market categories to create a definitive edit of the best in hair. Here's their list of all the best wash and care hair products out there, from shampoos and conditioners to masks and serums.
Best Brow Care Product
Your masking routine has a new addition. This clever and targeted mask is specifically for maintaining healthy and strong brows. "The experience of using this is really pleasing," said judge Madeleine Spencer. "The dropper dispenses the thick oil, which really coats eyebrows properly. Overnight, the oil penetrated, and I noticed that my eyebrows felt softer and more conditioned in the morning." The formula contains active ingredients to strengthen, thicken and nourish the eyebrows and provide essential nutrients and vitamins to help awaken the hair follicles.
Best Colour Conditioner
Vivid hair colours can be the hardest to maintain. Not only do you have to keep on top of a toning routine as they fade, the colour can look dull and lack shine. The LABEL.M Vibrant Rose Colour Care Conditioner helps to preserve the stepped-out the salon look and lengthen time between salon calls. It contains LABEL.M's exclusive Supreme Colour Blast Technology, rich in Sunflower Seed Extract and Quinoa Protein to keep colour vibrant and bleached hair healthy.
"I absolutely ADORED this product," said Marie Claire UK Senior Beauty Editor Shannon Lawlor. "It conditioned my bleach-damaged lengths with expert ease and left my hair looking vibrant and shiny afterwards. I also love that the pumps are recyclable."
Best Colour Shampoo
Described as Pureology's most indulgent shampoo yet, Nanoworks Gold works to spark life back into dull, brittle or tired hair with a highly nourishing formula that renews softness and shine for when hair is needing some TLC. With golden marula oil and plant-based keratin, Keravis, this formula softens and protects. "I felt as though I didn't need conditioner after using this product because of how soft it makes your hair feel," said judge Sophia Hilton. "I love the fact it has over 80 washes in the bottle too as a little really does go a long way."
Best Conditioner for Curly Hair
"Detangling is super easy with this," said judge, Nia Petitt. The key ingredients are sweet almond oil to calm frizz, virgin coconut oil for sealing in moisture and organic Peruvian inca inchi oil to give the hair fibre more suppleness. This conditioner can be used multiple ways including as a leave-in and as a mask, so depending on the level of attention your curls need Trepadora has you covered.
Best Conditioner for Damaged Hair
This sumptuous conditioner is designed to give a daily dose of intense hydration. The formula is highly moisturising, nourishes and revitalises dry and damaged hair thanks to brazil nut oil, which adds moisture, and sunflower seed oil which helps protect against free radical damage and environmental stresses. "I love that this product is responsible and cruelty free with good hydrating performance, good finish and a gorgeous smell," said judge, Ricardo Vila Nova.
Best Conditioner for Natural/Textured Hair
"This is a good moisturising conditioner that's great for curly hair types," notes judge, Loretta De Feo. The Curlsmith Essential Moisture Conditioner helps to increase hair moisturisation by up to 87%, so if you struggle with super-dry coils, this formula will soften and rectify any parched feeling. The texture is lightweight and nourishing, so it's suitable for finer coils as well and thicker hair—all textured hair types can benefit from the long-lasting coil control and deep moisturisation.
Best Exfoliating Scalp Treatment
This scalp scrub provides the perfect canvas for healthy hair. "It's an effective and soothing exfoliant," notes judge, Ricardo Vila Nova. "[It's] very comfortable to use and can be used regularly too." The scrub is gentle and formulated with a sugar complex to keep natural moisture intact as it removes product build-up, excess oils and hard deposit that can compromise scalp health.
Best Hair Growth Scalp Treatment
Hair growth can be one of the hardest beauty goals to achieve, but the Chāmpo Pitta Growth Serum can help you on your way. The innovative bi-active treatment serum harnesses breakthrough trichology to volumise the roots while toning the scalp to encourage stronger, thicker and fuller hair. Judge, Ricardo Vila Nova described the treatment as a "root workout in a bottle." Ingredients-wise it has a complex of biomimetic peptide amino acids and biochanin a-rich red clover extract which help prevent excess hair loss while plant lipo amino acid helps calm a sensitised scalp and protects against hair loss.
Best Hair Supplement
"This supplement really makes a difference," said judge, Loretta De Feo. "My hair is visibly thicker," she adds. It's often said that beauty starts from within and it couldn't be more true than with the Viviscal Hair Growth Supplement For Women. With AminoMar C, a rich marine protein complex, zinc and biotin, to contribute to the maintenance of healthy hair alongside vitamin C, niacin, iron and millet seed, this supplement helps to fight hair loss by creating thicker strands and reducing hair shedding by 39%.
Best Haircare Range for Kids
Head lice is one of the biggest hair pests for children, so a range that helps to combat that while also keeping hair healthy is a gift. The Vosene Kids Squeaky Clean 3 in 1 Shampoo and Conditioning Defence Spray leave children's hair clean and conditioned, deterring head lice with the tea tree oil and lemon eucalyptus oil in the formula.
Best Hydrating Conditioner
This Paul Mitchell Clean Beauty Hydrate Conditioner contains 92% natural-origin ingredients and is packed with olive and oat peptides for a real boost of softening power. "This conditioner has a gorgeous texture and my hair felt really beautiful," said judge, Chris Kiernan. The formula is intensely nourishing, hydrating and restoring parched hair for softer, shinier strands no matter your hair type.
Best Hydrating Shampoo
With 94% naturally-derived ingredients, including powerful superfoods, luxurious omega-5-rich organic pomegranate oil, certified organic coconut oil with low molecular weight, mango butter packed with fatty acids and smoothing oat extract, this shampoo nourishes dry, dull hair without coating hair or weighing it down. "This shampoo was light but hydrating," said judge, Samantha Cusick. "The smell was immersive, plus the packaging is great."
Best Intensive Colour Mask
Available in six rich shades, this vegan-friendly colour mask is packed with antioxidants giving a non-permanent hue boost while restoring strength, reducing frizz and improving shine. "This is perfect for refreshing colour," said judge, Madeleine Spencer. "It's a gloss which enhances and adds tonality," she adds. The dual-action formula works to aid colour vividness as well as helping to repair broken bonds that may have been impacted by chemical colour processes.
Best Intensive Nourishing Hair Mask