These 10 drugstore shampoos might be affordable, but they give luxury alternatives a run for their money
Yes, drugstore shampoos can be good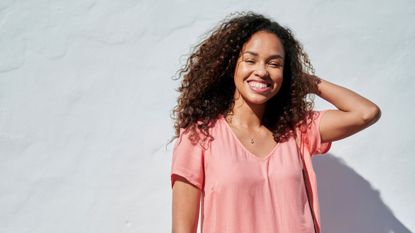 (Image credit: Getty / Royalty-free)
If you're not overwhelmed by the choices of shampoo out there, seriously congrats because I don't think I've ever walked into a drugstore and not been overwhelmed by the sheer number of options available—even as a beauty editor.
There truly is something for everyone—from purple shampoo and blue shampoo to dry shampoo—and whilst that's something to be celebrated, it can be really difficult to know what's going to work best for you and what's worth your money. And honestly? We expect a lot from a humble bottle of shampoo. It's got to tick our criteria: cleansing thoroughly, not stripping our precious natural oils, not fade our hair colour, help add in much-needed hydration, foam nicely and have a scent to our taste—to name a few. All while being within our budget.
Luckily, the cosmetic chemists have created formulas that deliver above and beyond our expectations. But nevertheless, if you're still in camp totally overwhelmed, we've got you. I've tried hundreds of shampoos and am passionate about the ones we can find on the high street.
Ahead, take a look at our favourite drugstore shampoo formulas, from sulphate-free to colour-safe.
How we tested the best drugstore shampoos
Although shampoo seems like a simple enough product, we expect a lot from them. In this list, we tested each shampoo on its fragrance, level of lather, ability to cleanse our scalp, and colour protection (told you I expect a lot). We also considered how well the shampoo lived up to its claims based on its budget, because let's be honest, when it comes to drugstore shampoos, we don't want to spend a lot.
So here goes, the very best drugstore shampoos...
1. Monday Haircare Moisture Shampoo
Monday Haircare Moisture Shampoo
Best budget drugstore shampoo
Reasons to avoid
-
Might not be ideal for super sensitive scalps
Monday haircare really does nail it on the no-frills, affordable shampoo front. It cleanses hair without totally stripping it and has a pleasant (but not over-the-top) scent. It's great for dry hair in need of a moisture boost. Plus, the bottles are a great size so feel like they last longer than 3 washes (as some shampoos seem to do!) And they look really cute in the shower, too.
What I also think is great is that the entire bottle is recyclable, including the pump, which typically have to be chucked. Friendly for your hair and the planet!
2. John Frieda Profiller+ Thickening Shampoo
John Frieda Profiller+ Thickening Shampoo
Best drugstore shampoo for thin hair
Reasons to avoid
-
Naturally won't *actually* thicken your hair

Although I have lots of hair, it's much finer than it looks. For this reason, I do reach for thickening treatments every now and then. Now, thickening shampoos are a difficult one because there's only so much they can help. For actually thinning hair, your first port of call is a medical professional to rule out any underlying concerns.
There is a place for these products in a routine though. While a shampoo can't give you more hair, it can give the appearance of thicker roots, which is exactly what this one does. It lathers really well, smells elegant but not too strong and gives volume without making hair fluffy. This one works best when I blow dry my hair afterwards, so it's a great pre-styling cleanse.
3. Hask Argan Oil Repairing Shampoo
Hask Argan Oil Repairing Shampoo
Best drugstore shampoo for hydration
Reasons to buy
+
Really helps to deliver hydration
In my opinion, Hask is a brand that doesn't get enough attention. I love all of the ranges but particularly love the argan oil shampoo. For my straight, fine but long hair, it definitely lives up to its claim of leaving it feeling silky-smooth.
Its star ingredient is, you guessed it, argan oil, which helps keep hair feeling hydrated and free from frizz. Often I find these thicker formulas leave a horrible residue but this doesn't leave any greasy feeling behind, which is a huge win. Since this formula doesn't contain any sulphates, it doesn't foam up as much as others do so you might need a scalp massager to work the shampoo into your scalp.
4. OGX Apple Cider Vinegar Shampoo
OGX Apple Cider Vinegar Shampoo
Best clarifying drugstore shampoo
Reasons to avoid
-
Not great for dry scalps
If you're really struggling with product build-up in your hair, you need a clarifying formula. Sometimes, if I've abused the dry shampoo or left my hair between days for a little too long, I use a clarifying shampoo. This OGX one is strong enough to give a thorough clean without feeling irritating or like it's stripping my scalp. Think of this as your weekly detox treatment.
Although the name might have you be thinking otherwise, this shampoo smells incredibly fresh so don't let that stop you.
5. Philip Kingsley Flaky/Itchy Scalp Anti-Dandruff Shampoo
Philip Kingsley Flaky/Itchy Scalp Anti-Dandruff Shampoo
Best drugstore shampoo for dandruff
Reasons to avoid
-
Actually quite expensive
We can all get itchy, flaky scalps from time to time—me included, even though my scalp can get quite dry. This product is definitely on the more expensive side (despite being stocked in 'drugstores', but it's a shampoo that I use more as a treatment as and when I need to. I let this get to work on my scalp for a minute or so before I gently work it into roots with a scalp massager. I find this does the trick well so is worth spending the extra pennies as a treatment.
6. Shea Moisture Strengthen & Restore Shampoo
Shea Moisture Strengthen & Restore Shampoo
Best drugstore shampoo for curly and afro hair
Reasons to avoid
-
Will be too rich for hair that isn't naturally dry
Designed to deeply nourish curly and afro hair types, thanks to the formula packed with Jamaican black castor oil and shea butter. While delivering moisture, the formula also works to cleanse scalp build-up from leftover product and dead skin cells. Being for curly hair, it doesn't have sulphates in the formula—although it still lathers a little.
7. Bleach London Reincarnation Shampoo
Bleach London Reincarnation Shampoo
Best drugstore shampoo for bleached hair
Reasons to buy
+
Good for reviving colour-damaged hair
Reasons to avoid
-
Not ideal for greasy hair
Most of us have had a bleached or coloured hair moment at one time in our lives and, as a beauty editor, I'm often getting my hair tinted. One of the brands I lean on when my hair is in need of some serious TLC from colour damage is Bleach London.
Made with creatine to rebuild hair bonds and wheat microproteins and amino acids to strengthen the hair, it's well worth being on the slightly more pricey side of the drugstore picks. Use it alongside the Reincarnation Mask and you'll have what feels like brand-new hair after just a single wash. I won't be without either of these products.
8. Aussie Miracle Moist Shampoo
Aussie Miracle Moist Shampoo
Best drugstore shampoo for incredible smelling hair
Reasons to avoid
-
Naturally, not ideal if avoiding fragrance
You just can't go wrong with a bit of Aussie, which absolutely is worth buying for the iconic scent alone. As far as cleansing goes, it deeply washes without stripping the scalps and leaves ends feeling frizz-free and defined, thanks to the inclusion of Australian macadamia nut oil.
9. Aveeno Skin Relief Soothing Shampoo
Aveeno Skin Relief Soothing Shampoo
Best drugstore shampoo for sensitive scalps
Reasons to buy
+
Great for sensitive skin
Reasons to avoid
-
Won't deliver a deep cleanse against build-up
Finding a shampoo when you suffer with a sensitive scalp, eczema or psoriasis can be an expensive and long journey. However, I can always count on Aveeno to deliver. This soap-free formula cleanses without disrupting the delicate scalp and the inclusion of colloidal oatmeal soothes. Unlike a lot of medicated shampoos made for those with a sensitive scalp, this formula actually smells really pleasant and fresh.
10. ARKIVE All Day Everyday Shampoo
ARKIVE The All Day Everyday Shampoo
Best all-round drugstore shampoo
Reasons to buy
+
Works for loads of hair types and concerns (although we wouldn't recommend for Afro hair or tight curls)
No shampoo leaves my hair feeling quite as soft and refreshed as Arkive's Everyday formula. I find that it makes my long hair far less dry and knotty, plus is much more shiny when I reach for this. The thin formula coats the hair well making it lather nicely without having to use too much product. The Future Bloom scent, which is fresh and elegant is another reason to love this product.
It's an excellent all-rounder so if you share the bathroom with family or flatmates, they'll absolutely be stealing this without you knowing.
Celebrity news, beauty, fashion advice, and fascinating features, delivered straight to your inbox!
Tori is a freelance beauty journalist and contributor for Marie Claire. She has written for various titles, including Allure, Glamour, Elle, Refinery29, Brides, and more. Currently training to be a nail tech, Tori is a total nail enthusiast and always has time to talk all things nail art. When she's not writing about beauty and testing products, Tori can be found walking her rescue dog Pip, drinking great coffee, and eating as many croissants as humanly possible.