Our very fussy blonde beauty editors have handpicked the best purple shampoo
They say that blondes have more fun, but there's nothing fun about brassy tones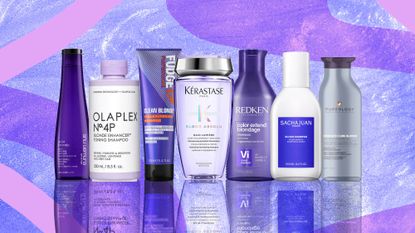 (Image credit: Getty Images)
Ah, blonde hair. It conjures up the nostalgia of Sun-In, the sexiness of Brigitte Bardot and makes us wish we all could be California girls. Except when brassy tones creep in and ruin the sun-lifted effect. There's no need to lose your cool (pardon the pun), though, as that's when the best purple shampoo swoops in with its impressive hue-restoring powers.
If you're new to this kind of shampoo, you're in luck – we've spoken to some of the industry's biggest hair experts to explain exactly how it works and how to use it. Keep reading for everything you need to know and for the products to keep brassiness at bay...
Our Senior Beauty Editor, Katie Thomas, Editor, Sunil Makan and Acting Senior Beauty Editor, Shannon Lawlor have handpicked their favourite purple shampoos after testing. And any that the trio weren't keen on didn't make the list.
Katie has naturally blonde hair and loves it to have an ashy tone. Sunil, who has thick and naturally black hair has recently reached for the peroxide (a late-thirty-something-crisis). And Shannon has naturally straight, brunette hair but has bleached balayage which needs constant management.
The things that they particularly focused on were: how the shampoo left hair feeling afterwards - did it feel dry at all or soft to the touch, how long the effects lasted and -most importantly - how well it took down brassiness.
While you're here, don't forget to check out our guides to the best shampoo for greasy hair, the best shampoo for hair loss and even the best dry shampoo. If you're not rocking blonde hair yourself, we've also done a roundup of the best blue shampoos for brown hair. You are welcome.
The best purple shampoo Black Friday deals: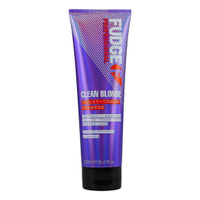 Fudge Professional Everyday Clean Blonde Damage Rewind Violet Toning Shampoo, was £14 now £10.50 | Lookfantastic
As serious de-brasser - a good option if your hair is looking a little too yellow for your liking and you need a quick fix. We promise you'll notice a change after just one use.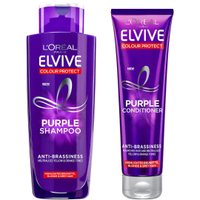 L'Oréal Paris Elvive Colour Protect Anti-Brassiness Purple Shampoo and Conditioner Set, was £11.98 now £5.99 | Lookfantastic
50% off two products. What a Black Friday bargain. Top tip: use another shampoo first to cleanse your hair and scalp and then go in with these two to get that toning effect.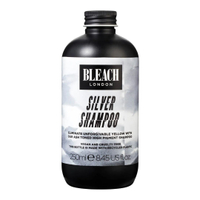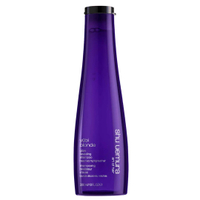 Shu Uemura Art of Hair Yūbi Blonde Anti-Brass Purple Shampoo, was £38.25 now £26.75 | Sephora
One of the most expensive purple shampoos on the list, so if you've been wanting to try it but have been put off by the price then this is a great time to save some money.
The best purple shampoo to try
1. Olaplex No 4P Blonde Enhancer Toning Shampoo
Olaplex No 4P Blonde Enhancer Toning Shampoo
Best bond-restoring purple shampoo
What Katie says: "This is the product I never knew I needed. The Olaplex system is the ultimate product range for protecting and caring for bleached hair. So the idea of a toning shampoo with the Olaplex technology inside is mind-blowingly exciting. It has become a must-have for me, as I use it alongside the rest of the range. I particularly like to use it straight after I've had my colour done when my hair is at its most vulnerable. If you're looking for a product that you can 100% rely on, this is that product."
What Sunil says: "A full believer in the restorative and transformative powers of Olaplex, after having recently gone blonde, I was thrilled when they launched this product. It doesn't leave my hair feeling dry - my hair ACTUALLY feels better after using - and the colour payoff is seriously impressive."
What Shannon says: "I've been bleaching my hair for over 15 years, and the damage needs a lot of management. The bond-restoring benefits of this purple shampoo means my long hair is left feeling stronger, looking less brassy and is less prone to breakage."
2. Fudge Professional Clean Blonde Shampoo
Fudge Professional Clean Blonde Shampoo
Best de-brassing blonde shampoo
What Katie says: "This was actually one of the first purple shampoos I ever used and I always find myself going back to it when I want that really icy tone to my hair. It uses ultra violet pigments to neutralise yellow tones and works brilliantly on balayage, highlights, full-on bleach and grey-blondes."
What Sunil says: "I was recommended this product by a beauty editor with many years of industry experience, so naturally I had to give it a go. IMHO it is THE very best purple shampoo on the market if you want that real shot of iciness. To get my hair blonde, it needs some serious bleaching, and suffice to say, it needs all the help and conditioning it can get. This instantly banishes any trace of brassiness. As long as I dye my hair blonde, there will be a bottle of this in my bathroom."
What Shannon says: "I've got to agree with both Katie and Sunil here, this is without question, the best shampoo I've ever used for achieving that icy blonde look. If you have even a hint of brassiness, one wash with this will sort things out straight away. It's so good, in fact, that I highly recommend giving your nails a good scrub immediately after rinsing to avoid any staining."
3. Kérastase Blond Absolu Bain Lumière Illuminating Shampoo
Kérastase Blond Absolu Bain Lumière Illuminating Shampoo
Best shine-boosting purple shampoo
What Katie says: "When this first came out, it was truly revolutionary. Kérastase know that dyed blonde hair causes damage, they also know that so many of us use purple shampoos to tone. Which can further dry the hair. So they created this clever formula that uses skincare ingredients such as hydrating hyaluronic acid and brightening edelweiss flower to dive deep into weaker follicles. Doesn't give you that super ashy look, but will take down brassiness."
What Shannon says: "This isn't the purple shampoo for you if brassiness is your concern. However, if you have found your bleached strands to look dull and flat, this is one for you. It adds instant nourishment and a shine that leaves your blonde looking like its most expensive self."
4. Shu Uemura Art of Hair Yubi Blonde Glow Revealing Shampoo
Shu Uemura Art of Hair Yūbi Blonde Anti-Brass Purple Shampoo
Best luxury purple shampoo for an icy finish
What Shannon says: "This is my favourite purple shampoo to use. Much like the aforementioned Fudge option, this purple hue packs a serious punch, leaving blonde cool, icy and fresh looking. The best thing about this formula is just how luxe is feels. It transforms into a rich, creamy lather, smells beautiful and leaves hair looking glowing and soft."
5. Pureology Strength Cure Blonde Shampoo
Pureology Strength Cure Blonde Shampoo
Best vegan purple shampoo
What Katie says: "If you're looking for a vegan purple shampoo, then say hello to Pureology. It's 100% vegan. Not only does this shampoo corrects yellowness, it also prolongs colour with an anti-fade formula and improves the strength of fragile bleached strands thanks to repairing ceramides and astaxanthin (a powerful nature-derived antioxidant)."
6. Redken Blondage Color Extend Shampoo