One of the simplest ways to reduce greasy roots is with this everyday product
But you've got to choose it wisely—shop the most hard-working formulas here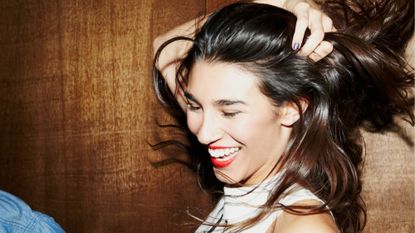 (Image credit: Getty / Royalty-free)
When battling greasy hair, we often find we're having to work overtime to keep roots feeling their freshest. It's the faff everyday washing and fog of dry shampoo that can make hair become a chore. That's where our shampoo needs to step-up and do the hard work for us.
Shampoo for greasy hair has come a long way from being the harsh, stripping formulas that were available years gone by. Now, shampoo formulas are smarter than ever, which is great news for us because it means less washing and more greasy-free days. To help you get the most out of your wash days (which hopefully after trying these shampoos won't be more than necessary), we called in a hair expert to answer all your burning questions, followed by our guide to the very best shampoos for greasy hair.
What causes greasy hair?
Before tackling greasy hair, it's important to get to the root of what's causing the issue (sorry, couldn't not). There are a number of reasons you could be experiencing greasy hair. The most common cause is surprisingly simple: not shampooing often enough or taking time to cleanse properly. "You should spend approximately one minute gently but firmly massaging your scalp when you shampoo, and pay attention to all areas—people often forget to massage the back of their scalp," explains Anabel Kingsley, brand president and consultant trichologist at Philip Kingsley.
"Rinse well to ensure shampoo residue and the dirt, oils, and dead skin cells trapped in it are washed away. If you don't wash your hair properly (or enough) this build-up of residue and dirt can cause your hair to become greasier," she adds.
How often should you wash your hair?
Anabel says to try not to leave more than 2 days between washes if you've got a greasy scalp. "You take your hair and scalp to the same places you take your face, and it gets just as dirty. Your scalp is also a living tissue; it sweats, produces oils and sheds skin cells," she explains.
You wouldn't leave three days between washing your face, and you likely wouldn't wear the same outfit more than a few times before washing it—apply the same thinking to your hair," Anabel says. But there's a balance. It depends how oily your scalp is and Anabel also says that it depends how you style your hair. "If you have to heat style every time you shampoo, the damage from styling may outweigh the good of cleansing. It's about finding a balance."
How to avoid hair getting even more greasy?
Aside from getting your wash routine down, there are a few other things you can do to avoid greasier roots. The first is using heavy styling products, which Anabel says can make hair more greasy. Try to keep products lightweight and target towards an oily scalp.
How we tested the best shampoos for greasy hair
Each formula was tested exactly as the article suggests, just how well it combatted greasy roots, which meant it had to tick a few boxes: Did it leave hair feeling fresh? Did it reduce the need for dry shampoo? Did it keep the hair's shine and moisture in-fact? Plus, it had to be pleasant to use and smell great.
Best shampoos for greasy hair
1. Nécessaire The Shampoo
Nécessaire The Shampoo
Best all-rounder
I didn't believe in the Nécessaire hype until the brand came to the UK and I tried it. Yep, I love it. It deeply cleanses roots and leaves them feeling fresh, lightweight and not stripped. The only downside to me is that it's fragrance-free. Having said that, that's actually one of its best qualities for those with sensitive skin. Finding a shampoo that works on greasy hair when your scalp is easily irritated is a nightmare. Nécessaire have you covered with this formula; it's a fantastic all-rounder.
2. Beauty Pie Detox Shampoo
Beauty Pie Detox Shampoo
Best for a gentle cleanse
Reasons to avoid
-
Need a membership to purchase
Price shown is members' price.
I was surprised by how nice this shampoo smells, as I'm often put off by detox shampoos for the scent. It left my hair feeling incredibly clean without feeling dry or stripped, which is a miracle given my hair is always extremely dry. My roots didn't feel irritated, quite the opposite.
3. Ouai Detox Shampoo
Ouai Detox Shampoo
Best for volume
Reasons to buy
+
Can be drying if overused
Your scalp will thank you for using Ouai's Detox Shampoo to gently lift away grime, build-up and flaky skin. The formula is lightweight and gets to work without a ton of effort. The best thing about this shampoo is that it'll give a decent amount of volume, even in finer hair types like mine. However, because it's a detox shampoo, it's not one to be used daily as it can dry your hair out a little. Stick to using it once a week as a treatment.
4. Philip Kingsley Moisture Balancing Shampoo
Philip Kingsley Moisture Balancing Shampoo
Best for moisture
It can be really tricky finding a formula that works for a greasy scalp yet doesn't dry out already parched ends. The experts at Philip Kingsley have nailed this formula giving just that. It works hard to deeply cleanse scalp of dead skin and product build-up, all without stripping mid-lengths and ends. This has a place in my bathroom at all times for a bi-weekly deep clean.
5. The Body Shop Tea Tree Purifying Balancing Shampoo
The Body Shop Tea Tree Purifying Balancing Shampoo
Best affordable shampoo
Reasons to avoid
-
Might not work for really sensitive scalps
No, this isn't the type of tea tree oil product that smells overly medicinal and isn't pleasant to use. Quite the opposite. It has all of the benefits of tea tree oil for the scalp—helping reduce excess sebum—without leaving hair feeling dry or straw-like. Unless you have a really oily scalp, use this one once a week as a treatment. I like to use it alongside the Moringa Shine & Protection Shampoo.
6. Kérastase Specifique Bain Divalent Shampoo
Kérastase Specifique Bain Divalent Shampoo
Best for that clean feeling
Reasons to avoid
-
Contains silicones if you prefer to avoid
There's a reason lots of hairstylists use Kérastase and that's because there's pretty much a formula to suit everyone—and this greasy hair-specific one is no different. The main thing I love about this shampoo is that it cleanses so well you really can leave it a couple days longer than normal to wash your hair again. It can stretch that clean-feeling by a good day or so, which is a winner. Plus, it smells really elegant and not at all like traditional oily scalp shampoos.
7. Charles Worthington Clean and Protect
Charles Worthington Clean and Protect
Best for added shine
Reasons to avoid
-
Might be drying if used too often
One of the main concerns for me using a shampoo for oily roots is that it'll strip away the natural oils and leave little to no shine. This formula does exactly as promised in gently cleansing, thanks to the salicylic acid, while not stripping or drying out my hair. It leaves it feeling super clean whilst still maintaining some shine.
8. Olaplex No. 4C Clarifying Shampoo
Olaplex No. 4C Clarifying Shampoo
Best for damaged hair
Reasons to buy
+
Does exactly as promised
Reasons to avoid
-
Too clarifying for some hair types
This formula is one I'll use only when I'm in need of a deep cleanse as I do find it can feel a little stripping. It does what it says on the tin by clarifying but it won't give extra benefits like soft, shiny hair. I use this more as a treatment when I've got build-up or have left washing my hair a day or so too long. I tend to use this shampoo followed by a regular, more gentle formula and it works a treat.
Celebrity news, beauty, fashion advice, and fascinating features, delivered straight to your inbox!
Tori is a freelance beauty journalist and contributor for Marie Claire. She has written for various titles, including Allure, Glamour, Elle, Refinery29, Brides, and more. Currently training to be a nail tech, Tori is a total nail enthusiast and always has time to talk all things nail art. When she's not writing about beauty and testing products, Tori can be found walking her rescue dog Pip, drinking great coffee, and eating as many croissants as humanly possible.