As a nail tech, I've got these 31 chic nail art ideas bookmarked for future reference
There's something to suit everyone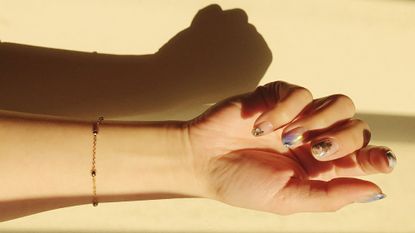 (Image credit: Getty / Royalty-free)
For beauty enthusiasts, there's little quite as exciting as gearing up for your next nail appointment; scrolling through pages of nail art idea to find the perfect design. Then, finally seeing the results IRL on your own nails, and probably getting no work done for the foreseeable because they're just too beautiful to stop looking at.
As a beauty editor, nail technician in training and an avid nail-art lover (I'm the proud owner of an Instagram nail art folder that contains 700+ posts), there's never a moment I don't want to discuss nail-spiration. Consider me your dedicated nail art tour guide taking you through some of the best nail art ideas. Whether you're looking to keep it minimal with the best nail polish shades, level-up your tips with a French manicure, or are constantly on the search for the next best thing (including 2023 top nail art trends), I've got something for everyone.
Keep scrolling for some of the very best nail art ideas to try at home or take to your next salon appointment that'll transform those 10 tiny canvases.
1. Animal print
You really can't go wrong with animal print nails, whether it's leopard, snake, tiger, or even cow, it'll always look great with dainty application and a matte top coat.
2. Dreamy clouds
If you're a forever daydreamer, there's no manicure quite as perfect as some fluffy clouds.
3. Metallic tips
Metallic and chrome nails were a huge hit in 2022, and that's a trend set to continue well into 2023. I love this look which takes the classic French manicure using a silver metallic hue in place of a bright white.
4. Gold stars
If you just can't give up that pale pink base that has you in a chokehold but want to give nail art a whirl, I love adding tiny gold stars to give it something extra special without going overboard.
5. Pink chrome
Warning: if you go to the salon and come out with these breathtakingly gorgeous pink chrome nails, you won't have a single productive day because you'll be too busy staring at them.
6. Abstract lines
Abstract lines, which differ on each nail, can make some of the most stylish minimal nail art looks.
7. Vibrant mix and match
Consider yourself a more is more kind of person? A set like this that is different on each nail and full of vibrancy is worthy of going straight on your inspo board.
8. Vase-inspired
Since nails are just tiny canvases, just like art, inspiration is everywhere — even kitchenware like this set!
9. Watercolour nails
Watercolour is a popular nail art technique and the beauty of it is that you can never replicate the exact same look twice. The result is one that's beautiful in its simplicity and calming to look at.
10. Gold flakes
I'm a firm believer that if you're not sure how to finish off your nail art design, add some gold flakes; it's a simple but transformative nail art accessory.
11. Chrome stars
This is one to take to your nail tech and will have you dazzling anyone who takes a look at your nails.
12. Outline French manicure
Another take on the classic is the outline French manicure, it's more subtle than its original and works with any colour you fancy.
13. Dainty hearts
Dainty little hearts aren't just reserved for February 14th, we're all for wearing the sweet nail art year-round.
14. '70s floral
Flashing it back to the '70s with this floral design, proving that short nails can be delicately decorated too.
15. Squiggles
Who knew a simple squiggle could transform our hands so much? There are so many possibility with this design, too.
16. Aura nails
Aura nails is set to be a huge 2023 trend and this pink set with silver stars are particularly special.
17. Simple smiley
Sometimes all you need is a simple smiley face underneath a minimal base.
18. Victor Vasarely-inspired
Recreate your favourite artist's pieces on your nails to make a truly special manicure.
19. Tortoiseshell effect
Tortoiseshell nails are nothing new but we're still not bored of them. The effect can be worn in a variety of designs, including this French manicure design here.
20. Airbrush impact
Again, airbrushing nails isn't a new technique but it's becoming more widely available at nail salons, making it an increasingly popular choice. The outcomes are endless, mixing shades and patterns to create truly special effects.
21. Hand-painted flowers
Unless you have the patience of a saint, hand-painted flowers incorporated in a nail design is likely one you'll take to the salon. But when the outcome is as good as this, it's worth every effort.
22. Ombré glitter
If you're looking for a little sparkle without going OTT, try an ombré effect like this, it adds just enough colour to give an impressive finish.
23. Embellished studs
Sometimes, the best nail art comes from small, colourful embellishments. If you've got the patience, this is one you can try at home.
24. Blooming gel
Blooming gel is a popular nail trend for 2023 and can create all sorts of intricate designs like this green animal print set.
25. Lava nails
This impressive lava design also uses blooming gel, but has a completely different outcome; proving that there are so many possible outcomes with this type of product.
26. Reverse French
If a French manicure isn't really your thing, try a reverse French manicure. Instead of putting the coloured tip on the free edge of the nail, it's placed on the base of the nail, near the cuticle area.
27. Optical illusion nails
Optical illusion nails are both pretty and completely mesmerising. This is definitely one to take to the salon for inspiration.
28. Simplistic French mani
This manicure proves that designs can be both simple and striking.
29. Aurora nails
Originating from Korea, aurora nails are possibly the most impressive and beautiful manicures out there. This is created using special iridescent sheets and powder so is definitely one to visit your nail tech for.
30. Micro French
There's nothing as stylish as a micro French design on shorter nails.
31. Vibrant swirls
Vibrant swirls are utterly joyful and will brighten up even the dreariest of January days.
Celebrity news, beauty, fashion advice, and fascinating features, delivered straight to your inbox!
Tori is a freelance beauty journalist and contributor for Marie Claire. She has written for various titles, including Allure, Glamour, Elle, Refinery29, Brides, and more. Currently training to be a nail tech, Tori is a total nail enthusiast and always has time to talk all things nail art. When she's not writing about beauty and testing products, Tori can be found walking her rescue dog Pip, drinking great coffee, and eating as many croissants as humanly possible.