BEAUTY BYTES: Adwoa Aboah on paperclips, cryo facials and girl power in 2019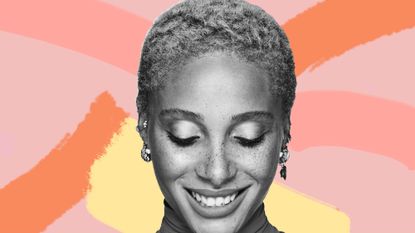 Welcome to Beauty Bytes: a place where I chat to celebrities about all things beauty – from their favourite products, to their biggest beauty disasters. Plus I grill them on everything from their social media habits to their favourite cheat meals. You know, all the important and essentials things that we need to know about.
Adwoa Aboah set up Gurls Talk to create a safe space online for girls and women. With the help of Revlon, of which she is one of the faces, she has created three make-up sets in collaboration with Gurl's Talk. I sat down with the model to chat about the power of this partnership, her favourite Instagram accounts and what five things she loves about herself. KT – Digital Beauty Editor
KT: WHY WAS REVLON THE PERFECT PARTNER FOR THIS COLLABORATION?
AA: It was kind of obvious from the start - once they'd taken me on as a model and ambassador. From the get-go they've always celebrated and encouraged Gurls Talk. I think, or I hope, that that's one of the main reasons they decided to work with me. It very quickly became a discussion about what can we do together? I like how we can use makeup as a tool to get other messages out there. What I really admire about Revlon is that they're such a massive long-standing brand that's been around for years and years, and yet they've beautifully given us their platform to do our Gurls Talk thing. It's just really amazing and I'm entirely grateful for that.
KT: GURLS TALK CREATES A SAFE SPACE FOR GIRLS AND WOMEN TO DISCUSS MATTERS THAT ARE BOTHERING, INCLUDING THE PRESSURES OF SOCIAL MEDIA. IN LIGHT OF THIS, WHAT DO YOU THINK OF BEAUTY INFLUENCERS? SOME PEOPLE HAVE SAID THAT THEY PROJECT A FALSE AND UNATTAINABLE VERSION OF THEMSELVES....
AA: What's a beauty influencer? Like people who do videos?
KT: YES, LIKE BLOGGERS...
AA: At Gurls Talk we do a lot on social media. Last month we actually covered addiction as part of our monthly theme and talked about social media as an addiction. Personally, I find it quite hard to navigate through social media at the moment. I find that I get confused about the messages I'm putting across sometimes and I get confused by the messages I see, which kind of goes into what you said about creating a façade and a false representation of who you really are. I've been quite savage and anything that makes me feel like shit I've unfollowed on Instagram. We can't stop that this stuff in on social media, but we can stop ourselves seeing it. I think it must be very hard for young girls and I'm really starting to realise that; we've been speaking a lot about comparison and it's terrifying. I'm 26 and I've done a lot of work on myself, but I can still get into these dark spaces that are created by social media. I start comparing myself to others, when it's not even real.
KT: IN SOME OF YOUR GURLS TALK EVENTS YOU'VE ENCOURAGED WOMEN TO WRITE DOWN FIVE THINGS THEY LOVE ABOUT THEMSELVES, WHAT ARE THE FIVE THINGS YOU LOVE ABOUT YOURSELF?
AA: My loyalty, my perseverance, my freckles, my eyes and my boobs.
KT: EXCELLENT CHOICES. WHAT IS GIRL POWER IN 2019?
AA: We've all been great at setting our own initiatives up and creating our own messaging, but I think 2019 is about us all coming together and seeing how we can collaborate and team up because we can't do this by ourselves. Gurls Talk hasn't got longevity without the people we collaborate with, without the girls that send in their submissions. For example, I'm teaming up with Period Poverty this year; I think it's really important that we just come together.
KT: WHAT HAS MODELLING TAUGHT YOU ABOUT BEAUTY?
AA: Modelling has taught me that I've just got to be myself. It's hard to do, but I think I've got to have some sort of self-confidence. It might sound cheesy, but it definitely comes from within you. No validation from magazines or certain photographers will do, you have to feel it.
KT: WHAT IS THE WORST BEAUTY ATTEMPT YOU'VE EVER ATTEMPTED?
AA: I would apply a lot of black eyeliner just in my waterline with no mascara, yeah it was quite scary.
KT: BEST BEAUTY PRODUCT RECOMMENDATION YOU'VE EVER RECEIVED?
AA: I've got two: Dr Paw Paw Lip Balm and Revlon Candid Foundation.
KT: WHAT ARE YOUR TOP THREE BEAUTY BRANDS?
AA: Revlon obviously! Glossier and Marc Jacobs.
KT: HOW DO YOU TAKE CARE OF YOUR SKIN?
AA: With a lot of Barbara Sturm stuff - wash, moisturise, exfoliation, maybe a face mask.
KT: OKAY, ALL DR BARBARA STURM?
AA: Yes, although I really like Glam Glow face masks.
KT: WHAT ABOUT TREATMENTS? DO YOU LIKE GETTING MASSAGES OR FACIALS?
AA: No, no I don't like massages at all. I love facials - Barbara Strurm does really good facials. I recently tried this new Cryo one, but I didn't actually like it. It was freezing. But it made my skin really great, so I'll probably try it again.
KT: HOW OFTEN DO YOU WORK OUT AND WHAT'S YOUR FAVOURITE WAY TO DO IT?
AA: I go through obsessive phases of exercise - I get really into it and then I get like get a bit lazy. It just really, really helps my mental health. I like hard-core cardio, something sweaty like boxing.
KT: WHAT DOES WELLNESS MEAN TO YOU?
AA: Wellness to me means taking some time to yourself.
KT: AND NOW SOMETHING COMPLETELY DIFFERENT, WHAT ARE YOUR THREE MOST USED EMOJIS?
A: The paperclip, the dinosaur and the laughing face.
KT: OH MY GOD, I AM SO PLEASED THAT YOU SAID SOMETHING DIFFERENT. I ALWAYS GET THE HEART. SNOOZE. WHAT'S YOUR FAVOURITE TV SHOW TO BINGE WATCH?
AA: Oh, I've got so many, I'm an avid TV watcher. I binge watch everything. Game of Thrones, Escape from Dannemora and Sex Education are my favourites at the moment.
KT: WHAT'S YOUR FAVOURITE INSTAGRAM ACCOUNT TO FOLLOW?
AA: Oh, that's a good question. My favourites are all the interior design accounts. I would say my favourite home decors are @decorhardcore and @worldofinteriors. Oh and anything dogs, like @doxiecentral, which is just sausage dogs.
KT: HAVE YOU EVER BEEN STAR STRUCK?
AA: Yeah, I have been star struck by! Oh god I got really star struck when I met Lauryn Hill; I couldn't even speak.
KT: OKAY AND FINAL QUESTION. WE ALL HAVE PECULIAR NAMES FOR OUR WHATSAPP GROUPS, WHAT IS YOUR WEIRDEST?
AA: Oh, I've got so many good ones right now! That is really good question, I love that. I've got 'Lamu Legends' and 'Sexico' from two different holiday groups. Yeah, I'd say those two are the weirdest.
Celebrity news, beauty, fashion advice, and fascinating features, delivered straight to your inbox!
Katie Thomas is the Senior Beauty Editor at Marie Claire UK. With over 10 years of experience on women's luxury lifestyle titles, she covers everything from the best beauty looks from the red carpet and stand out trends from the catwalk, to colonic irrigation and to the best mascaras on the market. She started her career on fashion desks across the industry - from The Telegraph to Brides - but found her calling in the Tatler beauty department. From there she moved to Instyle, before joining the Marie Claire digital team in 2018. She's made it her own personal mission to find the best concealer in the world to cover her tenacious dark circles. She's obsessed with skincare that makes her skin bouncy and glowy, low-maintenance hair that doesn't require brushing and a cracking good manicure. Oh and she wears more jewellery than the Queen.