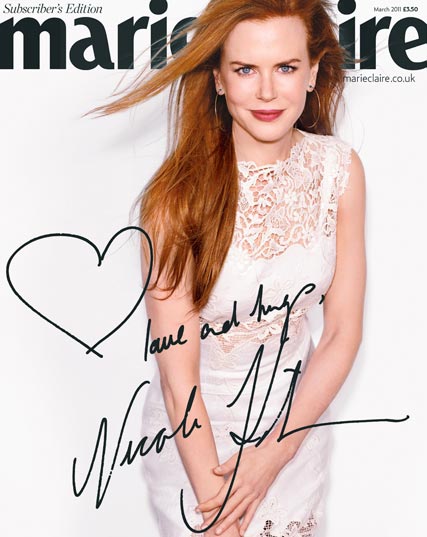 Matthias Vriens-McGrath
133070
Nicole Kidman for Marie Claire
Wednesday 9th February 2011
Which Oscar-nominated starlet did we choose for our March cover? Introducing the dazzling Nicole Kidman...
Nicole Kidman for Marie Claire
She's a dazzling Hollywood icon with an Oscar nomination already under her belt. Introducing our luminescent March cover star, Nicole Kidman. Appearing in an exclusive shoot for Marie Claire, the movie Matriarch - who looks as lovely as ever in white lace Dolce & Gabbana - revealed all on being married to Tom Cruise, her decade-spanning career, and how she'd give up anything for love...

Marie Claire's March issue hits newsstands on Thursday 3rd March.

LOOK BACK AT NICOLE'S STYLE TRANSFORMATION HERE!

Read Full Caption