#ShareBlackStories is throwing a spotlight on the black British experience
In honour of Black History Month, the UK's most iconic black voices are sharing stories about the figures who have changed their lives for the better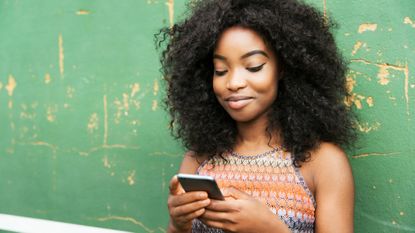 In honour of Black History Month, the UK's most iconic black voices are sharing stories about the figures who have changed their lives for the better
October is a month of real talk. This is because as Black History Month, an annual focus is placed on recognising the invaluable contributions that black people have made to the UK for generations.
Now this year, Instagram has partnered up with some of the most influential black figures in Britain to help keep the conversation going.
Throughout October, famous names will spotlight a person of their choice and share why, via IGTV on Instagram, that individual has inspired them and helped shape the black British experience.
Vibrant contributors so far have included Top Boy and Bullet Boy, actor and rapper, Ashley Walters, journalist Afua Hirsh, George the Poet and TV & radio presenter Vick Hope.
Author of award-winning BRIT(ish), Afua Hirsh, kick-started the initiative by highlighting the literary work of Margaret Busby, a writer and author well known for her anthropology, Daughters of Africa.
Speaking of Busby's impact on her career, Afua shared: 'as a black woman trying to find my own voice, [Margaret] has been endlessly interested, supportive and enthusiastic about helping a generation like me find out place and our ability to make change through writing.'
For his tribute, George the Poet praised his parents for their bravery in emigrating to the UK from Africa in the 1980s, and attributed his success to their decision to settle in London – one that he claims exposed him to the cultures and people that shaped his art.
Vick Hope shared her adoration of Malorie Blackman OBE, author and former children's laureate. The presenter opened up about the sense of belonging she felt after reading the biracial love story in Malorie's novel Noughts & Crosses, as it was one that represented the union of her parents and her own experience of growing up in 1990s Newcastle.
As well as creating a moment of celebration for the colossal contribution of black people to modern British life, #ShareBlackStories has been created with the intention to empower people far and wide to use Instagram to spotlight the hero of their own black story.
Trevor Johnson, the Director of Market Operations at Instagram, said of the initiative: 'Instagram is a place where diverse communities connect and share things that matter most to them. This is particularly true for the black community, with over 16.6 million people using hashtags like #blackexcellence and #blackgirlmagic.'
'We hope more people will be encouraged to follow Ashley and Afua's lead and share the black stories that are important to them on Instagram – via IGTV, Stories or a post.'
Feel like you've got something to say? Create your own post with #ShareBlackStories and add to the conversation today.
Celebrity news, beauty, fashion advice, and fascinating features, delivered straight to your inbox!
Niamh McCollum is Features Assistant at Marie Claire UK, and specialises in entertainment, female empowerment, mental health, social development and careers. Tackling both news and features, she's covered everything from the rise of feminist audio porn platforms to the latest campaigns protecting human rights.
Niamh has also contributed to our Women Who Win series by interviewing ridiculously inspiring females, including forensic scientist Ruth Morgan, Labour MP Stella Creasy and ITV's former Home Affairs Editor Jennifer Nadel.
Niamh studied Law in Trinity College Dublin. It was after enrolling in a Law & Literature class on her year abroad in Toronto that her love of writing was reignited. In no particular order, her big likes are Caleb Followill, hoops, red wine, sea swimming, shakshuka and long train journeys.