There's something about Holly Willoughby, maybe the glam-TV-host-meets-girl-next-door vibe, that makes her pure gold for fashion brands. Every time she wears something on ITV and posts the outfit to her Instagram, she gets hundreds of comments, and just last month, her own fashion collaboration with M&S sold out within a few days.
Now M&S has posted a picture of the presenter wearing a sequin dress on its Instagram feed, and people are going wild for it (there are 405 comments to date). The party number isn't actually from her own line, it's part of the brand's festive offering, but obviously Holly is doing a sterling job of modelling it.
The mini dress features long sleeves and a nipped-in waist, and looks super flattering on, and everyone seems to agree, with comments including, 'desperate for this dress!' and 'love it brought it xxx Christmas partyyyyyyx'.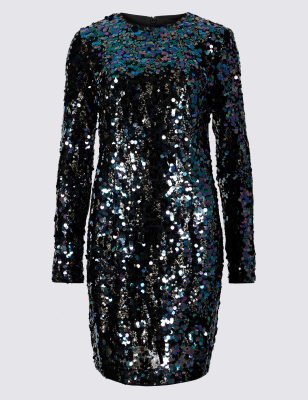 From
Buy Now
Let your style shine through with this gorgeous sparkly dress, with long sleeves for an extra sophisticated look. This bodycon dress gently hugs your figure for a sleek look that complements and enhances your natural curves, making it an excellent choice for special occasions and evenings out.
Now for the bad news, it is sold out in three sizes, and the desperation can clearly be felt in the comments, with many lamenting that it sold out too quickly ('god sake I was going to buy this earlier today before it went in their Instagram, now it's sold out!!') and being devastated that M&S isn't re-stocking.
But hopefully you can get your hands on one either online or in store, because it's pretty perfect for party season. And at £55 a pop, it's a steal.