A third of women buy clothes they'll never wear
More than a third of women admit to splashing out on clothes that will never leave their wardrobes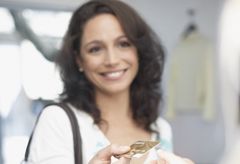 (Image credit: Rex Features)
More than a third of women admit to splashing out on clothes that will never leave their wardrobes
Despite the tough economic climate, more than a third of women admit to buying clothes they will never actually wear, according to research by The Origin Panel run by leading consumer magazine publisher IPC media.
'Women are so much more concerned with saving money and looking for value, so it's surprising to see so many buying clothes that then never see the light of day,' says IPC Media's director of Insight Amanda Wigginton.
A considerable 34% of women surveyed said they had made a bad fashion purchase in the past year, with 17% blaming their mistake on being too tempted by a sale and 6% putting it down to just being determined to buy something.
'Skipping the changing rooms appears to be their biggest downfall, although some women still can't resist what they think is a bargain,' says Wigginton.
For most women, out of sight is out of mind as the offending items lurk in the back of the wardrobe for years, but 36% of women end up giving their unwanted and unworn clothes to charity, while 9 % turn to eBay to recoup their losses.
But, the tightening of the purse strings is also apparent with 77% of women trying to get more wear out of their existing wardrobes, supporting research that suggests over half of women have cut back on their clothes spending.
Celebrity news, beauty, fashion advice, and fascinating features, delivered straight to your inbox!