7 Beautiful Backstage Moments We Caught At Mary Katrantzou's SS15 Show


We went behind the scenes at Mary Katrantzou's SS15 show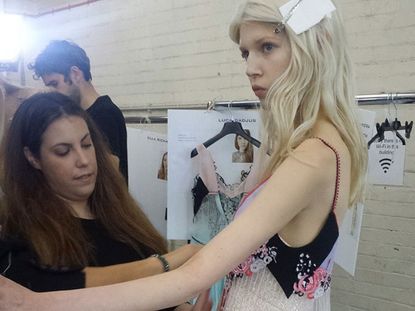 We went behind the scenes at Mary Katrantzou's SS15 show


The Motifs Pangea, pre-historic animals and underwater adventures inspired Mary Katrantzou's SS15 collection - one of her most accomplished, detailed and delicate shows to date. Look a little closer and you'll spot exotic birds amongst the beading and iguanas in the jacquard. Cool, right?
The Designer Herself Mary Katrantzou is one of the friendliest faces in fashion. Down to the wire she was totally collected, making last minute adjustments to every model and checking that all elements looked exactly as she had envisioned them. We were lucky enough to sit in on some final fittings backstage at the old Fire Brigade workshop in Lambeth.
The Lace Oh, the lace. Last season queen of digital print Mary abandoned the medium that made her to focus on a whole new level of craftsmanship – lace making. For AW14 she geniusly patched road signs, loo symbols and family crests together. For SS15 she's taken things to a whole new level. Sea serpents and giant fish swallow and swaddle tumbling bodies, all captured in swirling guipure.
The Make-Up Val Garland created a simple but stunning look, using high shine creams on both the eyes and face that glowed as if each model had just emerged from the sea. M.A.C Cream Colour Base in Shell highlighted the eyelids, while Cream Colour Base in Pearl defined the cheekbones. "There's a lot of hair and a lot of jewellery," she told us before the show, "so my makeup is very simple. It's real skin and we don't need any more embellishments."
That Pangea Fabric The broken up fabric bolts that formed panels on bodices and belts on long silk trench coats were made of a super flattering seed bead fabric. Essentially a billion tiny beads matted together, consider this the new scuba. Other references to the ancient land included a super squidgy rubber rock runway carpet, prompting a mega-upload of shoe selfies from the front row.
The Jewellery Doorknocker iguana ear cuffs, sea monster bangles and gilded serpent chokers - now this is what we call statement bling.
The Super-Friendly Models KitKats and sandwiches were brought in to refuel everyone at the halfway mark and we even caught one model taking 5 to write a uni essay backstage– hoorah for Mary K!
Celebrity news, beauty, fashion advice, and fascinating features, delivered straight to your inbox!