As snow returns, could Christmas be at a standstill?
Airports are already closing and gifts can't be delivered because of the weather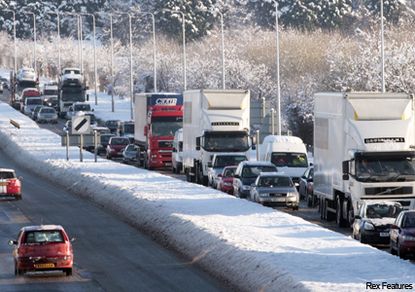 (Image credit: PA)
Airports are already closing and gifts can't be delivered because of the weather
The snow is back in the UK and causing havoc in Scotland, with up to ten inches set to fall in south and central England and Wales over the weekend.
TAKE A LOOK BACK AT 2010 IN PICTURES
Across the north of Britain, 850 schools are closed, trains have been cancelled and roads are icy and dangerous.
Trains to London and across the south have also been disrupted, with services by National Express East Anglia, Southeastern and South West Trains all facing problems.
Accidents on roads across the UK have resulted in traffic jams and many could claim they need to start their Christmas holidays early because they can't get into work.
Phil McCabe from the Forum of Private Business told The Mail, 'There is a danger of 'Christmas syndrome' kicking in early. There is a big risk that you will see a spike in absence levels among staff as a result.'
Many airports across the country have been closed including Exeter, Norwich, Belfast and Aberdeen, and Gatwick and Heathrow are predicted to face problems later today.
Most people who are heading for sunnier climates this Christmas are expected to travel on Saturday and Thursday - but they could face problems with flights being grounded.
Temperatures are expected to remain below freezing for most of the weekend, with some of the worst weather in December for 30 years brought in by winds from the North Sea.
The Met Office's Chris Almond told The Mail, 'The heavy rainfall yesterday means that many of the roads will be wet when temperatures drop below freezing overnight. The water will then turn to ice making the roads extremely icy and dangerous. It's going to be horrible.
'The problem is made worse because the councils can't grit the roads because the rain will wash it away.'
Meanwhile, many companies have stopped taking orders for Christmas deliveries in Scotland because they believe the snow will stop presents getting there in time.
Simon Veale, director of Global Freight Solutions, told The Guardian, 'This year in Scotland and the north-east it is likely Father Christmas won't be coming.
'There is the very real possibility that for the first time everything won't be delivered.'
Celebrity news, beauty, fashion advice, and fascinating features, delivered straight to your inbox!