WATCH: Cheryl Cole's X Factor performance
The judges are out. Was she miming or singing live? We want YOUR thoughts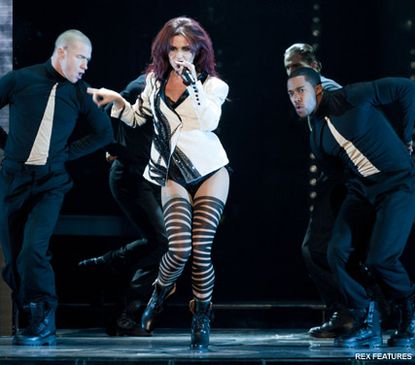 The judges are out. Was she miming or singing live? We want YOUR thoughts
It's been a busy week for Cheryl Cole. With a waxwork launch, an X Factor appearance, and a teary Piers Morgan interview already under her belt, the songstress stepped out from behind the judge's table yesterday, for her debut performance of new single, Promise This.
SEE ALL THE LATEST X FACTOR PICS HERE!
Storming the X Factor stage, Mrs C put in a show-stopping performance, throwing herself into an energetic dance routine, surrounded by a troop of muscly male dancers.
Wearing a white sequinned tuxedo, striped tights and fierce heels, the star showed off a set of super-toned pins, and looked far more at home on the stage than she did this time last year, when she sung debut hit, Fight For This Love.
But as usual, Mrs C's stint on stage wasn't without its critics. Controversy erupted before the star had even taken to the stage, over whether or not she would be singing live.
And opinion is divided, with some saying the singer was note-perfect, and others wondering if she actually sung any of it at all.
Although it was reported she would sing the whole song on the show, it seems Cheryl may have mimed over a live recording of the track, and sung only parts of the single.
'Cheryl performed live for the majority of the song, but during some of the dance moves a backing track was used,' one ITV insider revealed.
Promise This is in stores now.
What are your thoughts on Cheryl's X Factor performance? Do YOU think she was miming? Or did she sing the whole song live? Let us know in the comments box below.
SEE ALL THE LATEST X FACTOR PICS HERE!
Celebrity news, beauty, fashion advice, and fascinating features, delivered straight to your inbox!