Twilight nominated for five National Movie Awards
But the cast need your help to win. VOTE online now!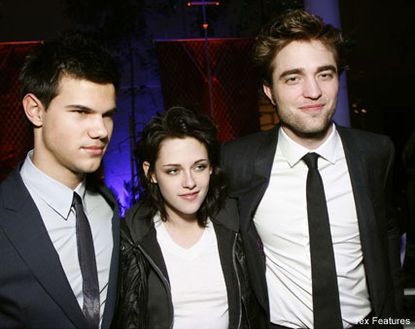 But the cast need your help to win. VOTE online now!
Twilighters listen up! The National Movie Awards nominations are out, and The Twilight Saga has been nominated a whopping five times.
And the best bit? You can vote to make your Twilight favourites winners.
The films and cast have already notched up a whole host of awards, but now it's time to add some more to the collection.
Terrible Twlight trio Robert Pattinson, Kristen Stewart and Taylor Lautner have all been shortlisted for Performance of the Year.
So our favourite beautiful vampires will have to fight it out amongst themselves.
But they'll have go up against Harry Potter stars Daniel Radcliffe, Rupert Grint and Emma Watson if they want to take home the title.
New Moon will battle it out with 3-D blockbusters Alice in Wonderland, Avatar and Clash of the Titans for Best Fantasty Film.
And finally, soon-to-be-released Eclipse will go up against Sex and the City 2 for for Most Anticipated Summer Movie. We really can't force ourselves to choose!
So if you just can't bear to see Robert and Kristen walk away empty handed, click HERE for your chance to vote now.
The awards will be broadcast on ITV one next month.
Who would you most like to see take home the title in the battle of Robert versus Kristen? Let us know your verdict below!
SEE ALL THE TWILIGHT PICS HERE!
KRISTEN STEWART STYLE HIGHS AND LOWS
Celebrity news, beauty, fashion advice, and fascinating features, delivered straight to your inbox!