Sun, 'sex' and Prada at the Cannes Film Festival
Sally Hawkins tells us about her hot new role in Cannes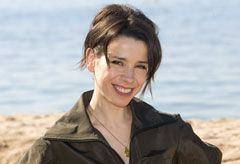 (Image credit: Rex Features)
Sally Hawkins tells us about her hot new role in Cannes
After two days of rain, the sun finally shone on the Croisette at the Cannes Film Festival as we met up with British actress Sally Hawkins - who we adored in last year's Happy-Go-Lucky.
SEE ALL THE CANNES FILM FESTIVAL PHOTOS HERE
Wearing a gorgeous Prada dress ('I wish it was mine,' she giggled. 'I might just forget to return it…'), she was talking about her new film, the dubiously titled We Want Sex. No, she hasn't signed up to star opposite Ron Jeremy: it's actually a true story of the women who went on strike for equal pay at the Dagenham Ford plant in 1968.
The film starts shooting in a few weeks, so we can't tell you too much about it, but director Nigel Cole (Calendar Girls) was on hand to explain that title. 'It's from a scene where the women protest outside Westminster with a huge banner,' he told marieclarie.co.uk. 'They couldn't believe the positive response they were getting from men, who honked their horns and stopped to chat. Then they realised the banner, which should have read We Want Sexual Equality, had failed to unfurl and simply read: We Want Sex.'
The cast list reads like a who's who of British female acting talent – as well as Sally Hawkins, the film will star Jaime Winstone, Andrea Riseborough and Rosamund Pike. 'I know Andrea from RADA,' Sally told us. 'We weren't there at the same time but it's like a big family, so it will be really exciting working together.'
And all this after an amazing year for Sally, where she won a raft of awards for Happy-Go-Lucky. 'I still feel like: "Am I really here?"' she laughed. 'As if someone's going to tap me on the shoulder and say, "Time's up – give back that Prada dress and sod off!"'
Something tells us that's unlikely to happen any time soon.
Report by Rosamund Witcher in Cannes
ARE YOU A TWITTERER? FOLLOW US HERE!
BECOME A MARIE CLAIRE FACEBOOK FAN HERE
Celebrity news, beauty, fashion advice, and fascinating features, delivered straight to your inbox!