Seal opens up about his split from Heidi Klum
Just a day after their divorce was announced, Seal has been discussing his break-up from the Victoria's Secret model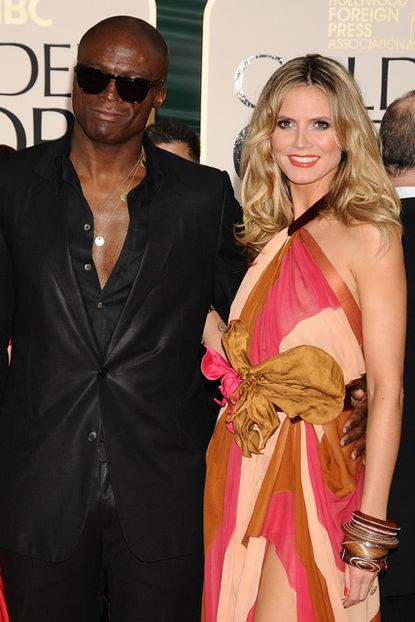 (Image credit: Rex Features)
Just a day after their divorce was announced, Seal has been discussing his break-up from the Victoria's Secret model
The show must go on and, just a day after announcing their split, Seal has been giving interviews about his failed marriage to Heidi Klum.
Honouring a long-standing engagement to appear on The Ellen DeGeneres Show, Seal opened up about how he's dealing with his pending divorce from the former Victoria's Secret model.
Speaking very candidly, he said: 'I think we were shocked. You go into these things with the greatest intentions when you say "I do" and you say "till death do us part." Those vows hold value. They are not just words.
'She still, in my opinion, is the most wonderful woman in the world. I think our priority was to remain civil and do this thing with dignity. We still very much love each other,' he added.
The 48-year-old British singer was still wearing his wedding ring and explained his reasons to DeGeneres.
THE MOST SHOCKING CELEBRITY SPLITS EVER
'Yes, I am still wearing my ring. I think it's just pretty much a token of how I feel about this woman. We have eight years, eight wonderful years,' he said.
'Just because we have decided to separate doesn't necessarily mean you take off your ring and you're no longer connected to that person.
'We will be connected in many ways 'til the rest of our lives… through our children and also through this tremendous admiration, respect and love that we have for each other.'
He added: 'Will we wear the ring for the rest of our lives? Who knows? But right now it feels really comfortable on my hand so I have no intentions of taking it off anytime soon.'
On Sunday night Heidi and Seal confirmed the rumours they were splitting after seven years of marriage, with a statement which stated they had 'grown apart.'
The couple have three children together - Henry, six, Johan, five, and Lou, two - as well as Heidi's daugher from a previous relationship, Leni.
Celebrity news, beauty, fashion advice, and fascinating features, delivered straight to your inbox!