Cheryl Cole gushes about boyfriend Tre Holloway and goes make-up free during documentary
Cheryl Cole's documentary, Cheryl: Access All Areas, aired last night revealing a new side to the star and her relationship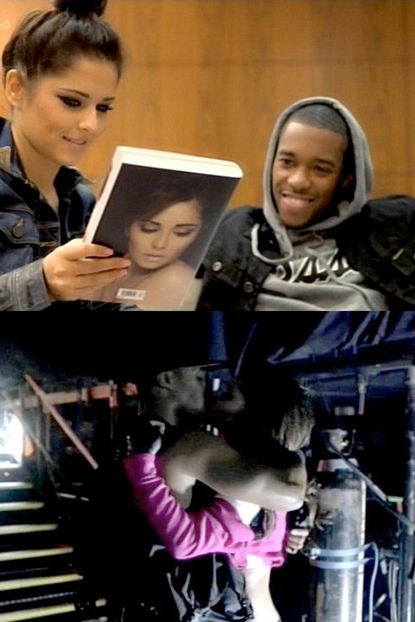 (Image credit: ITV2)
Cheryl Cole's documentary, Cheryl: Access All Areas, aired last night revealing a new side to the star and her relationship
Cheryl Cole prefers to keep her private life exactly that but last night she decided to lift the lid on her blossoming romance with dancer Tre Holloway exposing her romance (as well as her more vulnerable side) in a fly-on-the-wall documentary, Cheryl: Access All Areas.
The show, aired on ITV2, stripped back the glitz and glamour surrounding Cheryl's life to expose a side of her we aren't used to seeing. The singer was happy to be filmed with no make-up, still looking gorgeous, obviously. But she also had the cameras watching during intimate moments with her and Tre as we see them kiss, cuddle and flirt.
CHERYL COLE LEADS THE WAY AT ROYAL VARIETY PERFORMANCE
While the entire show was set against the backdrop of her debut solo tour, A Million Lights, a strong emphasis was placed on the man who is making her so happy, American dancer Tre.
Cheryl couldn't help but gush about her boyfriend saying: 'There's a stronger connection and a chemistry that you wouldn't have with any other dancer.
'To have that relationship is rare. To be able to have that with you and share those moments is pretty special actually.'
CHERYL COLE OPENS UP ABOUT CONNECTION WITH TRE HOLLOWAY
Another sweet moment shows Cheryl trying to teach her American beau how to say tomato with a British accent, which is followed by a shot of Tre giggling with his girl at her brother's birthday meal.
Of course there was the inevitable drama in the documentary with Tre falling while performing a back flip and we see Cheryl's instant concern as she says: 'He's nervous, it's his life, it's his livelihood. It's like me losing my voice - what would I do? He's upset with himself as I asked him not to back flip, about five times.'
Despite this, Cheryl somehow restrains herself from saying 'I told you so' and instead is seen comforting him. And she's also fiercely protective when the couple appear in a gossip magazine with false claims they're getting married.
Tre says: 'I can't handle that.' To which Cheryl is clearly hurt and adds: 'It's all new to Tre it's crazy to him, I've had it for ten years I know how it works. It's more hurtful when the media intrude on my loved ones, they didn't ask for this.'
Another man close to Cheryl's heart is will.i.am who also made an appearance on the documentary and was swiftly followed by her Girls Aloud bandmate Kimberley Walsh who rushed to congratulate her after the first night of her tour.
What did you think of Cheryl: Access all areas? Was she right to talk about her relationship? Let us know below.
Watch Cheryl Cole behind-the-scenes on her Marie Claire shoot:
CHERYL COLE STYLE HIGHS AND LOWS
Celebrity news, beauty, fashion advice, and fascinating features, delivered straight to your inbox!