Kim Kardashian is giving us major bob envy with her new hair
From dramatic crops to makeovers spanning the length of the colour spectrum, we run down the most headline-grabbing celebrity hair transformations.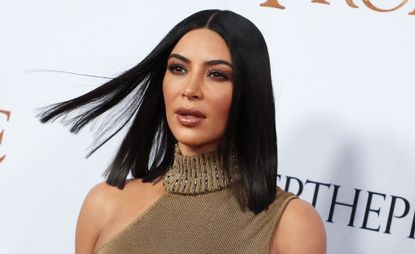 (Image credit: Chelsea Lauren/REX/Shutterstock)
Straighteners at the ready...
We all love a good hair makeover. For some, it's a post-break-up revamp and for others, it's just a bi-annual style update. Either way, celebrity hair transformations are pretty much essential to our general well-being.
Kim Kardashian has been donning some seriously poker straight long locks of late (see below) but it looks like she's gone for the chop again.
Having debuted her bob hairstyle earlier this month with a wet look hair vibe, the reality TV star showed off her short hair, don't care, in all its glory at The Promise film premiere last night.
Kristen Stewart is another star to completely change up her hair, debuting a new blonde, shaved style at the Los Angeles film premiere of Personal Shopper. It's safe to say that it looks totally different from her previous short brunette style.
Katy Perry is another star who recently underwent a dramatic hair makeover, chopping off her locks just days after it was announced that she had broken up with her boyfriend of over a year, Orlando Bloom.
Just this morning she posted a couple of video clips of her new look to her Instagram feed, and understandably, the world is going crazy for it.
Katy's not the only celebrity to give us some serious hair inspiration.
Whether you're searching for a bit of inspiration for something new, or you're just imagining life in a different shade, check out our favourite celebrity hair transformations and makeovers past and present for some ideas. And, if you want to get your hair in tip-top condition, take this quiz to find out which conditioner you should be using for your hair type...
Who does it best?
Possibly the most dramatic of these celebrity hair makeovers are sported by the likes of Lily Allen, Kylie Jenner and Rita Ora. All style chameleons in their own right, these hair provocateurs love to play around with crazy hues and exciting cuts. Somehow, they manage to make it look oh-so-effortless too. Who can pull off wild things like the colourful sea-punk trend? Them.
And few can do rainbow hair better than queen Kylie Jenner herself. Her ever changing assortment of candy-coloured wigs have set the standard for multi-coloured hair. Both in the fashion world and beyond. Kylie's own line of hair extensions and her fearless sense of style have well and truly cemented her position as a global hair-goddess. And her best mate, Gigi Hadid, has definitely taken on some of her hairstyle tips. They actually give us the confidence to pull off blue hair. Sure, we're yet to actually do it, but the thought is there.
There's also J.Lo who has swapped between flowing, ombre curls to sleek, dark new 'dos. Lily James regularly flicks between her Cinderella-esque style and natural colour and shorter length. And Sienna Miller, who went from her signature blonde bob to a smokey shade of red, recently went back to blonde again. Although these stars haven't opted for bright colours, they've still undergone pretty drastic makeovers. And as always, they've still managed to look amazing in the process. Granted you can pull pretty much anything off with a hot team of hair experts on hand. But, even if you are lacking in a glam-squad, our gallery will guide you to your next ultimate hair makeover.
Gigi Hadid
We're so used to seeing Gigi with her trademark blonde hair that we almost didn't recognise her; but we are loving this pink-haired look on her.
Nina Dobrev
Nina Dobrev embraced the mantra 'new year, new you' with a fresh new haircut.
Nina Dobrev
We love her short, textured 'do.
Amandla Stenberg
Known just as well for her beautiful, natural hair as she is for her stunning acting performances, Amandla decided to kick off the new year with a new 'do...
Amandla Stenberg
Amandla debuted a freshly shaved head, explaining the new look is for her role in the upcoming film 'Where Hands Touch'.
Kanye West
We're used to seeing Kanye West exactly like this. But recently, he switched things up...
Kanye West
By going peroxide blonde. And we think he's looking pretty damn good.
Bella Hadid
We're used to brunette Bella...
Bella Hadid
But recently she went peroxide blonde for Paper magazine. And we love it!
Lucy Hale
Lucy Hale ditched her dip dye hair in favour of a darker shade...
Lucy Hale
And we think it's given her quite the mature edge.
Jennifer Lawrence
J-Law's been rocking the bleach blonde lob for a while now (we were particularly loving it all straightened out in recent weeks now).
Jennifer Lawrence Hair
Debuting much longer lengths at the Madrid premiere of Passengers in November 2016, Jennifer Lawrence was rocking some pretty fab extensions, proving that the oft-troublesome in-between growing-out-your-hair phase doesn't have to be a total hair 'mare.
Kylie Jenner
Kylie went back to her roots recently and dyed her peroxide hair back to...
Kylie Jenner
Black. And we love it.
Jennifer Lopez
Jennifer Lopez rocked her locks long and straight at the Latin Grammy Awards last week but did this to her hair this week...
Jennifer Lopez
Jennifer Lopez on set of Shades of Blue with her curly locks.
Lindsay Lohan
Lindsay darkened the redness in her recently...
Lindsay Lohan
And posted this photo on Instagram. We're thinking Ariel from The Little Mermaid.
Ariana Grande
Ariana Grande traded in her signature brunette ponytail..
Ariana Grande
For a much lighter version = dyeing her hair platinum blonde.
Hailey Baldwin
Hailey Baldwin dyed her golden blonde hair with this season's hottest shade...
Hailey Baldwin
Joining the pink patrol, Hailey gave her blonde hair a rinse with a strawberry pink colour.
Ruby Tando
Remember Ruby Tando from Great British Bake Off. Well, she no longer looks like this...
Ruby Tando
Ruby recently posted an Instagram post of herself with a shaved head... and we LOVE!
Zoe Kravitz
Zoe Kravitz has long sported brunette braids, but recently she swapped them for something new...
Zoe Kravitz
Taking cue from Frank Ocean, Zoe recently posted an Instagram of herself with peroxide blonde, wavy hair.
Demi Lovato
This week Demi proved herself to be quiet the hair chameleon, swapping her brunette locks for this blonde 'do.
Demi Lovato
But it wasn't long until she realised blondes don't necessarily have more fun and dyed her hair back to brown.
Demi Lovato
Earlier in the week, Demi changed her brunette hair for a lighter look.
Demi Lovato
Taking to Snapchat, Demi revealed her newly blonde tresses to her 125.4M followers, writing 'Blondie!' and 'Goldie locks!'
Mollie King
Mollie King has changed up her lob...
Mollie King
...For a much more textured, choppy bob.
Rihanna
She's the chameleon of hair transformations and recently made one of the biggest changes from this sleek look we've seen to date.
Rihanna
Rihanna recently stepped out sporting super long dreadlocks.
Kylie Jenner