Mila Kunis Is Finally Talking About Her Pregnancy, And We Can't Get Enough
Things are getting personal! The usually private actress dishes about starting a family with Ashton Kutcher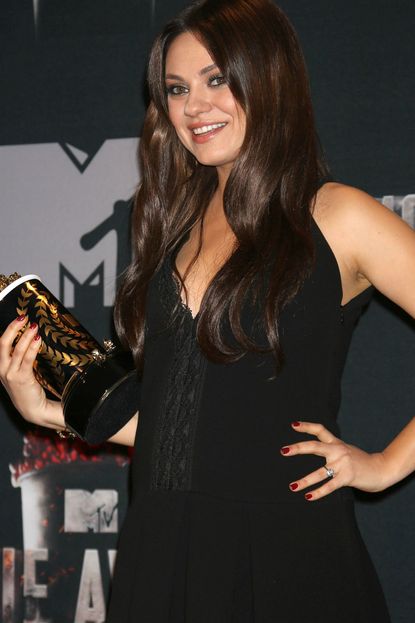 (Image credit: Rex)
Things are getting personal! The usually private actress dishes about starting a family with Ashton Kutcher
Mila Kunis is no longer making any attempts to hide her baby bump.
For months we've been speculating that she might have a baby on board -- and though we were pretty darn sure after spotting her obvious baby bump at various events, we didn't have any cold, hard evidence. Until now.
The mum-to-be broke her silence about her pregnancy during a visit to the Ellen Degeneres show this week. 'We were able to hide it for a very long time,' she said.
Despite Ellen's prodding, Mila refused to offer up any details on the baby's sex, their chosen baby name or their due date. But she did promise that she'd be going into labour 'sometime this year.'
It's not just the baby news that Mila has kept under wraps. She and fiance Ashton Kutcher have always been secretive about their romance -- but it seems she's now ready to spill. Mila dished to Ellen about how her man has been helping her deal with her weird pregnancy cravings. 'He assumed that I was going to have goofy cravings, so he stocked our secondary fridge with weird food -- like pickles and saurkraut and anchovies and ice cream -- just in case.'
Mila also revealed a bit more than she intended about their sex life. She explained why she plans to have a natural birth and forego an epidural: 'I did this to myself... I wanted this.'
In her typical hilarious manner, Ellen replied: 'You didn't do it to yourself. I may not know a lot, but I know that.'
Mila then replied: 'Well, I did have a little help. Just a little.' And Ellen's genius comeback? 'Well you don't want to say that, either!
The actress kept the candid talk going when Ellen asked about their secret engagement. 'We were able to keep this secret for two months,' she said, pointing to her dazzling ring.
Now that the cat is officially out of the bag, we have one more request for the mum-to-be: Can we finally get a nice red carpet picture of you and Ashton, so we can stop using snaps of you at basketball games to promote our stories?
Got a tablet? Take the new look Marie Claire wherever you go, download straight to your iPad & iPhone, Kindle (just search the store for 'marie claire magazine'), Nook or Google Nexus for only £2.99.
Celebrity news, beauty, fashion advice, and fascinating features, delivered straight to your inbox!
Ali Gray is an award-winning content director and digital strategist. Most recently she was the Director of Branded Content at Hearst, and helped to bridge the gap between the editorial and commercial worlds working across all Hearst brands, including ELLE, Cosmopolitan, Esquire and Harper's Bazaar. Prior to that she worked as an editor contributing to several brands such as The Telegraph, iVillage UK.