Is Kim Kardashian expecting baby number 3?
A new friend for North and Saint?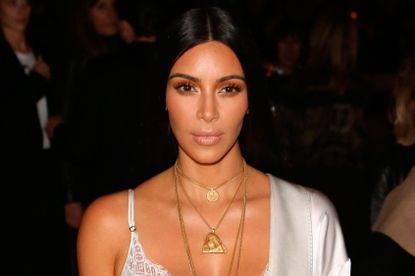 Are North and Saint about to get a baby brother or sister?
Is Kim Kardashian pregnant with baby number three?
If you'd been wondering whether Kim Kardashian and Kanye West were planning to expand their clan any time soon, allow us to set the record straight for you.
Or rather, allow Kim to: 'I'm going to try to have one more baby' she says in a new teaser clip for Keeping Up with the Kardashians.
'I want my kids to have siblings, but the doctors don't feel like it's safe for me.'
After two complicated pregnancies, her family understandably has their concerns about Kim carrying a third child, too. 'I don't want you to do something that would put you in danger', Kris Jenner warns her daughter in the clip.
Of course, it's not the first time we've heard rumours about a potential third pregnancy for Kimye.
Almost immediately after the Keeping Up with the Kardashians veteran gave birth to her second child, Saint (the first being North, who has since become our mini style icon), rumours started circling that the reality star is pregnant for the third time, with husband Kanye West.
And it's not like these pregnancy rumours have surfaced from nowhere, as Kim had just taken to Snapchat to document her pregnancy 'scare' whilst on a plane toilet. Because sure, who doesn't carry a pregnancy test with them in their carry-on hand luggage?
She posted images of the pregnancy test along with a short video Snap of her explaining she was 'having a bit of a scare.' Why, you may ask yourself, did Kim feel the need to publish such news to her followers?
Take it away, Kim: 'Some people were asking me why I would Snapchat the pregnancy test on the airplane, and I just thought it was, like, funny because I've been so private before and what do I really care if I was pregnant again?' LOL.
'I didn't get my period this month so I was just really confused and I couldn't stand to be, like, on a whole plane flight for 10 hours not knowing. So that's why I decided to put it on Snapchat, and I'm not pregnant!'
Aside from Kim being just hilarious, it's worth noting that she did actually think she could be pregnant with her third baby, which means that a new addition to the Kardashian-West Klan could be a reality in the not so distance future. We're sure she'll keep you posted as it happens. Literally. As. It. Happens.
Celebrity news, beauty, fashion advice, and fascinating features, delivered straight to your inbox!
Holly Rains is the digital editor of Marie Claire UK. She has over 10 years journalism experience, working as an editor and writer, specialising in digital media, content strategy and dog breeds. Prior to Marie Claire, she has held senior staff positions at ELLE UK, Grazia and Company magazine.
Holly is a frequent speaker, panelist and interviewer on a range of subjects including media trends, careers and entertainment. From working with Reuters to provide global red carpet coverage for events like the BAFTAs, to discussing fashion and beauty trends on network TV, she was also the host of the Marie Claire series 'Holly's First Dates', where she regularly interviewed a mix of inspiring woman and A-list celebrities (including Jack Black, Dakota Fanning and Renée Zellweger) - a series which garnered half a million views in its first two months. And was approved by The Rock.
Her love of office-based meetings means that the days of discovering the melting point of Cadbury's Flakes are long gone, but when she isn't dreaming of scheduling in meetings, she likes to think about social media, and how best to avoid it whilst still retaining the title of 'digital' editor. She also likes learning about emerging technology, Influencers and how to become a Financially Responsible Adult.
Contact Holly: holly.rains@futurenet.com