Jesus Luz on Madonna: 'She is my friend, just a friend'
Madonna's toyboy lover speaks out on his relationship with the Queen of Pop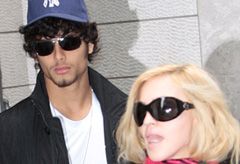 (Image credit: Rex Features)
Madonna's toyboy lover speaks out on his relationship with the Queen of Pop
Madonna's toyboy Brazilian boyfriend Jesus Luz has spoken out about his relationship with the Queen of Pop, calling her 'my friend, just a friend'.
Talking in an interview on Brazilian TV, the 22-year-old model was reluctant to divulge too much on his bond with Madge, but admitted: 'She is a friend who is in my life. More than that, I can't say.'
It sounds like the model's had strict orders to remain pretty tight-lipped about the whole affair.
As for persistent rumours of a Kabbalah-style wedding ceremony with the singer, it might not be time to buy a hat just yet.
After being spotted buying jewellery together featuring symbols of the religion, Luz said: 'I received these pieces of jewellery because they are inspired by Kabbalah. If I want to present them to somebody, it could be my mother or a friend of mine. I don't have any marriage plans or any wedding present.'
Madonna and Jesus first laid eyes on each other during a photoshoot earlier this year and Luz admits: 'I found her wonderful, a person full of positive energy, a nice person, you don't see faults.'
While sceptics may view this as the 50-year-old's way of getting over her divorce from ex-hubby Guy Ritchie, it seems the Brazilian adonis is more of a traditionalist and is taking the relationship rather more seriously.
'I always like to date seriously,' says Luz. 'I never was just casual.' Be gentle with that Brazilian heart Madge..!
CLICK HERE FOR MORE CELEB NEWS
ARE YOU A TWITTERER? FOLLOW US HERE!
BECOME A MARIE CLAIRE FACEBOOK FAN HERE
Celebrity news, beauty, fashion advice, and fascinating features, delivered straight to your inbox!