Jennifer Lawrence Has Something Amazing To Say About Body Image…
Jennifer Lawrence talks body image, being called fat and shares confidence tips for women. And we couldn't love her more.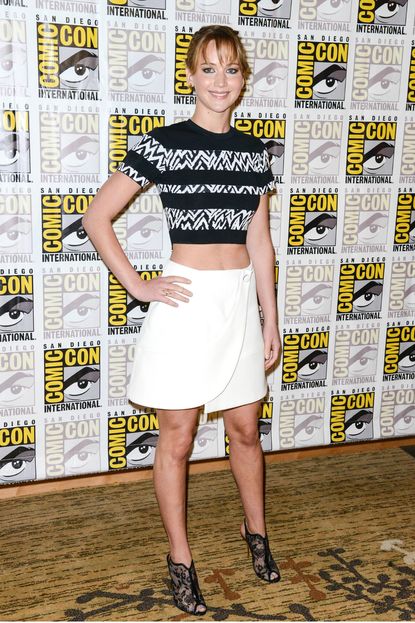 (Image credit: Rex Features)
Jennifer Lawrence talks body image, being called fat and shares confidence tips for women. And we couldn't love her more.
Jennifer Lawrence came out on top in a recent interview, as she was asked for her thoughts on body image. And boy, did she share them.
The Hunger Games star, who has faced her fair share of criticisms on and off the red carpet, gave the outspoken quotes in a live Q&A with fans, hosted by Yahoo!.
Asked for her advice for young girls struggling with body images criticisms, similar to those she comes up against in Hollywood, Jennifer said bluntly: 'Well screw those people.'
With her new pixie crop on show, she continued: 'I experienced it in school before I was famous. We see this airbrushed, perfect model and then if you don't look like that...
'You have to look past it – you look how you look, and be comfortable. What are you going to do? Be hungry every single day to make other people happy? That's just dumb.'
With ther outspoken words in full flow, thankfully, J-Law, who was captured barefaced by Dior, turned her focus to the red carpet and TV shows like E! Fashion Police, hosted by Kelly Obourne.
'Shows like the Fashion Police and things like that are just showing these generations of young people to judge people based on all the things that are wrong, and that it's okay to just point at people and call them ugly, and call them fat,' she said.
'They call it 'fun' and welcome to the 'real world', and that shouldn't be the real world. That's going to keep being the real world if we keep it that way.
'It's not until we stop treating each other like that and just stop calling each other fat – with these unrealistic expectations for women. It's disappointing that the media keeps it alive and fuels that fire.'
Adding simply: 'That's something that really bothers me, because I love to eat'
We couldn't agree more.
With Jennifer is now gearing up to hit the red carpet in London tonight, as she attends The Hunger Games: Catching Fire premiere alongside Josh Huntcherson, Liam Hemsworth and co. And with confidence like hers, you can bet she isn't spending too long mulling over endless dress options.
What do you think about Jennifer Lawrence's outspoken interview? Let us know in the comments box below...
Got a tablet? You can now download Marie Claire magazine straight to your iPad, Kindle (just search the store for 'marie claire magazine'), Nook or Google Nexus.
Celebrity news, beauty, fashion advice, and fascinating features, delivered straight to your inbox!