Gillian McKeith admits smuggling food in her underwear
The I'm a Celebrity star broke the show's strict rules, by hiding the items in her undies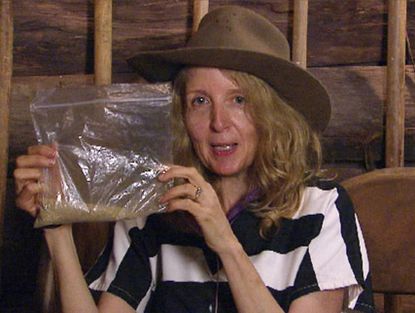 (Image credit: Rex Features)
The I'm a Celebrity star broke the show's strict rules, by hiding the items in her undies
Yesterday, I'm a Celebrity Get Me out of Here star Gillian McKeith shocked fellow contestants and viewers by claiming she was pregnant, in an attempt to get out of jungle jail. Now the eccentric TV nutritionist has done it again, revealing she broke strict show rules, and smuggled in extra food - in her underwear.
SEE MORE I'M A CELEBRITY PICTURES HERE!
The star first aroused producers' suspicions when she was spotted asking fellow contestant Stacey Solomon for some 'special stuff' to put in her lunch.
And Gillian was caught red handed when bosses asked contestants to hand in any smuggled goods, forcing her to reveal her secret stash to the world.
The fierce foodie had somehow managed to sneak in a whopping five packets of Japanese miso soup powder, eight stock cubes, and several bags of celery, cumin, rock salt, garlic and herbal seasoning.
And that's not all. The erratic star – who has had bosses increasingly worried with her bizarre on and off-screen antics – then revealed she had hidden the packets in her undies, in special pockets she'd made herself.
'I smuggled it all in my knickers,' she revealed to the camera.
'I have a small bottom and I just grew it a bit when I came in here. I had special pockets in my Marks & Spencer knickers.
'They are special knickers with secret pockets that I made myself with the purpose of smuggling seasoning in.'
And after handing in her haul, Gillian headed to the Diary Room to boast about slipping her secret ingredients past bosses.
'I feel very proud that I smuggled it all in,' she told the cameras. 'Do you think I was going to come in here without any flavour? You must be mad!
'What are you going to do, throw me to the lions? I feel like a naughty schoolgirl.'
They may not feed her to the lions, but it seems Gillian's bad behavior could instead send her home.
Tonight the public will vote the first celebrity out of the jungle, and insiders are already tipping Gillian to go.
What are your thoughts on Gillian McKeith's jungle antics? Should we worried about the star, or is it all for the cameras? Let us know your thoughts in the comments box below.
SEE MORE I'M A CELEBRITY PICTURES HERE!
Celebrity news, beauty, fashion advice, and fascinating features, delivered straight to your inbox!