Emma Stone talks mum's drunken encounter with Brad and Angelina
The embarrassed star's mother quizzed the pair when they shared a table at the Golden Globes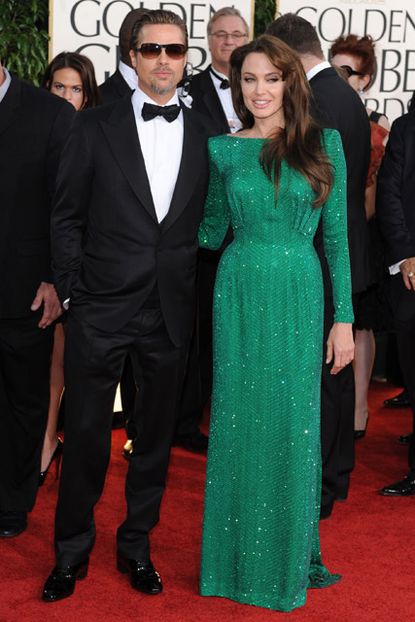 (Image credit: Rex Features)
The embarrassed star's mother quizzed the pair when they shared a table at the Golden Globes
Poor old Emma Stone. The red-faced starlet has spoken of how her mum took the term embarrassing parent to a whole new level at the Golden Globes this year, when she had one too many drinks and decided to have a chin wag with Brad Pitt and Angelina Jolie.
EMMA DAZZLES AT CRAZY STUPID LOVE PREMIERE
Giggling about the incident during an interview on US show Conan, Em told how she took her mum along to the glittering award ceremony, in January this year.
The lucky Spiderman starlet – who was nominated for Best Actress for her role in Easy A - bagged herself – and her mum – seats on a table with none other than Brad Pitt and Angelina Jolie.
And far from being star struck, Emma's mother was delighted by the seating plan, and - when the champagne began flowing - struck up a conversation with the famous twosome.
'We sat at a table next to Brad Pitt and Angelina Jolie, which was, like, the ultimate thing to bring your mum to,' Emma told the show host.
'Because she never drinks, and there was this giant bottle of Moet champagne. . . she had a lot [to drink]. She was talking to them about their kids, which was really interesting and funny.'
Emma added: 'She was like, "You guys must be so tired." Then she was leaning over me to Angelina Jolie. And Angelina's like, "Yeah, you know, with all these kids. . ."'
Luckily Emma saw the funny side, laughing: 'I was like, "Oh boy," It was pretty fun.'
WATCH Emma's interview here…
Do you have an embarrassing parent? Share your stories below...
EMMA DAZZLES AT CRAZY STUPID LOVE PREMIERE
Celebrity news, beauty, fashion advice, and fascinating features, delivered straight to your inbox!