These are the movies we're excited about seeing in 2017
Our favourite on-screen couple is back in the Oscar tipped La La Land - watch the brand new trailer here (and find out about some other brilliant 2017 movies coming your way)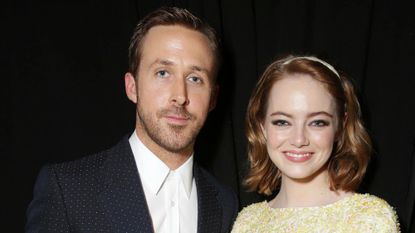 (Image credit: Rex)
Our favourite on-screen couple is back in the Oscar tipped La La Land - watch the brand new trailer here (and find out about some other brilliant 2017 movies coming your way)
We know you Marie Claire readers like to be ahead of the game, so with that in mind we've rounded up the best movies of 2017 to laugh / cry / scream (or all of the above) your way through next year. First up, the brilliant La La Land...
La La Land (January)
The dream on-screen pairing that is Emma Stone and Ryan Gosling returns in January for a film that looks set to press all the Oscar buttons. It's a long time since Hollywood has produced an original on-screen musical and this one, set in Los Angeles and directed and written by Whiplash's Damien Chazelle, has been praised as charming, sweet and without a single false note. Did we also mention it features John Legend in his first big acting role? Bonus.
The Lego Batman Movie (February)
Everything was definitely NOT awesome when The Lego Movie, a film both technically brilliant as well as stomach-hurtingly funny, was overlooked at the 2015 Oscars despite box office success and wide critical praise. Now one of the film's best-loved cameos, Lego Batman (voiced by Will Arnett) is returning for a spin-off of his own. Batman movies aren't known for their high LOLZ, but this is set to change that.
Beauty and the Beast (March)
The feature film answer to Disney's Tale As Old As Time has been gradually building buzz with early images of Emma Watson as Belle and a few on-set selfies from the cast (which features Luke Evans as Gaston and Ewan McGregor as Lumiere). The wait will be over in March this year when the story hits the big screen. A major nostalgia rush for those of you who grew up singing along to the cartoon version.
Wonder Woman (June)
Gal Gadot's much-hyped turn as Wonder Woman finally arrives in June this year. Whatever your view on superhero movies, we're hoping this one will help tip the male-heavy comic hero balance.
Kingsman: The Golden Circle (June)
If you missed the first of writer Jane Goldman and director Matthew Vaughn's gloriously funny Kingsman movies, then do rectify that as soon as you can. The second instalment from the duo behind Kick-Ass arrives in June, bringing back Taron Egerton and Colin Firth with a very glitzy new set of co-stars including Julianne Moore, Halle Berry and Channing Tatum. We can't wait.
Barbie (June)
Oscar-winning Juno screenwriter Diablo Cody has been enlisted to pen the script for 2017's new Barbie movie, which suggests our leading lady will be far more than a bland automaton. We can't wait to see the results.
Dunkirk (July)
In the hands of the wrong director a cinematic adaptation of the battle and mass evacuation of soldiers at Dunkirk could easily turn jingoistic (*cough* Pearl Harbor *cough*). But with The Dark Knight and Interstellar's Christopher Nolan at the helm - and some promising early clips - there's every sign that Dunkirk will be an intelligent portrayal of one of the most famous battles of World War II. We're also more than a little curious to see how Harry Styles shapes up in his first big screen outing.
Weightless (2017 - no date confirmed yet)
For most Hollywood actors getting the chance to work with director Terrence Malick is the career Holy Grail. Little wonder, then, that the cast of his new film Weightless, about a set of intersecting love triangles in Austin (Texas), is as star-packed as it gets: Cate Blanchett, Rooney Mara, Natalie Portman, Christian Bale, Michael Fassbender, Ryan Gosling, Benicio Del Toro and The Girl on the Train's Haley Bennett all feature. Given Malick's track record, the film will be an instant highbrow hit.
Star Wars: Episode VIII (December)
The return of Star Wars under J.J Abrams in 2015 was one of the buzziest movie events of the decade. The film not only brought back some old legends in Carrie Fisher and Harrison Ford, but it also made overnight stars of British newcomers Daisy Ridley and John Boyega. Confusingly there's an extra prequel (Rogue One) coming up this December - starring Felicity Jones - but the continued adventures of Rey and Finn are scheduled for Christmas next year. Expect another fan-geek riot.
Pitch Perfect 3 (December)
Interestingly the first Pitch Perfect movie didn't attract much critical fanfare when it was first released back in 2012, but the whip-smart writing and genius casting (hi, Rebel Wilson) eventually made it something of a sleeper hit. One equally brilliant sequel down, the third instalment lands next December. Get ready for another pitch-slap.
Celebrity news, beauty, fashion advice, and fascinating features, delivered straight to your inbox!