Marie Claire is supported by its audience. When you purchase through links on our site, we may earn commission on some of the items you choose to buy.
The star has increased protection measures at her mansion while she recuperates at home
Cheryl Cole has stepped up security at her home in Surrey, after spending more time than ever in the posh pad as she recuperates from Malaria.
SEE CHERYL'S HAIR HISTORY HERE!
The X Factor songstress is said to have been uneasy about protection measures at her mansion ever since her split from Ashley, finding she was spending more time there alone.
So it seems the star decided to splash out on a few new safety devices, installing additional CCTV cameras and heat sensors.
Cheryl's also said to have increased the number of patrols by private security guards in an effort to maintain peace of mind while she recovers at the property, aptly named Hurtmore House.

'Cheryl has made a few changes at home,' one insider told the Sun. 'She is spending more time there than ever while she recuperates.
'She hasn't received any threats but thought it wise to update all the precautions.'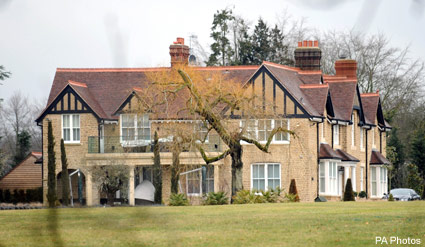 It's also thought Cheryl will recover more quickly if she's happy with the safety of her home.
'She believes a more secure domestic situation will help her return to full strength sooner,' the insider added.
Are you looking forward to seeing Cheryl back to her best? Let us know in the comments box below.