Amy Winehouse's funeral to be held today
The private ceremony for 'close family and friends' is expected to take place at a London synagogue this afternoon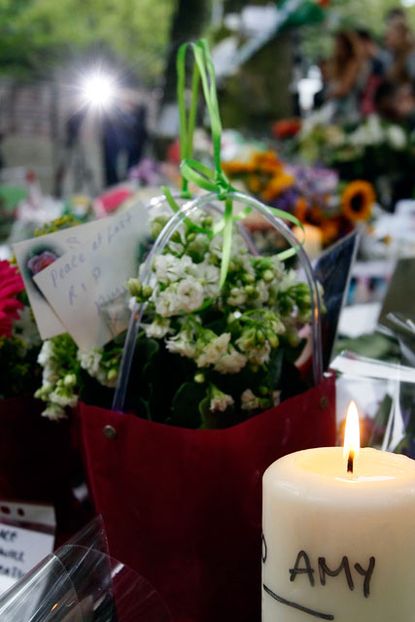 (Image credit: Rex Features)
The private ceremony for 'close family and friends' is expected to take place at a London synagogue this afternoon
The funeral of Amy Winehouse is to be held today, a spokesman has confirmed.
The private ceremony for 'close friends and family' is expected to take place at a London synagogue this afternoon - in line with Jewish law, which dictates it must be held as soon as possible.
'The funeral will take place on Tuesday and will be a family and close friends affair,' a statement read.
No time or location has been given, but its thought many of the late singer's friends have already arrived in town to attend.
Yesterday, Amy's death was ruled 'non suspicious' by coroners during a two minute hearing – in which it was confirmed they had not yet established the cause of death.
It's thought police are awaiting the results of a toxicology test – due in two to four weeks – to find out why she died.
Last night, the singer's family and ex-boyfriend Reg Traviss visited the memorial site – where many have laid tributes – and thanked fans and reporters for their support.
'I know a lot of you, we've been together for five, six years, I know you've got a job to do. I'm glad you're all here anyway,' Amy's father Mitch told photographers.
'And you people in the street, I can't tell you what this means to us - it really is making this a lot easier for us.
He added: 'Amy was about one thing and that was love, her whole life was devoted to her family and her friends and to you guys as well. We're devastated and I'm speechless but thanks for coming.'
Traviss told the Sun: 'I want to thank so much all of the people who have paid their respects and who are mourning the loss of Amy, such a beautiful, brilliant person and my dear love. I have lost my darling who I loved very much.'
Despite rumours the singer died from a drink or drugs binge, Amy's management company are certain she was on the road to recovery.
'Amy was on her own at home apart from a security guard who we had appointed to help look after her over the past couple of years,' her PR spokesman said of the circumstances surrounding her death.
'She was in her bedroom after saying she wanted to sleep and when he went to wake her he found she wasn't breathing.
'He called the emergency services straight away. He was very shocked. At this stage no-one knows how she died. She died alone in bed.'
Celebrity news, beauty, fashion advice, and fascinating features, delivered straight to your inbox!