Wedding invitations: 15 places that make beautiful and unique cards
Where do you start on your hunt for the perfect wedding invitation? Right here. We've rounded up the 15 need-to-know-about websites for all your wedding stationery. There's a bit of bling, a bit of vintage design and quite a lot of ribbons...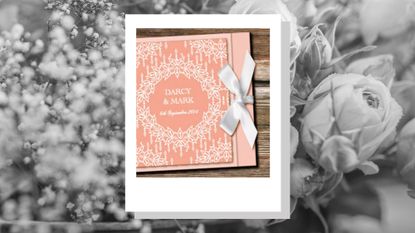 Where do you start on your hunt for the perfect wedding invitation? Right here
Looking for where to get wedding invitations and ideas for them from? Well we've searched high and low to find the best of the most brilliant, beautiful and unique cards out there to set the tone for your big day.
1. Etsy.com
It's an obvious one – but with so many retailers (and people who make invites from home) around the world willing to ship to the UK, you've got plenty of choice. One of our absolute favourites is the set below which comes complete with an RSVP slip and envelope and comes in plenty of colour ways to suit every wedding theme. We can't decide which we love more, the monochrome twine or the recycled card. Etsy.com, from £5.60
2. Debenhams It's a long-time high street favourite for everything from bridesmaid dresses to wedding gift lists, so it's no surprise that Debenhams made it onto our wedding invitation list. With a variety of simple, classic designs, they're a perfect choice for a traditional wedding – the charming moncohrome design below being our favourite (and one of the most affordable). Debenhams, from £3.07
3. ABirdAndABee.co.uk
Cute printed pastel designs on white or recycled brown card – what's not to love? These pretty invites are perfect for a rustic or countryside wedding, plus most of the designs start at a reasonable £2.50. Abirdandabee.co.uk, from £2.50
4. BubblyCreations.co.uk
If traditional invites made of luxury white card, complete with calligraphy, ribbons and crystals are more your thing, you'll love BubblyCreations.co.uk. The designs are simple yet elegant and you can choose pretty much any colour scheme to suit your wedding – not bad, eh? BubblyCreations.co.uk, from £2.50
5. PaperArrowPress.co.uk
Want clean, modern designs? Paper Arrow Press offer a mixture of personalised and bespoke wedding stationery with simple yet effective prints. We're pretty hooked on the cute banner designs below – proof you don't need colour to make a striking invite. PaperArrowPress.co.uk, from £2.20
6. Crystal Couture
Looking for pretty and feminine with a vintage touch? Then this is the wedding stationery specialist for you. With elegant calligraphy, bows, crystals and lace, Crystal Couture specialise in traditional yet sparkly designs that'll make one hell of a glittering statement when they're opened. Crystalcoutureweddingstationery.co.uk, from £5
7. BohemianDreams.co.uk
Expect lashings of peacock feathers, lace, pearls and even map-printed string bunting at BohemianDreams.co.uk. They offer traditional vintage designs in white as well as bold, striking romantic themes. We love the candy stripe one below – although it might be best not to let your husband-to-be in on this decision... Bohemiandreams.co.uk, from £5.99
8. WeddingTeaTowels.co.uk
Ok, ok – they're a tad pricier than your standard invite unless you seriously bulk buy, but what's cooler than your own printed tea towel invitation? We love the vintage poster print on them, plus they last forever (sort of). What better reminder of your big day than to send out these quirky alternatives to your nearest and dearest? We want. Weddingteatowels.co.uk, from £3.50
9. WeddingInATeacup.co.uk
Based in Brighton and focused on incredibly cute vintage-inspired designs, WeddingsInATeacup.co.uk sell amazing stationery, favours and more. One of our favourite pieces are these luggage tag shaped invites, an absolute steal at just £1 a piece. Plus you get to write your invite out – it doesn't get any more rustic and traditional than that. Weddinginateacup.co.uk, from £1
10. HeartInvites.com
Simple, colourful, affordable designs that will work with almost every wedding – it's hard to fault HeartInvites.com. Our top pick is this Victorian carnival inspired invite, we love the original idea as well as the olive green colour palette. Perfect for a rustic countryside affair. Heartinvites.com, from £1.40
11. PinkSherbetDesigns.co.uk
Pick your print, pick your colour scheme and you're set. It's an easy-to-use website with designs that feature vintage prints, florals and ribbons – everything you need for a traditional British wedding. We'll have the twee pink design below, please! Pinksherbetdesigns.co.uk, from £5.20
12. ElsieMay.co.uk
With 12 wedding stationery sets to choose from (we're talking everything from save the dates to invites and place cards) the selection may seem limited, but it's all in the details. Take the astonishingly simple candy stripe design below – pretty, straight to the point, and pretty cheap too. (Don't worry, there's some more men-friendly designs in there too...) Elsiemay.co.uk, from £2.60
13. PureInvitation.co.uk
This website specialises in two areas – traditional lace and ribbon trimmed invites, and quirky print designs. We're all over the latter. One of the highlights is the vintage ticket-themed styles, which make a quirky change to your standard invite template. That's not even the best bit either – they come in at under £2 a pop. Nice work. Pureinvitation.co.uk, from £1.93
14. Confetti.co.uk
This wedding specialist website has a wide variety of invites, but it's the simple handmade designs that we've fallen for. Our favourites are these cute cut-out initial invites, available in six colours and they're eco-friendly too. Sometimes simple really is best... Confetti.co.uk, from £2.60
15. NotOnTheHighStreet.co.uk
We admit it, it's quickly becoming one of our favourite websites. Not just the best place ever for unique gifts, but one of our hotspots for cool wedding ideas. With invites that start at 85p (and yes, they actually look nice) to slightly more extravagant styles that will make you want to blow your whole budget on just stationery, there really is a design for every wedding. Notonthehighstreet.co.uk, card below from £4.95
Now that you've got the invitations down, read through our top 20 first dance wedding songs that won't make you cringe.
Promise.
Rest assured with any one of these invitation ideas, your guests will be as excited as you are for your big day.
Celebrity news, beauty, fashion advice, and fascinating features, delivered straight to your inbox!