The best handheld clothes steamers for those who hate ironing
The perfect companion for your summer holiday...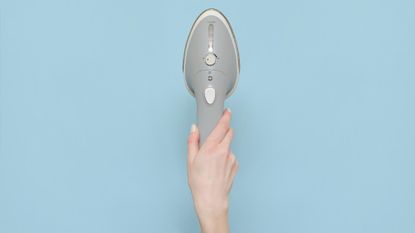 The perfect companion for your summer holiday...
I don't know about you, but I hate ironing. So when I first discovered clothes steamers, it's no understatement to say that my life changed. No more space-wasting ironing boards, no more clunky irons. Instead, just one appliance to do all the hard work for you and keep your best summer dresses looking good as new.
I use my handheld steamer everyday at home, to get rid of any creases in my jeans and T-shirts before heading out the door, and take it with me anytime I travel. So I thought I'd share with you a round-up of the best ones I've tried, to make your life easier too.
Why buy a handheld clothes steamer?
To quote Chandler Bing, my reason for owning reason is threefold. 1. I am inherently lazy and cannot be bothered to faff around with an ironing board and an iron, so even at home I stick to a travel steamer. 2. Not many hotels now have an iron in the room, especially abroad (they don't allow them in Italy due to health and safety I've learned) and 3. It hurts. Just kidding, they really don't as a lot come with protective gloves and are often lighter than an iron.
The best handheld clothes steamers to buy now:
Team Marie Claire UK have tested each of the clothes steamers below and looked at everything from price, quality, how well they banish creases and even how well they will fit in a suitcase. Keep on scrolling and get ready to shop...
If you're looking for a compact design that will fit easily into your suitcase, then this Philips steamer is for you.
Pros:
I was really impressed with this handheld steamer. It might be small in size, but it still delivers great results. Not only is it light and compact, but it's foldable too, making it ideal for travelling. The 120ml water tank can also be detached to help minimise space. It heats up in as little as 30 seconds and has a metal steam plate to help banish creases. For under £60, what's not to love?
Cons:
I would say that this steamer is probably better for softer fabrics such as floaty dresses and shorts. When it comes to tougher fabrics such as denim, you might want to invest in one of the other styles. It also doesn't come with a glove like some other styles, so do be careful when handling it.
This steamer might be a little bigger, but trust me when I say that it's quite literally the next best thing to an actual iron.
Pros:
This steamer looks impressive, and with good reason. It heats up in just 60 seconds and comes with three different attachments for thicker fabrics, delicate fabrics and even upholstery. I tried all three and they all worked incredibly well. It also comes with a Steam Trigger Lock unlike some other designs, meaning you can focus on holding your clothing rather than pressing a button down the whole time.
Cons:
The only downside to this one is the size. Although it's easy to set up, the size makes it more clunky and slightly more difficult to use, and might not be the best option to pack in your suitcase. But, for an at-home option, you can't go wrong.
This foldable garment steamer will take up minimal space wherever you store it.
Pros
This is a great size for travelling and a good steamer for ironing lighter load items, like shirts and T-shirts. When I tried, I found that it didn't work best on items like jeans and jackets, but it did do the job well on thinner clothes and bedding, too. Win win.
Cons
It didn't heat up quite as quickly as promised - the box says 25 seconds! - but it was hot in under a minute, which is still impressive. It was heavier to use than others I've tried, too. Do make sure to hold it level when you're steaming for the best results - I found that if I held it at an angle, it wouldn't steam as well.
This is definitely one of the most aesthetically pleasing steamers I tried, and it did a great job on my clothing as well.
Pros:
As mentioned above, this steamer is super sleek and would look great in anyone's luggage. Although it is a bit bigger than the brand's foldable steamer, it's still pretty compact so you could definitely take it away with you if you had a larger suitcase.
It heats up in 60 seconds and works well on softer fabrics. When I tested it on denim, although it wasn't as good as some of the other models, it definitely got rid of any major creases. One of the main things I loved was that the steamer came with a protective glove for my hands, so I didn't have to worry about burning myself.
Cons:
Like I said, if you were looking for a steamer that is designed for thicker fabrics, this might not be your best choice, but it's a great allrounder that I will definitely be using for years to come.
Although this is a little bit more of an investment, it's worth it in my opinion.
Pros:
There are lots of good things to say about this one. It's ready to use in just 25 seconds, the water container is surprisingly big, it doesn't take up too much space and it's ergonomically designed which means it's super easy to use. Plus, it looks chic enough to leave on display no matter where you are.
All you have to do is fill it up, switch it on and steam away to your hearts content. It's so easy to use that I don't just use it for travel, as it's so much easier to set up than having to get the ironing board and iron out. The water container looks small but it's mighty - I was able to steam three shirts, a T-shirt and two pairs of trousers before having to fill it up again. It also comes with a protective glove which means you can use it without fear of burning yourself.
Cons:
The main downside to this one is the price, but if you travel a lot or are constantly needing to steam shirts and dresses for work, then you'll definitely get your money's worth.
How to use a handheld clothes steamer
Try and use de-ionised water when you can. Though you can use tap water, it's not recommended as the minerals can clog the machine (though you can user white wine vinegar or descaling solutions like you would with a kettle). I appreciate it's not practical to travel with a full bottle, but you can decant in travel size ones.
Be aware of delicate fabrics. Certain fabrics like silk and satin are super delicate, so you don't want to apply the nozzle directly to them to avoid damaging them. Most clothes steamers do come with brushes you pop over the face of the steamer to avoid direct contact. If you don't have one of those, just make sure you hold it at a sensible distance.
Wait for the appliance to heat. Usually this doesn't take more than 60 seconds, and make sure you switch off after use.
Hold the garment tight, as this will help with the steaming process. Some steamers can be used horizontally, though most need to be held vertically.
Empty the tank after use. Sounds obvious, but if you don't empty the tank, you risk clogging up the system, as well as leakage if you're travelling.
So there you have it, Marie Claire UK's roundup of the best clothes steamers to buy now. Time to wave goodbye to creases for good.
Celebrity news, beauty, fashion advice, and fascinating features, delivered straight to your inbox!
Grace Lindsay is currently Junior Beauty Editor at Who What Wear UK and previously was Marie Claire UK's E-Commerce Writer. With over three years of experience in the fashion and beauty industry, she covers everything from the best make-up and skincare deals to how to shop the stand out trends of the season. When she's not typing away at her laptop, Grace can be found shopping her favourite vintage markets IRL, or catching up on her never-ending list of books to read.